Just weeks ago, millions of Americans celebrated as Joe Biden and Kamala Harris took office. For many, this transition brought a deep sense of relief. The collective exhale on Inauguration Day was both a celebration of the end of Trump's presidency and a brief reprieve from his extremist rhetoric that energized his most fervent supporters.
As the weeks have passed, a sense of "normalcy" has been restored, yet the future is laced with the uncertainty of what comes next. The sad truth is, the violent insurrection of the Capitol that President Trump incited didn't occur in a vacuum. Trump may be gone from the White House, but the racism and extremism that fueled his rise haven't evaporated; they're only getting stronger.
There's good news, too; in fact, minority communities in America are living through a paradoxical era. Marginalized groups are enjoying greater freedoms all the time—while also facing a constant and rising threat of danger. This is the experience for Blacks and Jews alike, whose communities are increasingly the targets of white nationalist violence.
According to the FBI's latest report on hate crimes, Black and Jewish communities are two of the most targeted groups in America. The majority of racially motivated violence targets Black communities, while over 60% of religiously-motivated hate crimes take aim at Jewish communities. The status of Black and Jewish Americans is particularly vulnerable to the violent right-wing extremism that's spreading throughout this country, and the insurrection on January 6 pulled the veil off of the myth that white nationalism is simply a fringe movement with no threat to national security and marginalized communities.
The threat is real; the mass shootings at Pittsburgh's Tree of Life Synagogue in 2018 and Charleston's AME church in 2015 are two notable tragedies to spawn from white nationalist terror. The conspiracy theories that drive extremists are almost always based on the same anti-Semitism, xenophobia, and racism, which is all the more reason for our communities to be united against this collective hate. When a white supremacist attacks a synagogue, it could just as well be a mosque or historically Black church.
With racism and anti-Semitism raging throughout the country, the importance of building Black-Jewish alliances is all the more urgent.
Thankfully, some of this urgency is being felt. In the last year, racial justice has become a majoritarian issue, especially among young people. In the wake of the police murders of George Floyd and Breanna Taylor, protests erupted in cities across the country to declare that Black Lives Matter. Black Lives Matter became the largest protest movement in American history, and that resurgence of grassroots energy was amplified by record voter turnout among people of color in the 2020 presidential election. The surge of Black and brown voters led to the election of Biden and Harris and gave Democrats a slim margin of control in the Senate with the historic election of Rev. Raphael Warnock and Jon Ossoff in Georgia.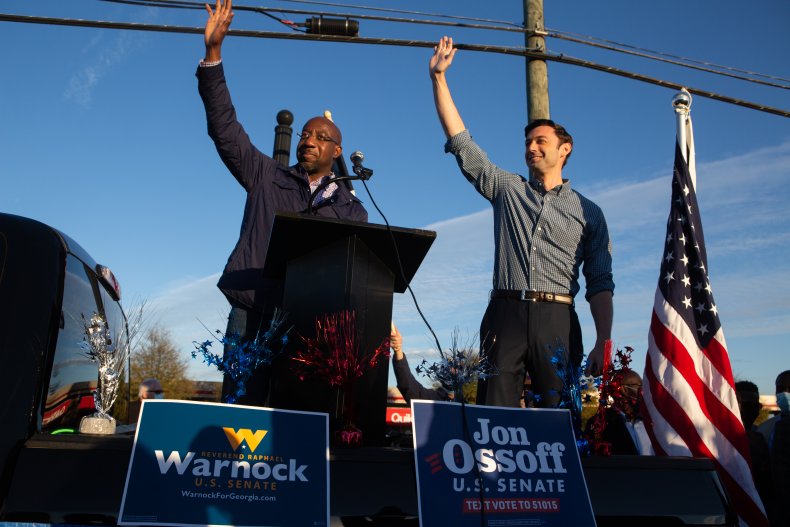 Warnock and Ossoff became the first Black and the first Jewish Senators to represent the state, which symbolically became official just hours before the Capitol insurrection. By working together during their campaigns, Warnock and Ossoff were a clear example of what's possible when we work together. Along with Stacey Abrams, they present a new vision for the South. Their victories flipped the Senate to the Democrats and set the stage for progressive legislation to pass in Congress.
Their partnership was movingly reminiscent of the Black-Jewish activism of the 1960s. The Civil Rights Movement marked an important turning point in which African-Americans and Jewish Americans worked together to end segregation and register Black voters. Rev. Martin Luther King Jr. famously marched with Rabbi Abraham Joshua Heschel in Selma, and Rabbi Joachim Prinz— who escaped Nazi Germany— spoke at the March on Washington.
Sadly, the partnership between Black and Jewish activists waned over the intervening years, but now there are signs of a reemergence given the imminent threats both our communities face.
This month saw the launch of a Black-Jewish Entertainment Alliance, which is elevating the voices of Black Jews for their first public event. At the American Jewish Committee, efforts are underway to develop an initiative for diversity, equity, and inclusion to form community partnerships and better train leaders on the urgent needs of diverse communities outside of and within American Jewry. No longer is it enough to solely advocate on issues affecting your most immediate community. The time is now to strengthen partnerships with full pluralism.
Too often the issues of racism and anti-Semitism are viewed as separate and distinct. It is true that each is rooted in its own history that shouldn't be diminished or glossed over. There are enough similarities however, that point to the benefits of working together to combat extremism in all of its forms.
With white nationalism surging, it calls on Blacks and Jews of all backgrounds to rise together.
Michael Crawford is a New York-based activist who writes about race, identity and culture. Follow him on Twitter @dmcrawford.
Peter Fox writes social commentary on anti-Semitism and is a founding member of the American Jewish Committee's Alliance for Diversity, Equity and Inclusion. Follow him on Twitter @thatpeterfox.
The views expressed in this article are the writers' own.