Filipino President Rodrigo Duterte Calls Barack Obama 'Son of a W****'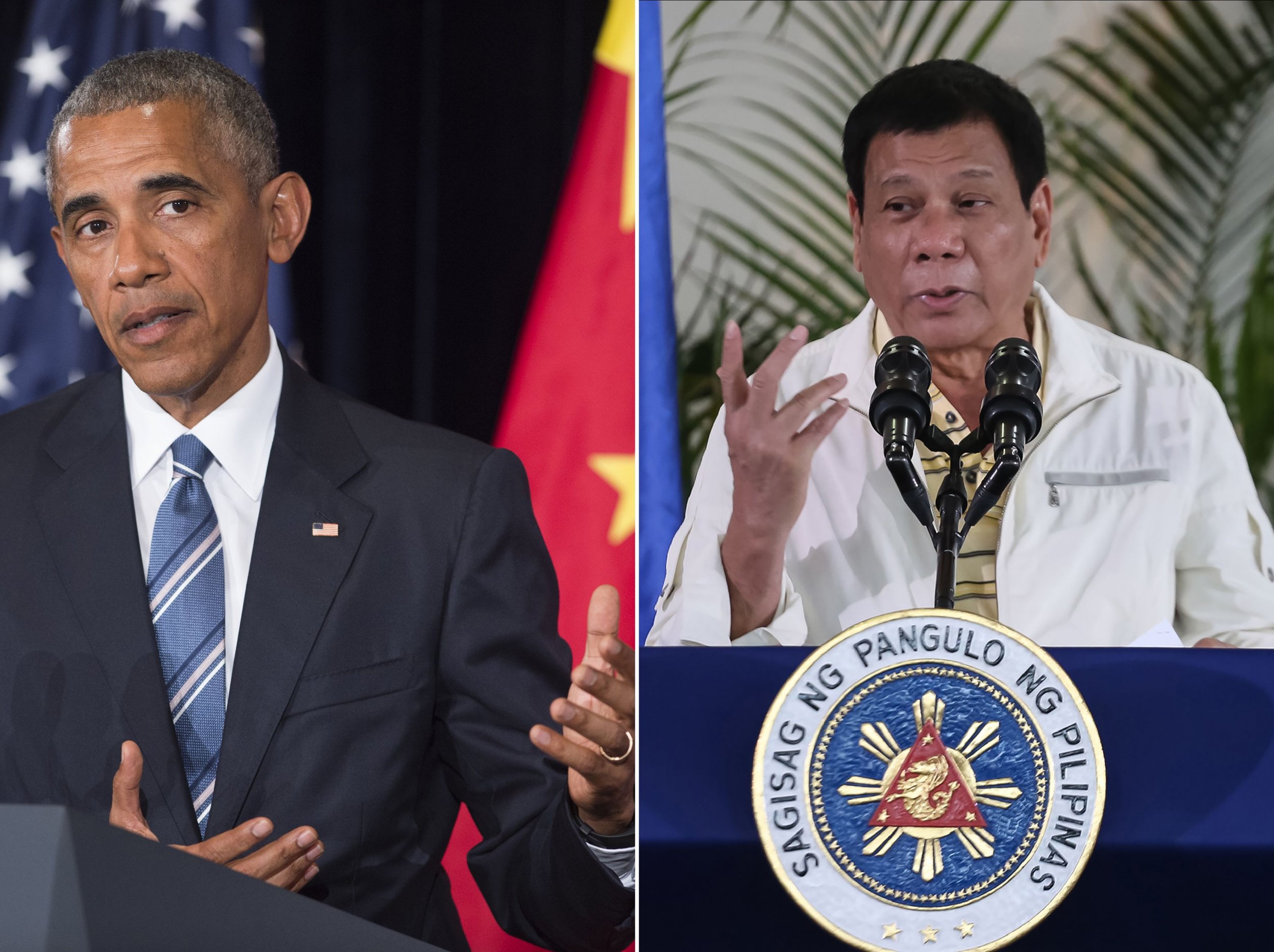 Philippine President Rodrigo Duterte launched a foul-mouthed tirade at Barack Obama Monday, calling him a "son of a whore" and pledging not to be lectured on human rights ahead of a planned meeting in Laos.
The Filipino leader has embarked on a mass crackdown on the drugs trade in the country after becoming president in May on the back of a campaign pledge to stop the drug trade. Since June 30, security forces and alleged vigilantes have killed 2,400 people in anti-drug operations or attacks, according to official figures.
Duterte was asked about the prospect of Obama questioning him on his approach to war on drugs.
"You must be respectful. Do not just throw away questions and statements. Son of a whore, I will curse you in that forum," Duterte told a news conference.
"We will be wallowing in the mud like pigs if you do that to me."
The phrase "son of a whore" is one of Duterte's favored insults, having previously disparaged Pope Francis and the U.S. ambassador to Manila with the same words. He called the Pope this after his visit to the Philippines caused mass traffic jams, but has since said that he wants to apologize.
Global leaders are set to meet Tuesday at an Association of Southeast Asian Nations (ASEAN) summit in the Lao capital of Vientiane. Duterte and Obama were to hold a meeting on the sidelines of the event but Obama has appeared to suggest that such a meeting could not happen if he feels that meeting with Duterte will not be productive.
"I always want to make sure if I'm having a meeting that it's actually productive and we're getting something done," Obama told reporters at the G20 Summit in China, describing the 71-year-old Filipino leader as a "colorful guy."
Obama said that dealing with drugs traffickers and criminal gangs was important but that law enforcement must deal with it in the correct manner, suggesting that Filipino authorities were not following international law in its killings of those suspected of involvement in the drugs trade.
"The issue of how we approach fighting crime and drug trafficking is a serious one for all of us. We've got to do it the right way," he said.
"Undoubtedly, if and when we have a meeting, this is something that's going to be brought up. And my expectation, my hope is that it could be dealt with constructively."