'Finally, Infrastructure Week': Biden Takes Jab at Trump After House Approves Bipartisan Bill
President Joe Biden kicked off a speech today praising the House's passage of the bipartisan infrastructure bill by making a subtle jab at his predecessor, Donald Trump.
"Finally, infrastructure week," Biden said Saturday morning, laughing. "I'm so happy to say that: infrastructure week."
During the Trump administration, the phrase "infrastructure week" became a running joke. On numerous occasions, Trump's team declared infrastructure to be the week's theme, but the plans never earned broad Congressional support.
On Friday evening, Congress delivered a major victory for the Biden administration, with the House's passage of the $1.2 trillion infrastructure bill, a key portion of the president's legislative agenda, which has been stalled for months.
During his speech, Biden said that with the bill's passage, "we did something that's long overdue, that long has been talked about in Washington, but never actually been done."
He called the bill a "once-in-a-generation investment that's going to create millions of jobs, modernize our infrastructure—our roads, our bridges, our broadband, and a whole range of things to turn the climate crisis into an opportunity."
"It's going to create more jobs, good paying jobs, union jobs that can't be outsourced, and they're going to transform our transportation system," Biden said.
The president said that the legislation offers the most significant investments in passenger rail, roads and bridges in decades, and "more investment in public transit than we've ever ever made. Period." He added that it would build out "the first ever national network" of electric vehicle charging stations "all across the country." Biden said the legislation would produce more than 500,000 charging stations.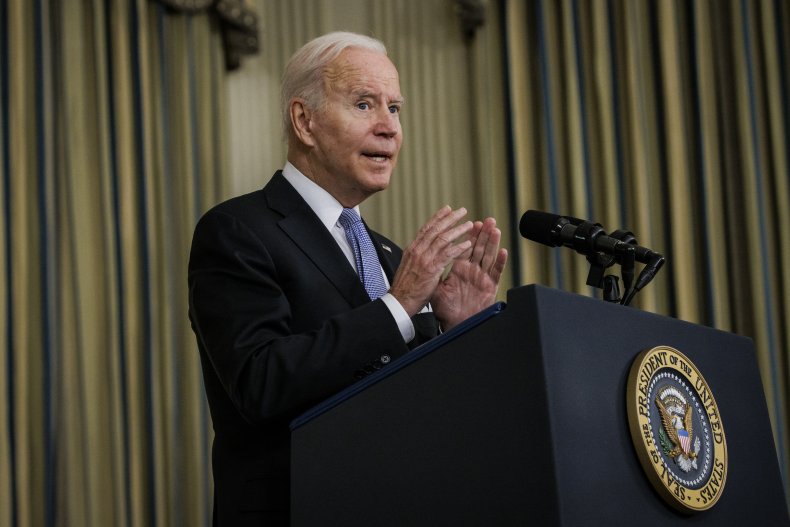 The House of Representatives passed the infrastructure bill on Friday evening in a vote of 228 to 206. All but six Democrats voted in favor of the legislation, as did 13 Republicans.
Moderate and Progressive Democrats came to an agreement on the bill Friday, with moderates pledging to pass the Build Back Better Act—a wide-ranging bill that funds a variety of social programs and climate change measures prioritized by progressives—in the coming days, after they receive financial analysis about the legislation.
Newsweek has reached out to Trump's press office for comment, but did not receive a response in time for publication on Saturday afternoon.