Finland's 'Partying' PM Video Draws Comparisons to American Politicians
The Prime Minister of Finland, Sanna Marin has been accused of "partying" too much, in light of a new leaked video.
However, Americans have weighed in by comparing Marin with politicians from the United States who appear to have an altogether different reputation. Some also compared the situation to when a video of Alexandria Ocasio-Cortez dancing emerged online.
A new video of Marin, the 36-year-old Finnish PM, emerged online and was shared by news channel Visegrád 24. The video has been viewed over 1.2 million times on Twitter alone, with thousands of people commenting on and sharing the footage.
"She has previously been criticized for attending too many music festivals & spending too much on partying instead of ruling," Visegrád 24 wrote alongside the video footage. "The critics say it's not fitting for a PM."
Within the video, which appears to have originally been taken from the Instagram stories of an account called @rayharautio, Marin can be seen singing and dancing to music alongside friends. At various points they perform for the camera in what looks like a house party environment.
The comparisons between Finland and America looked at the conduct of several U.S. politicians. @thatjenmonroe described America as "full of old politicians who go to bed at 9pm" while Finland has Marin. @VersaceCeaser expanded on the comparisons. "Finland: Our leader is young, based, and parties too hard. America: Our leaders are basically corpses, have no good ideas, never invited to parties," they wrote.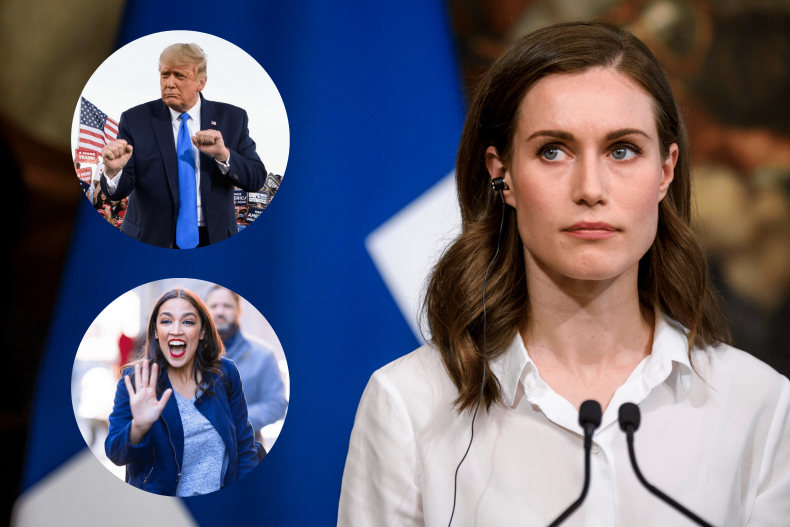 "Lol, America is down bad man. When did Finland become cooler?" @FakeDawnSummers wrote retweeting the video footage of Marin.
"Meanwhile in America," wrote @fourtwenty4_20 as they retweeted a message from filmmaker and comedian Rob Reiner discussing Liz Cheney. "Liz Cheney's overwhelming loss makes it abjectly clear. The Republican Party has abandoned American Democracy in fealty to a Sociopathic Criminal," Reiner wrote.
Others compared Marin's conduct to former president Donald Trump's reputation. "I'm willing to bet Sanna Marin spends less time in the club than Trump spent golfing," wrote @MatthewDownhour. "Trump would have gotten away with worse," stated @rovim15615.
Finland recently applied to join NATO, which prompted @OurBlueAmerica to joke "It's not too late to kick Finland back out of NATO" while in response to the video.
"In America a third of the country is armed with weapons of war and waging terrorism before and after a coup to install a dictator for life and to murder the line of succession. All while institutions crumble around us," wrote @RealNeilC before adding, " In #Finland the problem is the PM is too hot."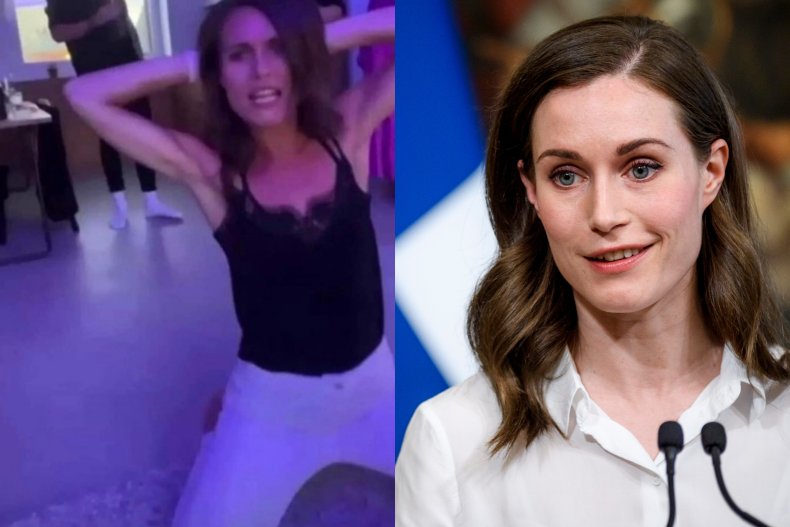 British Twitter users weighed in too, comparing Marin's party and her dancing to footage of British Prime Minister Boris Johnson dancing to "All Night Long" by Lionel Richie.
Marin, who was elected to office in 2019, has previously been involved in drama relating to partying. In December 2021 she went to a nightclub after coming into contact with someone with COVID-19 but she didn't receive text alerts telling her to isolate as she had left her governmental work phone elsewhere. She later apologized for her poor judgment.
As Marin's video was widely discussed across social media, including Twitter, Reddit and TikTok, some criticized her but many others stated they saw nothing wrong with the Finnish politician enjoying herself.
"This isn't news just let them enjoy their lives like normal people," wrote @fungi_man on Reddit.
Twitter user @KatriBertram called the video a "bit of an AOC moment" in reference to a previously resurfaced video of politician Alexandria Ocasio-Cortez dancing in college.
"This is like when Republicans release a video of Alexandria Ocasio-Cortez dancing in college," wrote Reddit user @djluminol, "They must have thought everyone is going to see she's a fool. It was adorable though. I'm sure the same will happen here."
Some AOC detractors voice their disapproval online too. "What [...] is wrong with #Finland ? They let their #AOC become president," wrote @RedPillOJCoin on Twitter.
American political commentator Melaniya Podolyak did her best to put things in context for people on Twitter. "Speaking as an American with some considerable experience in the subject "behavior unbecoming of an elected head of state" please let me assure you that "dancing to music" is, literally, not even on the Bingo card," she wrote.
Summing up a viewer's reaction to the leaked video, National Review writer Dan McLaughlin said it depends on her performance as Prime Minister. "My take: if she's doing a good job, this is charming. If she's not, this is offensive. In a democracy, voters will tolerate eccentricity & frivolity, but only so long as you deliver," McLaughlin said.