Josh Hawley's Speech Rejecting Sweden, Finland's NATO Bids Goes Viral
A video of Senator Josh Hawley explaining why he voted against Sweden and Finland joining NATO has gone viral on social media.
The Senate voted 95-1 on Wednesday to ratify the Scandinavian countries' bid for membership. Hawley, a Republican from Missouri, was the sole "no" vote.
Hawley delivered a speech in the chamber, explaining his opposition to NATO expansion. A snippet from his comments, posted on Twitter, has been watched more than 775,000 times in less than 24 hours.
In the past, Finland and Sweden have often remained neutral regarding the tension between Russia and NATO. Since Moscow's invasion of Ukraine, however, the two countries have moved quickly towards the military alliance.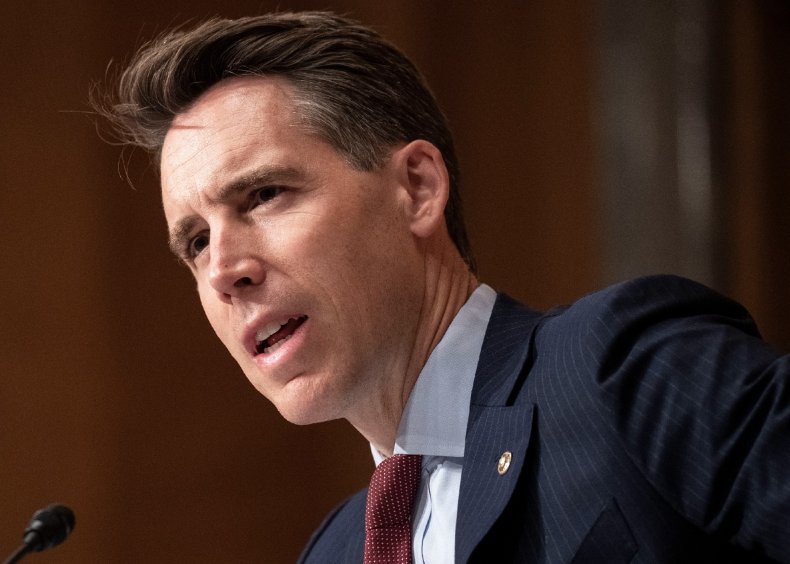 "The Senate will vote today whether to expand NATO by admitting Finland and Sweden," Hawley said. "I intend to vote no and I encourage my colleagues to do the same and I want to say a word or two as to why.
"Finland and Sweden want to expand NATO because it is in their national security interest to do so—and fair enough.
"The question that should properly be before us, however, is: is it in the United States' interest to do so? Because that is what American foreign policy is supposed to be about, I thought.
"It's about American security, protecting American workers, defending American jobs, securing American prosperity.
"I fear some in this town have lost sight of that. They think American foreign policy is about creating a liberal world order or nation building overseas. With all due respect, they're wrong."
On Wednesday evening, Hawley appeared on Tucker Carlson's show on Fox News, to expand on his reasoning.
He argued that America should be more concerned about China than Russia. The expansion of NATO would also result in more money being sent to Europe, he said.
"Expanding NATO will not make America stronger and it will not make America safer," Hawley told Carlson.
"What it will do is commit us to sending more troops and spending more money and devoting more resources to Europe."
He added: "Frankly, I think that is the wrong choice. Just look at the challenges we face at home with our border and abroad and overseas. We are talking about our enemies abroad. Our No 1 threat is not in Europe. It is in Asia, it is China.
"Right now, we are not where we need to be to protect ourselves from China's rise, to protect ourselves from China's attempt to take over our economy, to push us around militarily. We are not in a position at all."
Hawley's vote has been criticized by Democratic and Republican lawmakers. Newsweek has contacted Hawley for further comment.