What Are Stinger MANPADS? U.S. Approves $380M Arms Sale to Finland
The U.S. has announced it will sell missiles to Finland which turned its back on years of neutrality and applied to join NATO in the face of the threat posed by Russian President Vladimir Putin.
The Biden administration approved on Thursday a $380 million arms sale to Finland, which shares an 830-mile border with Russia. The administration said the deal would help the foreign policy and national security of the United States "by improving the security of a trusted partner."
That deal included Stinger portable anti-air missiles and other equipment and came just days after the U.S. approved a separate $323.3 million arms sale to the Nordic nation.
The FIM-92 Stinger is an American man-portable air-defense system (MANPADS) designed to help troops without immediate air support target an enemy aircraft. It first entered service in 1978 and it has been upgraded many times.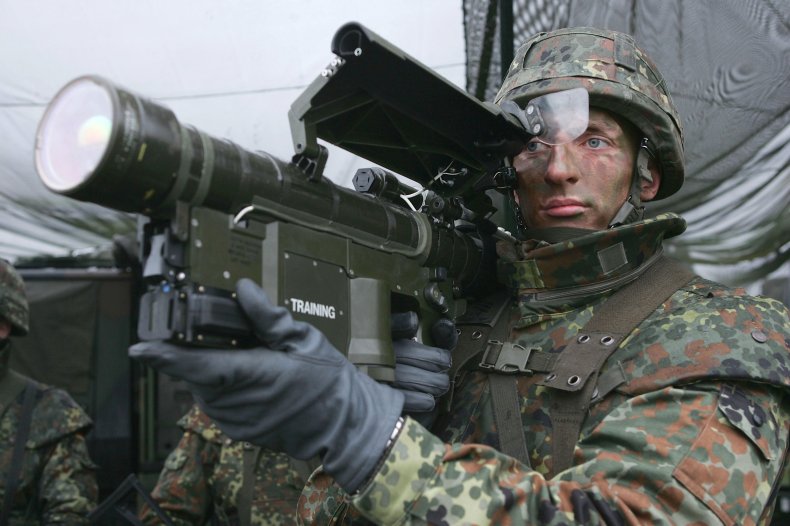 Stingers have been very useful for Ukrainian forces fighting Russian troops, particularly when defending against helicopters and drones, according to the Missile Defense Advocacy Alliance.
The Biden administration said that the missiles would boost land and air defense capabilities in Europe's northern flank, thus "supporting the U.S. European Command's top priorities."
On Monday, the administration also informed Congress of its approval of the possible sale of tactical missiles and Joint Standoff weapons to Finland for its fighter aircraft fleet.
Vladimir Putin's invasion of Ukraine has caused jitters in the capitals of Russia's neighbors and Finland has turned its back on decades of neutrality by joining Sweden in applying for NATO membership. Article 5 of the alliance's charter gives its members the mutual security assurance that an attack on one would be an attack on all of them.
Helsinki has provided military support for Kyiv to fight Russia, with Finnish President Sauli Niinistö announcing this week that his country would help train Ukrainian troops.
Katie Laatikainen, a political science professor at New York's Adelphi University, recently told Newsweek that Finnish foreign relations with Moscow were once limited by treaties that enshrined its neutral status, but "the past year has thrown all the old shibboleths related to neutrality out the window."
"The Finnish government has supplied about $300 million in military and humanitarian assistance to Ukraine this year, which is quite remarkable in a historical perspective, " she said.
On Friday, Finnish Prime Minister Sanna Marin expressed how U.S. military support for Ukraine was essential for the security of the rest of Europe.
"I must be brutally honest with you, Europe isn't strong enough right now," she told an audience in Sydney, Australia. "We would be in trouble without the United States."
Newsweek reached out to the Finnish foreign ministry for comment.