One of the highlights of Finn Bálor's return to NXT have been the new and fresh match-ups that he and the fans have gotten to experience, and that includes appearances across the pond in NXT UK.
Bálor, who's a native of Ireland, has made a few high-profile appearances on the new NXT brand since the show's debut in 2018. The former Universal and NXT Champion had a surprise match at the first-ever NXT UK Takeover in Blackpool, back in January 2019, when he was still on the WWE main roster. He was a big-name star giving this new promotion a boost and notoriety on the biggest show of its short life.
"I'm not someone who likes to be pigeonholed or held to be a one-trick pony, and the more places I can wrestle, the better," Bálor told Newsweek on Monday. "That is something that I felt from very early on in my career."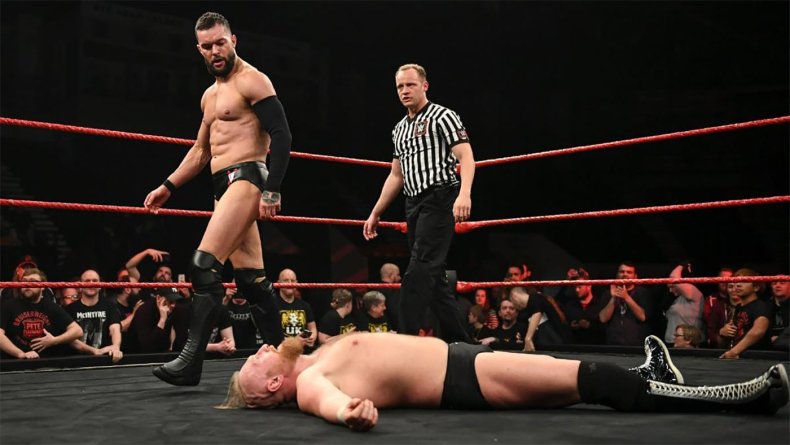 Speaking to Newsweek, Bálor explained that when he first started wrestling in England and Ireland in the early 2000s, there were two promotions that were influenced by the Monday Night Wars between WCW and WWE. The idea was that these two promotions were rivals—but wrestling in an area where each company has only about 20 wrestlers didn't allow many options for fresh match-ups.
"When we're only getting about 50 pounds each, why limit yourself to that little pool of people? That's the mentality I had for a long time," Bálor said. "If we can work together and not necessarily be pigeonholed in one place, that's something that I would love to do."
Bálor eventually branched out to wrestle in Japan and around the world before making his way to NXT in 2014. After a successful run on the black-and-gold brand, Bálor was promoted to the WWE main roster, where he wrestled between SmackDown and Monday Night RAW, until his eventual return to NXT in October 2019.
"Now I can wrestle on RAW or SmackDown or NXT, wrestling on NXT UK. Even wrestling in Japan, you know, that's something that I would love to be able to do and not necessarily be in one place at one time," Balor said. "To be able to adapt and move across platforms and move across brands and really continue to push yourself and push what's possible in this business. And I think it's exciting for the fans to give fresh matches."
The 39-year-old became a semi-regular member of NXT UK earlier this year, when he began a feud with NXT UK champion WALTER and his stable Imperium. Then the coronavirus pandemic began to spread around the world, and travel restrictions were put in place, shutting down the U.K. brand.
"We were building to the match with WALTER, which was something that I was super excited about, but the world kind of went to s**t," Bálor said. "COVID came and kind of shut that down, but you know that's something that definitely isn't gone. I think when we all get back up and running and the doors open back to normal, that WALTER match is something that I've definitely got my eyes up and it's something I'll look forward to."
When asked if the match with the 300-pound Austrian is really still on the table, Bálor said he doesn't know if it is or what the plans are right now. He mentioned, though, that before the pandemic, he was going to be more involved with NXT UK leading into Takeover Dublin, which was originally scheduled for April, but is now set for October 25.
"There was NXT UK: Takeover Dublin, where there was a lot of exciting stuff planned that I was gonna be super-involved in and then obviously got taken away, but I think it's just gonna be put on pause and hopefully when everything gets back up and running, me and WALTER can get out there one-on-one, because in my opinion he's kind of like an anomaly in this business," Bálor said. "[Wrestlers like WALTER] come along very, very rarely and he has the same star attraction as [Brock] Lesnar, and getting in there with him and testing myself against him, I'll be able to sleep that night."
WWE has announced that NXT UK is set to return on September 17.
Finn Bálor wrestles for the NXT Championship against Adam Cole, Johnny Gargano and Tommaso Ciampa on NXT this Tuesday, starting at 8 p.m. on USA Network.
About the writer
Phillip Martinez is a game and culture reporter for Newsweek. Prior to joining Newsweek in 2018, he was a reporter and editor for iDigitalTimes and Player.One. A Bronx native, he graduated with his Bachelor's degree in Journalism from St. John's University in 2010. An avid Nintendo fan and wrestling mark, he's always looking to become a Pokémon Master while fantasy booking this year's WrestleMania. You can contact him at p.martinez@newsweek.com