Finn Bálor is Ready to "Redefine and Recreate" His Legacy with NXT
Finn Bálor was NXT Champion for 292 days, the longest in the promotion's history, during his two-year stint with the brand, but it only took 30 seconds to turn the entire company on its head.
The first Universal Champion surprised the Full Sail crowd when he confronted NXT Champion Adam Cole on Wednesday, signifying his return to the black and gold brand.
"I've been out of the ring for about two months and out of NXT for much longer," Balor told Newsweek exclusively. "To get the opportunity to return to Full Sail live on USA is a huge honor for me."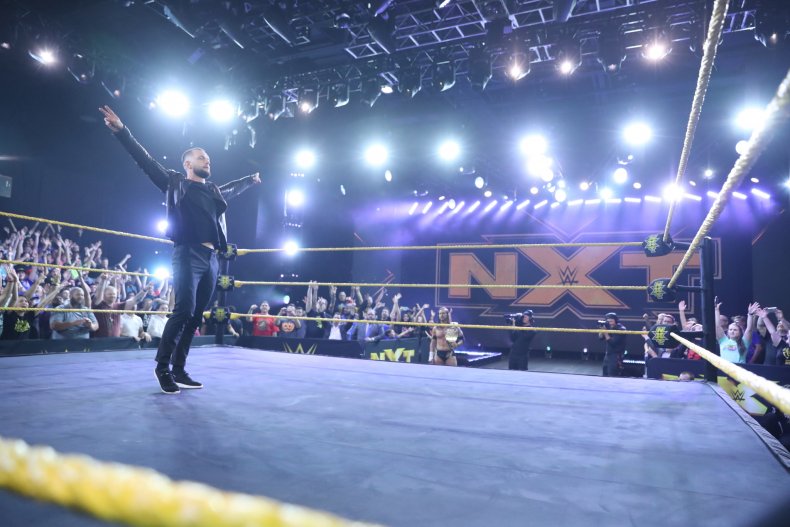 Balor took time off from WWE after years of non-stop travel and performances and is now feeling rested, refocused, energized and glad to be in front of the NXT faithful.
Someone who wasn't glad to see Bálor was Cole. Following his victory over Matt Riddle to retain the championship, Bálor appeared to tell the leader of the Undisputed Era "As of now, Finn Bálor is NXT."
But does that mean we're going to see Finn on the black and gold brand full-time?
"Right now that's what it means. I'm going to wrestle whenever, whoever I want," Bálor said. "That's something I've been chasing for quite some time in my career. I don't believe in any boundaries be it weight class, country, promotion... And I want to break those boundaries. I'm here at NXT to do that."
To get at Cole and his title, Bálor will likely have to go through Roderick Strong, Bobby Fish and Kyle O'Reilly, the rest of The Undisputed Era. But that obstacle is nothing new for Finn, who smiled at the possibility of having to go up against all four men.
"It's no problem. I've been part of a group before, I've been one of those guys who has been an individual [performer] for a very long time," Bálor said. "But maybe you need a group to face Undisputed Era, we'll see."
Prior to his return, Finn Bálor was defeated by Bray Wyatt's "The Fiend" at Summerslam, but Finn's new "wrestle whenever, whoever" mantra means that a resolution to that story might still happen.
"Of course that's something I want to revisit," Bálor said. "When is the time we'll do that? I don't know, but regarding The Fiend, that is some unfinished business and something I have not forgotten."
For now, Bálor made it clear his intentions are to get the NXT Title back, but he's ready to take on all contenders on the roster if need be. Although confident in his abilities, Bálor is curious to see how he matches up to this roster and is admittedly a little nervous to mix it up with this new crop of talent in a style that has evolved since the last time he was there.
"I have to be honest, it's a little nerve-wracking. The game has changed a lot in NXT since I was here," Bálor said. "Seeing the match Cole and Matt Riddle put on tonight, they are two of the absolute best in-ring competitors in the world. So it's a little nerve-wracking to get into the deep end with those guys. It's gotta be a challenge for myself in and out of the ring, and personally, to see if i can still go. It's been awhile since I've been here, and the NXT style has evolved incredibly. When I was here it was me and [Samoa] Joe, and back then, I don't want to say it was a slower pace, but it was definitely more rugged here and there. They are going fast, and it's going to be a test for me and I'm looking forward to it."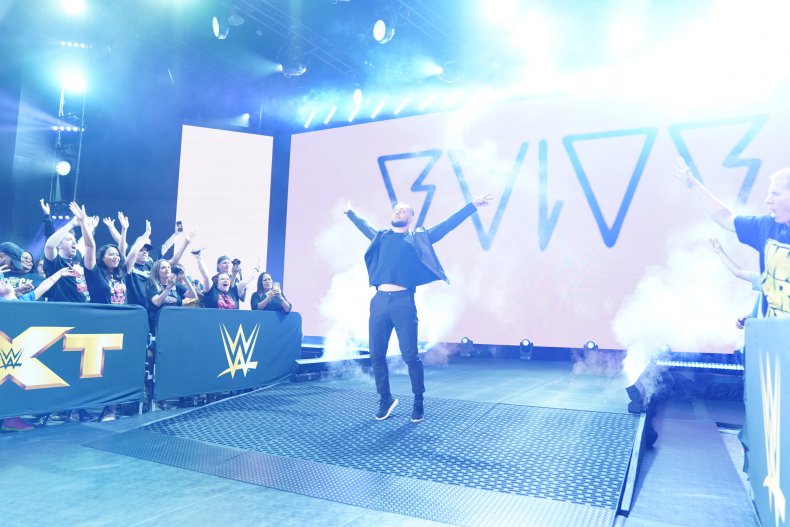 Bálor understands that with the evolution of NXT he will have to do the same. The 18-year veteran has wrestled all over the world for various promotions against all sorts of opponents, but he realizes complacency can be dangerous.
"I just want to continue to evolve," Bálor said. "Been doing this for a long time, and sometimes when you stay in the same place for too long you get a little stagnant, you rely on your old tricks and old ways and you kind of just skate past. But there's no skating here in NXT. I have to swim for sure, because It's going to be a fight."
Bálor's return to NXT was not only a surprise, but a possible sign of true blending of the three WWE brands. Finn was quick to point out that NXT doesn't need elevating, and that's not what his return is about."NXT is its own brand. It's been built by many people. Not one individual is responsible for NXT," Bálor said. "You can say Sami Zayn, Adrian Neville, Kevin Owens, Samoa Joe, Nakamura going on to this new generation with guys like Cole, [Johnny] Gargano... All these guys built NXT, not just one guy. It definitely wasn't built by me. It's an exciting time, and I'm proud to be a part of it."
The names Bálor dropped all made their marks on the brand, but, when it comes to his own legacy and what the NXT faithful can expect from this run, Finn says, "I'm about to redefine and recreate my legacy. And continue to evolve and produce as much quality performances as possible."