Triple H Discusses NXT's Move to USA and the Brand's Continued Evolution
It's the dawn of a new age for NXT.
Since its creation in 2010, the black and gold brand has evolved into the premiere destination for some of the best in-ring product in all of wrestling. Its critically acclaimed Takeover events have become must-watch, and NXT has developed and elevated some of the promotion's top stars on RAW and SmackDown.
But NXT is embarking on a new venture this September when it becomes a live weekly television show on the USA Network.
"As the brand continued to grow through the WWE Network and everything we were doing there, the next step was to increase the viewing, the range and scope of what we can do," Paul "Triple H" Levesque, WWE Executive Vice President of Talent, Live Events and Creative, told Newsweek. "It's an exciting time and I'm thrilled that the product is opening up to two hours and going live."
The move to two hours will give NXT time to feature more matches with top talent. Three matches have already been confirmed for the first episode of NXT on USA: a street fight between Matt Riddle and Killian Dain, a triple threat match to determine NXT Women's Champion Shayna Baszler's next opponent and a championship match between Velveteen Dream and Roderick Strong for the North American title.
Newsweek caught up with the "father" of NXT to discuss the major move to USA, the brand's evolution and what fans can expect.
Note: This interview has been lightly edited for clarity and length.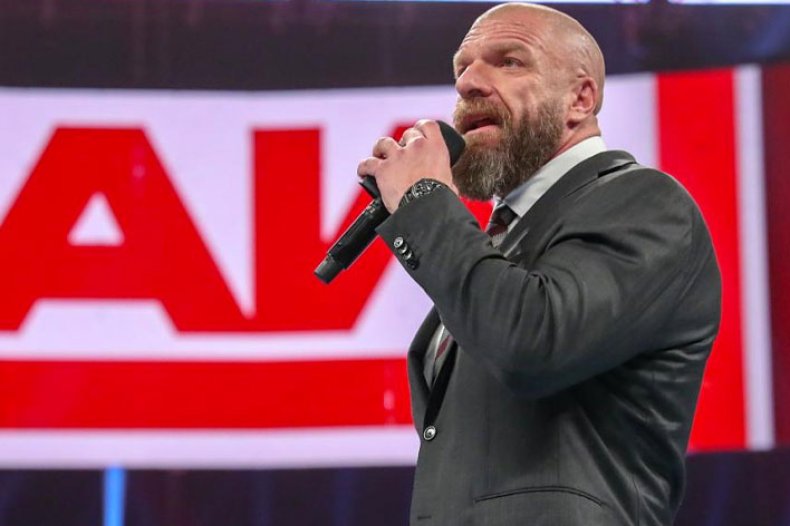 Was this move the natural "next step" for the brand?
Definitely. This is something that has been a year and a half in the making of these conversations happening. As the brand continued to grow through the WWE Network and everything we were doing there, the next step was to increase the viewing, the range and scope of what we can do.
Much in the same manner as a RAW or Smackdown that I've done, the bigger viewing platforms drives back to the pay-per-views or Takeover or however you want to refer to them. This was definitely the next step. It's an exciting time, and I'm thrilled that the product is opening up to two hours and going live because it allows me to present more talent, and we have a deep talent roster in NXT.
And to be able to give them more time and give them the opportunity for more of them is great. It's come with some challenges, live TV working without a net, but they are all up for the challenge and it's going to be exciting.
The move came as a surprise to many fans. Were you prepared for the move?
It's one of those things when you're doing it, it's taking forever. Like I said, we've been talking about NXT moving to cable television in a bigger way for a year and a half, two years. It's been brought up, we've had people talk to us about it and the timing wasn't right or we couldn't come to the right terms to it. This year the stars started to align, but it still felt like it took a long period of time. And then suddenly you get a call that "hey, here we are and it's happening."
And then it's like "oh my god, I wasn't ready for this to happen quite yet." [Laughs]
Like I said, thrilled to do it, talent is chomping at the bit to get out there and, not only are they happy to have the opportunity, but they get to show the world what they can do and who they are and keep that NXT brand out there for everyone to see.
Discuss the move to two hours and writing for it. Are there inevitable changes or challenges?
In that manner, it's not really going to change how we approach the writing of the program. I don't intend for it to speed things up. I don't intend for it to now all of a sudden you're going to see the same talent more often because they are on the same show and it's two hours instead of one.
I see it as opening a door. The biggest challenge for me in the last two years or so has been not having [time]. With the show being one hour, not having the ability to get talent out there. To continue to tell the story that needed to be out there [and] to continue to tell the story that will take you to the next Takeover or whatever it was. But to have the availability and opening to say, yeah I want this person on TV, I want to debut this talent. I want to move this person into something big. And you just run out of time and space. This really opens up that opportunity and will allow for a much more diverse grouping of talent to be shown.
There's a lot of talent chomping at the bit for the last year saying "put me in coach," you know? And we haven't had it. Now we have that space and time and, trust me, they are going to be there to be the top players on the brand and that's the competition that will breed success.
Will the two-hour format present a new challenge in regards to how many matches go on Takeovers?
It doesn't present a new challenge for me, necessarily. What it does is create a new opportunity for the competitive nature of the talent that are on the same team. So if you're on NXT you're going to be working every single show to make sure your stuff is the most memorable. Because, when it comes time to book that next Takeover and you know there's limited space, you want your stuff to be in. You're going to want the world to see it and be on the biggest platform.
Talent are going to be competitive with each other. If I'm just starting to make my way onto NXT and I see the people at the top, I want those spots. If they know just the best are getting on Takeover, they will be working doubly hard for it.
Will that lead to more standalone Takeovers?
I think you'll see some changes there, but the other thing I don't want to do, also, is flood the fanbase or overexpose the brand either. I want things to build organically and we have had success. We have the formula, the pacing, the timing and when the Takeovers take place that allows us to have more opportunities for a slower build. And when Takeover is done, we get a little bit of relief to promote the next thing. It allows you more chance to build and create epic stuff. To me that is the goal. I don't see it changing dramatically.
This past year we had five Takeovers with the brand here and two in the U.K. I think you might see that go up to six in the U.S. and we'll continue to monitor the U.K. to see what we can add there.
How important was staying in Full Sail?
For me it was very important. For one, with our partnership with Full Sail. We do so much there than just put on shows. If you're a student at Full Sail, they are working on our shows with us shadowing and it's a learning process for them as well. To continue that process, I wanted to keep it there. They are one of our biggest and best partners.
The other thing to me, that fan base in Florida, they built this. They were there on the ground floor and their energy and excitement allowed [NXT] to become what it has become and what it is becoming, and I want them to be on that ride with us and to continue to grow it. When we say "we are NXT" they are every bit a part of that as the talent are in some ways. I want them to continue to show the world when we go live on USA. I want them to stand up and say "we are NXT" because they are.
The first two live episodes of NXT will be preempted by USA network programming. Did that present some last-minute issues?
I don't look at is as them preempting us [laughs]. They have their season finales there and [Suits] is a great show for our partners at USA. I'm excited for the first two weeks to give people a taste, but leaving them wanting more. If that makes people jump over to the Network to watch the second hour, we are going to put some spectacular stuff on the first hour on USA and some on the second hour as well.
That first week alone, on the 18th, you're going to see Velveteen Dream and Roderick Strong for the North American title, you're going to see a Triple Threat between Bianca Belair, Io Shirai and Mia Yim to see who will face Shayna Baszler. There's also a Street Fight between Killian Dain and Matt Riddle that will continue their story. So there's a lot of stuff that is going to take place.
Both shows are going to be epic following one right after the other. The taste is there. If you're a new fan watching on USA you're going to get that taste for a couple of weeks, and then on October 2 we're going to give you the whole thing. For two hours you're really going to see what NXT is all about.
We've seen rosters from different brands move to NXT recently. Does the move to USA allow more freedom for roster members to move between main and NXT?
Yeah I think you'll see that RAW will become very much distinctly its own brand as well as SmackDown on Fox. And NXT will be its own. The ability, as time moves on, for people to move from RAW to SmackDown, and NXT to RAW or SmackDown, but also RAW or SmackDown to NXT.
NXT UK will sit under that NXT banner as well, probably 205 too breathing some life into it a little bit. That creates three distinct brands that talent, over the course of their career - which hopefully is long - where they can migrate from one to the other and be reinvigorated and have fresh starts and have longer, more meaningful and lucrative careers while staying within the same company.
So 205 Live will sit under the NXT umbrella?
You'll start to see 205 begin to. I think it always existed as an island onto itself, a little bit, and it's become lost in this limbo. You'll begin to see it move more towards the NXT banner and the talent there. We have a lot of talent. For them to begin to compete either open against anyone or in the cruiserweight division, but have that title sit under the NXT brand is more meaningful. It creates more opportunities for more people.
As for RAW and SmackDown, it's an open division for them. When you're on both shows, everybody is competing against everybody.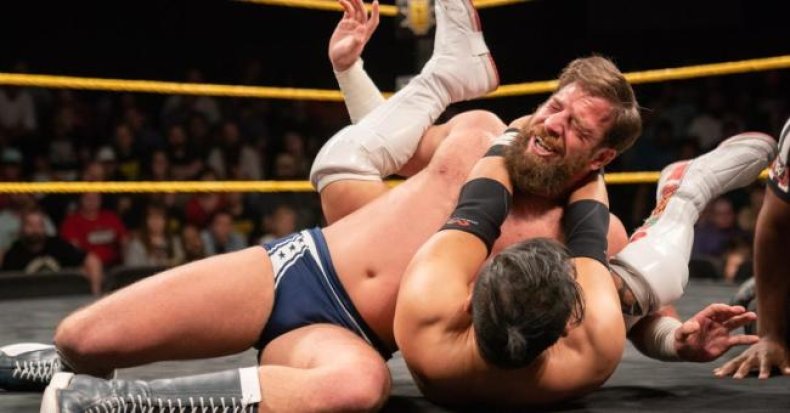 NXT fans are accustomed to having talent develop in the system and eventually "come up" to main roster. Now that NXT is on USA is that prospect off the table? Talent like Gargano have said that they would love to be NXT lifers, can that happen?
I think it can. No different than somebody becomes the face of RAW and spends the majority of their career there. It's the same with SmackDown and the same with NXT. I also think the opportunity for someone to leave for a period of time,take a breather and come back a little later refreshed is important. This gives them an opportunity to do other things.
As NXT becomes bigger and more of a global brand, like you see what we've done in the UK, you will see talent has the opportunity to take a breather from RAW or SmackDown and go someplace else. And still it be very meaningful for them and not seen as "I'm going down to the minors" or anything else.
It's going to be a shift over to a different brand with a different feel and a different vibe where they can go and refresh and become something different so when they do go back - or maybe they don't - they can rebrand themselves.
The most successful talent in this business, from a long term standpoint, has the ability to reinvent themselves over time. And that gives them the chance to reinvent yourself at all times.
What will make NXT a success as the brand moves to USA?
That long-term, people begin - and I think they are - to lose the perception of "developmental" and it just becomes a brand. That it becomes a brand with its own unique look and feel, but that it creates the opportunity for every talent on every brand to have another place to go do what they do.
The true success for us, would be to deliver the best product possible for the group of fans that are really passionate about NXT, which is a large group of the core audience of what we do.
I say all the time, there are a lot of people that watch the NFL. There are some that are real hardcore fans of footaball. They know everything about football, stats, figures all of it. And they are deep into it. And then they are just those that enjoy football on the weekends and are more casual in their desire.
We cater to the hardcore. We cater to the people that are in deep and into it the entire way. If we can make it a success for them, and make a show that they think, "man, no matter what else is on I got to catch NXT each and every week" then that would be a success.
NXT will premiere its first weekly live show on USA Network starting Wednesday, September 18 at 8 p.m. EDT.