Fire Forced Surfside Collapse Rescue Crews to Turn Back From Woman Pleading for Help
Rescue workers were forced to turn back from rescuing a trapped woman in the Champlain Towers South collapse last week, following a fire breaking out in the debris of the 13-story condo building in Surfside, Florida.
The residential tower in Miami-Dade County fell early in the morning of June 24, and rescue workers quickly responded to the scene. According to a Wednesday report from Florida's Local 10, an email sent by a rescue supervisor detailed how responders were communicating with a woman trapped in the building before a fire forced them to forego their efforts to save her.
The email first reported by Local 10 said that rescue workers were "involved with an active conversation with the female trapped next to the bed about 10 to 11 hours after the collapse." It explained that the woman "was aware her parents were also trapped next to her."
But after a fire broke out, according to the email, the rescue workers had to withdraw. The email said that rescuers "know she passed" and that the tragic event impacted the spirits of rescuers. "They saw the wind knocked out of our guys," it said.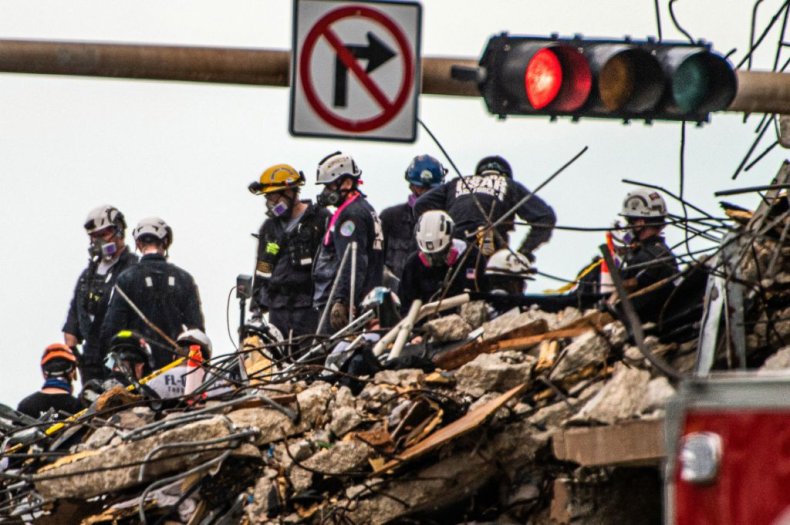 Miami-Dade Lt. Obed Frometa, with Florida Task Force 1, told Local 10 that situations like the one described in the email cause "a feeling of not only defeat, but it's a feeling of loss. We are human, after all. We're not robots. We're not machines. We feel it."
Miami-Dade County Mayor Daniella Levine Cava announced on Thursday morning, a little over a week after the collapse, that rescue operations have been paused due to safety concerns.
"We're doing everything that we can to ensure that the safety of our first responders is paramount, and to continue our search and rescue operation as soon as it is safe to do so," Levine Cava said. The mayor said the decision came due to "structural concerns about the standing structure."
At least 18 people have been confirmed to have died in the tower collapse. Roughly 55 of the condo building's 136 apartments were destroyed when it fell, while 145 people remain unaccounted for.
President Joe Biden will visit Surfside on Thursday to meet with the families of victims.
"The President is coming here with the first lady to make sure they're offering up their services... and just comfort," Principal Deputy White House Press Secretary Karine Jean-Pierre told reporters on Air Force One. "This is about the community, this is about the people, and everything they've had to endure the past several days."
The cause of the structure's collapse has not yet been officially determined. But a report from October 2018, which was made public by the city on Sunday, determined that waterproofing below the building's pool area and entrance drive was failing—leading to "major structural damage to the concrete structural slab below these areas."
Newsweek reached out to Miami-Dade Fire Rescue for further comment, but did not immediately receive a response.