Russian Regional Parliament Building Set Ablaze in Siberian City
A fire broke out next to the regional parliament in Tyumen, Russia, with images shared on social media showing thick black smoke spreading across the center of the Siberian city.
Responders arrived at around 8.30 a.m. Saturday local time at the car depot building of the Tyumen Regional Duma, which is adjacent to a prison in the city located around 1,000 miles east of Moscow.
The blaze covered an area of around 16,000 square feet and took around two hours to be extinguished and required 70 responders, according to the regional branch of Russia's emergency situations ministry.
No one was killed or injured in the fire, authorities said. Images of the blaze were shared by local residents on a live blog of local news outlet 72.ru.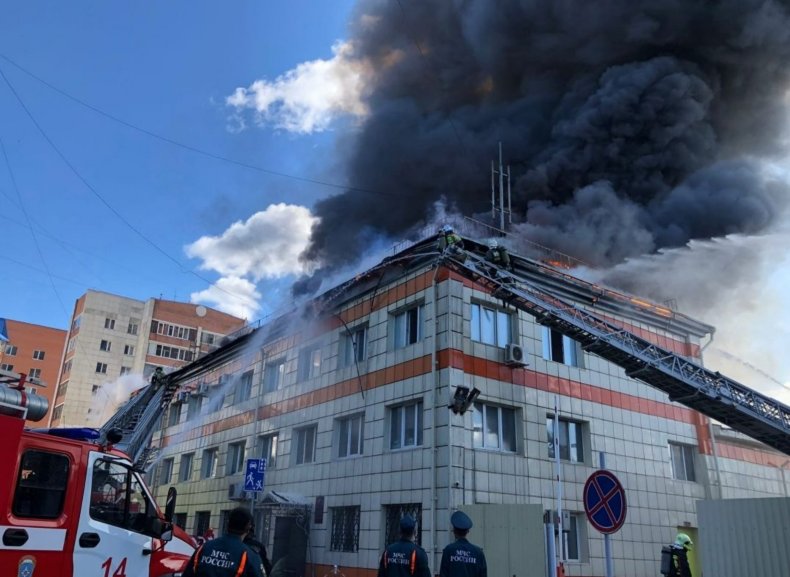 The pictures were taken from up close and in other parts of the city and show the dark smoke billowing out from the top of the three-story building.
The responders removed 30 cars from the depot, and over a dozen oxygen and gas cylinders. Footage shared by the authorities also show the smoldering remains of the site on Yalutorovskaya street which was behind a shopping center.
"The causes and damage are being established," the ministry said, according to news agency RIA Novosti.
Fires in summer are common in Russia but there have been a number of blazes of significant municipal facilities since the start of the war in Ukraine, some of which have not been formally explained.
These include fires at fuel depots in Belgorod and Bryansk near the Ukrainian border, a gunpowder factory in the Urals city of Perm, and an aerospace research institute in Tver. Military enlistment offices have also been hit by arson attacks.
Last month, responders tackled a fire at the Central Aerohydrodynamic Institute (TsAGI) in Zhukovsky 25 miles southeast of central Moscow. Meanwhile, a fire engulfed around 22,000 square feet at an industrial site in Berdsk, near Siberia's largest city of Novosibirsk, 1,800 miles east of Moscow after polyethylene products in the building had caught alight.
Also in May, one person was killed and seven others were injured following an explosion in the gunpowder warehouse of a military unit in the Amur district of the Khabarovsk region.
This came only days after a major explosion at an ammunition plant that produces gunpowder in the city of Perm, near the Ural Mountains in which two people were killed. Days later a fire engulfed an aviation college in the same city.