Stephen Colbert's Trump Sex Joke Provokes #FireColbert Twitter Storm Fueled by Offended Trump Supporters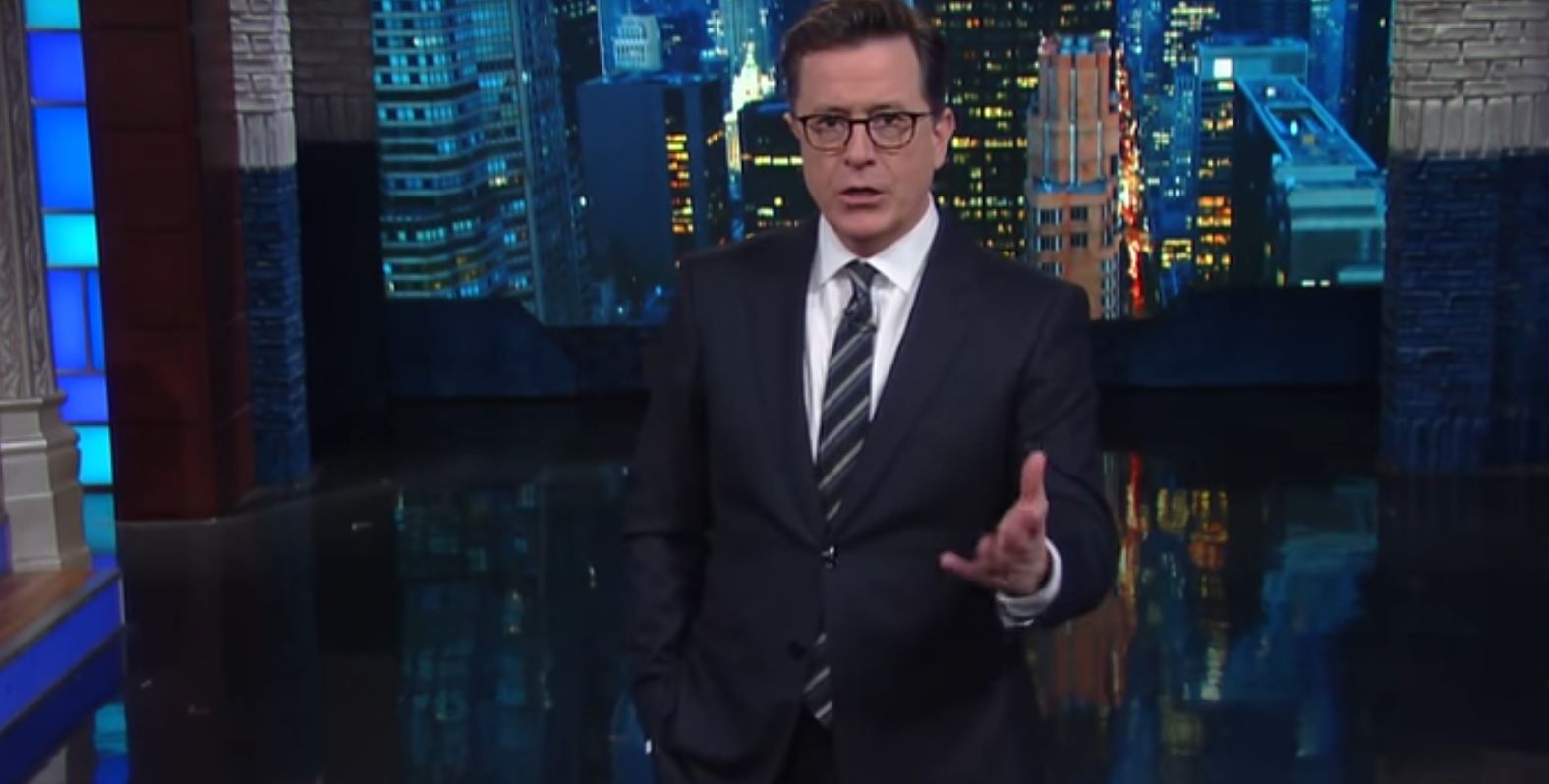 Wait, what did he say about a holster?
Millions in this once-innocent nation are asking that very question after late-night comedian Stephen Colbert used an explicit reference to oral sex to assail President Donald Trump in a vicious monologue during Monday's broadcast of The Late Show. Colbert, never much of a Trump fan, was especially incensed by the president insulting CBS colleague John Dickerson, host of Face the Nation—or as Trump called it during an extended interview that aired on Sunday, "Deface the Nation."
Though the segment had plenty of insults, it was the apparent reference to an act of sexual congress between Trump and his Russian counterpart Vladimir Putin that outraged the right and led to the trending of the #FireColbert hashtag through Tuesday night into Wednesday morning.
Read more: Stephen Colbert 'thanks' Donald Trump for 100 days of higher ratings
Colbert also made another joke about intercontinental fellatio in February, after Trump said there had been a terrorist attack in Sweden the previous night. That led a former Swedish prime minister to wonder what Trump was smoking. Colbert gleefully supplied the answer.
The overnight outrage was stoked, in part, by Mike Cernovich, once branded by The New Yorker "the meme mastermind of the alt-right." On Tuesday evening, Cernovich tweeted to his 258,000 followers an exchange Colbert had with an audience member last summer. The exchange took place during a question-and-answer session that was not broadcast as part of The Late Show.
The audience member asked what Colbert would like to ask Trump.
Colbert answered, perhaps ill-advisedly, with what appears to have been his first Trump-Putin oral sex joke. That joke, it must be said in fairness to Colbert's detractors, is hopelessly juvenile in nature, as are those that have followed; it does, moreover, historically have homophobic connotations.
Cernovich tweeted out video of this exchange without making clear that it was months old. The tweet was shared hundreds of times.
The #FireColbert movement, such as it is, also got a boost from Gateway Pundit, a far-right website that has a history of deliberately disseminating misinformation. There, writer Lucian B. Wintrich railed at length against what he called Colbert's "disgusting 12-minute homophobic rant," though in fact only one of the jokes appeared to be overtly sexual in nature.
"Can you imagine for a second the outrage if a conservative said something of a similar caliber?" Wintrich wondered.
The use of liberal sensitivities to discredit liberals has become something of a favored alt-right strategy. Last month, Cernovich managed to earn New York Times culture writer Sopan Deb a scolding from public editor Liz Spayd because Deb had indirectly engaged with a tweet that made a sexually crude reference to First Lady Melania Trump. The Daily Beast bemoaned Spayd having fallen for what it called an "alt-right harassment campaign."
It's hard to call the #FireColbert campaign "harassment," since Colbert plainly knew the joke would invite controversy (which doesn't exactly hurt his ratings). And he has faced calls for firing from the left, too, as when he made an offensive joke about Asian-Americans in a 2014 episode of The Colbert Report. To be sure, the latest joke has clearly caused offense among some in the LGBT community. The Intercept's Glenn Greenwald, who is gay, tweeted Tuesday morning: "Homophobia for the right cause, with the right targets, is good homophobia, apparently." And the deputy editor for The Huffington Post's Queer Voices section, James Michael Nichols, wrote that "Colbert's decision to make this kind of joke illustrates a kind of casual homophobia that permeates American culture―even among supposed liberal allies with massive media platforms. It positions sex between two men as doing something so mockable and inherently emasculating that it's the ultimate "fuck you" to Donald Trump."
At the same time, it seems that Trump supporters are less concerned with Colbert's alleged homophobia than they are with the president's humiliation at the hands of a member of the coastal media elite. After all, many (though not all) of Trump's supporters revel in his flouting of political correctness, his unending willingness to offend.
Trump began his presidential campaign in 2015 by branding undocumented immigrants from Mexico "rapists." He insulted a disabled New York Times reporter and, later, offended the parents of a fallen Muslim-American soldier. In the infamous Access Hollywood tape, he boasted openly about sexually assaulting women.
Given all that, many liberals delighted in depiciting the #FireColbert crowd as delicate "snowflakes" unwilling to take a not-so-gentle ribbing from a comedian.
Anti-Trump forces on Twitter also pointed to previous right-wing social media "boycotts" of Starbucks, for a stated willingness to hire refugees, and the musical Hamilton, for its cast respectfully questioning then-Vice President Elect Mike Pence about the values of the incoming administration. Neither of those appeared to have had the intended effect.
By early Wednesday morning, it did not appear that #FireColbert had fared much better.
A definition of Colbert's offending phrase can be found online. As has become the norm in American political discourse, extreme parental discretion is advised.