Fired FBI Agent Peter Strzok's GoFundMe Page Raises Almost $260K in Hours
A GoFundMe page supporting former FBI agent Peter Strzok, which launched after his firing was announced on Monday, has raised almost $260,000 in 23 hours.
The campaign started by "Friends of Special Agent Peter Strzok" now seeks to raise $350,000 to cover his "hefty—and growing—legal costs and his lost income" after he was fired for sending texts to a former FBI lawyer that expressed his dislike for President Donald Trump. Strzok was working on the special counsel's investigation into potential Russian interference in the 2016 election at the time the texts were sent.
"Peter Strzok, a man who has spent his entire life working to help keep us and our nation safe, has been fired," the fundraising page reads. "He needs your help.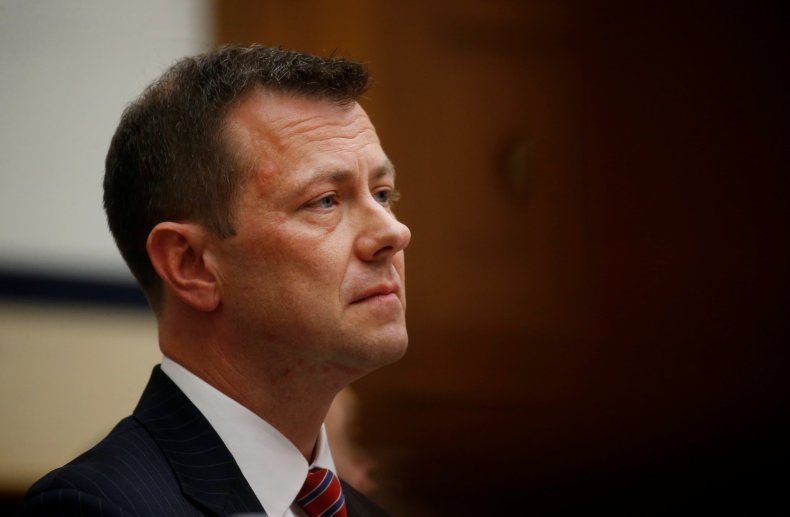 "For the last year, Pete, his work, and his character have been the target of highly politicized attacks, including frequent slanderous statements from President Trump, who actively—and apparently successfully—pressured FBI officials to fire Pete," it continues.
"Unlike those who typically become the focus of partisan investigations in Washington, Pete is not politically connected, he's not a wealthy lobbyist and he's not interested in using his notoriety for personal gain."
The fundraiser's description says that Strzok's "personal views never once influenced his professional actions" and noted that the FBI veteran had served the bureau for 21 years.
The FBI removed Strzok from Robert Mueller's team, which was investigating Russian meddling in the 2016 presidential election, after it surfaced that Strzok had sent text messages criticizing Trump to former FBI attorney Lisa Page, with whom he was having an affair.
Strzok was reassigned to the Human Resources Department after Michael Horowitz, the inspector general in the Department of Justice, discovered the anti-Trump messages. Although the texts demonstrated bias, Horowitz never found any evidence that the bias affected Strzok's performance in the investigation.
In a statement on Monday, Strzok's attorney, Aitan Goelman, said that his client was fired by the bureau's deputy director last Friday, despite the FBI Office of Professional Responsibility's recommendation that Strzok be demoted and suspended for 60 days.
"The decision to fire Special Agent Strzok is not only a departure from typical Bureau practice, but also contradicts Director Wray's testimony to Congress and his assurances that the FBI intended to follow its regular process in this and all personnel matters," Goelman said.
"This decision should be deeply troubling to all Americans," Goelman continued. "A lengthy investigation and multiple rounds of Congressional testimony failed to produce a shred of evidence that Special Agent Strzok's personal views ever affected his work."
On Monday, Trump took to Twitter to celebrate Strzok's termination and attack the FBI's investigation.
"Agent Peter Strzok was just fired from the FBI - finally. The list of bad players in the FBI & DOJ gets longer & longer. Based on the fact that Strzok was in charge of the Witch Hunt, will it be dropped? It is a total Hoax. No Collusion, No Obstruction - I just fight back!" Trump tweeted.
The GoFundMe page has been shared at least 16,000 times and has raised $259,983 from more than 6,500 donors in the 23 hours following its posting.
In a statement to Newsweek, Goelman said that the donations have "been tremendous and Pete is humbled by the support."
On Tuesday, Strzok took to Twitter to express his gratitude for the generous donations. "Stunned and humbled by the extraordinary outpouring of support already received from thousands of fellow everyday citizens taking time to fight for our country and our shared American ideals. Thank you," he wrote.
This story has been updated to include Strzok's tweet and additional comment from Goelman.