Brian Covey, Fired Florida School Teacher, Vows to Expose Ron DeSantis
Brian Covey, a teacher who was fired after posting a video of empty bookshelves that Florida Governor Ron DeSantis denounced as misinformation, told Newsweek that he will continue to share "the reality of public schools" in the state.
Covey was a full-time substitute math teacher at Mandarin Middle School in Jacksonville. He posted tweets that went viral at a time when Florida school districts are removing or covering books in classrooms and libraries to comply with new state laws.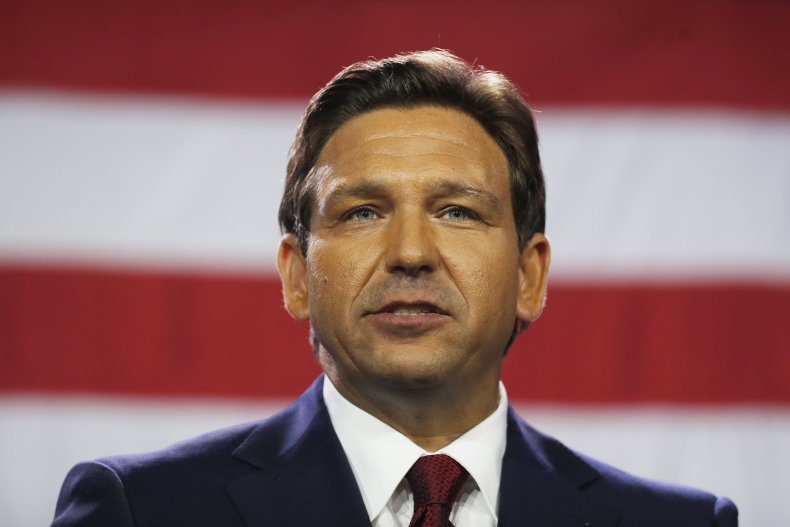 Covey was at his children's elementary school in Duval County for a book fair during Literacy Week in January when his son told him about books being pulled from his school's library, the 39-year-old Jacksonville resident said.
"They removed every single book from my children's classrooms," he wrote on Twitter on January 27. "I read books about the consequences of this when I was in school."
"It just didn't sit right with me, and I couldn't figure out how, as a parent, to explain why this was happening to my kids," Covey said. His son is in fifth-grade, and his daughter is a second-grader.
"My kids are avid readers, and it just seems so beyond belief that this is the reality of public schools," he added.
He was venting about it to a colleague the following morning, he said. "She responded, 'You should go check out what we did to our library upstairs.'"
Covey did, and then posted a short video on Twitter, showing rows of empty bookshelves inside the middle school's library. It soon went viral, amassing millions of views.
House Bill 1467, which took effect in July 2022, requires books and materials be reviewed by a district employee holding a valid educational media specialist certificate. Books must be age-appropriate, free of pornography and "suited to student needs and their ability to comprehend the material presented."
Duval County Public Schools told educators in January to "err on the side of caution" in determining whether a book "is developmentally appropriate for student use."
Teachers are afraid of falling foul of the law and being stripped of their licenses or being charged with a felony, Covey said.
"The fear of losing your teacher certificate is pushed down from the district, and is something that is just as much of a punishment as a third-degree felony for a teacher," he said. "As a substitute teacher, I don't have that certificate to lose. I decided to continue to show and take videos of what I was able to witness."
Covey said school officials did not say anything to him about his posts until DeSantis, a Republican reportedly weighing up a 2024 presidential bid, stepped in. He called the tweets a "fake narrative" when asked about them at a February 14 news conference. "What they're trying to do is they're trying to act like somehow we don't want books," DeSantis said.
Newsweek has contacted DeSantis' office for further comment.
Covey said: "I went to school the next day, and nothing was said to me."
But that evening, almost three weeks after his first video was posted, he said he was told in a 45-second call with Education Staffing Solutions (ESS) that he was being terminated because he had violated their cell-phone and social-media policy. ESS is an organization that contracts substitute teachers to the district.
"They had the option to just remove me from Mandarin Middle School, but they terminated my access countywide, and they terminated my employment with them," Covey said.
In a statement to First Coast News, Duval County Public Schools confirmed Covey was fired in connection to his social-media posts.
"In discussion between the district and ESS regarding this individual's misrepresentation of the books available to students in the school's library and the disruption this misrepresentation has caused, it was determined that he had violated social-media and cell-phone policies of his employer," the statement read. "Therefore, ESS determined these policy violations made it necessary to part ways with this individual."
Last week, the district posted a video to Twitter, saying Covey's video "shows less than half the story."
"Yes, those shelves were empty," the tweet read. "But they were in a room full of books."
Covey told Newsweek that the 6,000 books approved in the district in the past three weeks is just 0.375 percent of the 1.6 million titles that need to be reviewed by a July 1 deadline.
That "means that 99.625 percent of all books in the district are inaccessible to students right now," Covey said. "At the rate that they're currently going, we're looking at over a decade" before the review is over, he added.
Covey is also angry that the media specialists conducting the review were removed from classrooms, taking away another valuable resource from students.
They have "a long-term relationship based on reading" with elementary school students, he said. "And that was what was removed from my kids' regular routine."
Covey, who worked in finance before working as a substitute teacher, said he had planned to pursue getting his teacher's license and become a full-time educator. However, he is not sure he will continue on that path. He also runs a business.
"The way things were handled and the way I had to publicly defend myself and my kids' reality, I just need time to decide whether I want to pursue teaching again," Covey said.
A conservative push to remove objectionable books from school libraries has been growing in the past two years. Moms for Liberty wants to have at least 150 books removed from Florida school libraries.
"This isn't a political thing for me, and I'm obviously not trying to profit off of it since I gave up my career to keep going with it," Covey said.
"My main priority is to make sure that my kids' reality is known and attached to the people that made it my kids' reality... I just want my kids to be back to the normal they had a month ago."
Covey added: "I'm willing to take the bullet and go through the heat right now because I know my story is the truth. At this point, until my kids have a new normal, I'm just going to keep sharing the story and making sure that people know that this can happen to them."