An image first posted on Facebook was quickly shared on the Reddit forum "Humans Being Bros" where it has since gone viral, receiving more than 35,000 votes.
The photo, which was shared by the Singapore Civil Defence Force's Facebook page, shows firefighters gathered around a group of felines that were rescued from a building fire. According to the photo's caption, the firefighters managed to save 13 cats.
Keeping pets safe from potential building fires may come down to a few important choices.
Per the American Kennel Club, pet owners should try to keep their pets near the entrance of their home when they're not home.
"When leaving pets home alone, keep them in areas or rooms near entrances where firefighters can easily find them, especially when visibility is low (in the case of smoke)," the agency advised, adding that owners should be mindful of keeping young pets away from "potential fire-starting hazards."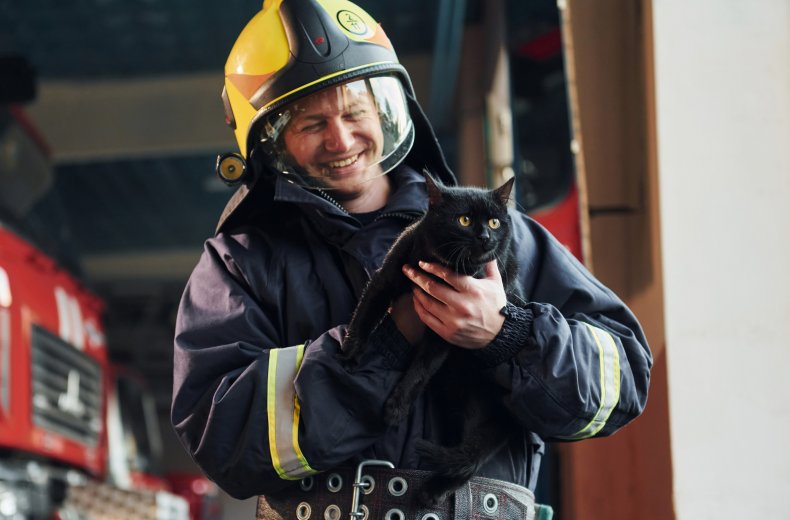 According to the Singapore Civil Defence Force's Facebook post, firefighters responded to the fire on Thursday.
"Firefighters from Bukit Batok Fire Station conducted forcible entry into the unit and extinguished the fire using three compressed air foam backpacks," the post stated.
Firefighters removed 14 unconscious cats from the unit before the responders, who were trained as emergency medical technicians, performed cardiopulmonary resuscitation (CPR) on the felines. One cat unfortunately died.
The agency also reported that firefighters evacuated 20 people from neighboring units as a precautionary measure.
While it received a great deal of attention on Facebook, the photo also went viral on Reddit, where commenters weighed in on the matter.
"Man firefighters are the best," a commenter wrote.
"Imagining how scared those poor lil babies were during the fire hurts my heart," another shared. "I just shower those kitties with treats and scritches [sic]."
"Those are some exhausted cats to be laying around like that," a Redditor wrote. "Glad they made it!"
One Redditor, who alluded to cats having nine lives, wrote, "That's 117 lives!"
Some commended the firefighters for their service, with one Redditor commenting: "I hope these men were honored for this. Lives saved are lives saved."
Some other animal rescues have also circulated the internet and have gone viral.
One viral video that was posted to Reddit shows a person sitting in the bucket of an excavator that pulled a dog from a running stream of water. Another video showed an environmental officer who rescued a red-tailed hawk after it got its leg stuck in a picnic table. Earlier this month, bodycam footage showed deputies working to save several dogs that were trapped in an RV that was on fire.