Firing Dr. Fauci Now May Help Joe Biden Manage the Next COVID Wave, and His Poll Numbers
Joe Biden built his presidential campaign around his assertion that he would "shut down the virus, not the economy." Accordingly, his approval rating has slumped and risen along with U.S. infection and death rates. The number of COVID cases nationwide is again on the decline—and, some Democratic strategists say, that gives the administration an opportunity to change the tone of the discussion around the virus. Biden now has a chance to depoliticize the issue with an action that is suddenly less controversial than it would have been just days ago: Fire Anthony Fauci.
In a testy exchange with Senator Rand Paul last July, Dr. Fauci asserted flatly, "The NIH [National Institute of Health] has not ever and does not now fund gain-of-function research in the Wuhan Institute of Virology."
That wasn't true. The NIH has conceded that EcoHealth and the Wuhan Institute of Virology did in fact conduct controversial gain-of-function experiments. Fauci, perhaps unknowingly, misled Congress in denying that.
There is no proof that a lab accident at the Wuhan Institute started the pandemic, or that SARS-CoV-2 leaked from a lab in Wuhan or elsewhere. Still, the disclosure that U.S. funds supported the controversial research—and the failure to acknowledge that—has deepened already-widespread distrust of Fauci and by extension the Biden administration.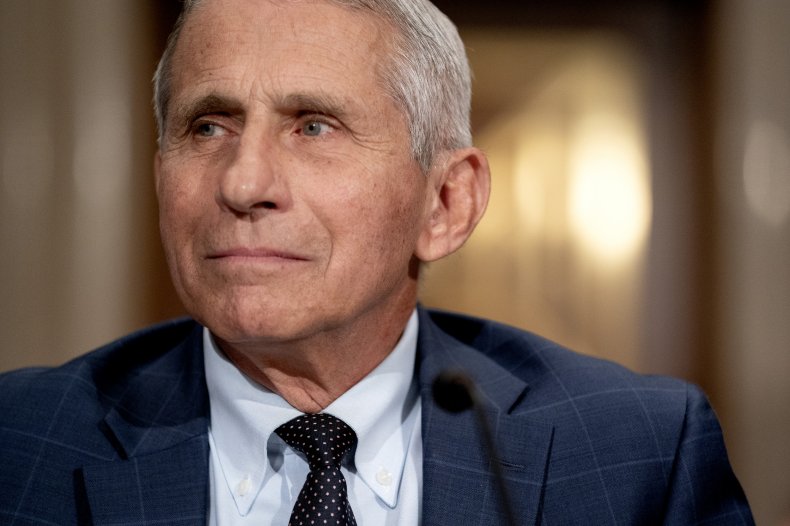 Only the most partisan Democrats dispute the notion that Fauci has long since become a polarizing figure on the issue of COVID. The reason for that was on full display on October 17, when in an interview with Chris Wallace of Fox News, Fauci once again presented himself as the embodiment of "science, data and hard facts," and said those who disagree with or criticize him are "conspiracy theorists."
"Those are people that don't particularly care for me, and that's understandable because what I do and I try very hard is to be guided by the truth," he said. "And sometimes the truth becomes inconvenient for some people, so they react against me."
Biden himself has also alienated skeptics with his dismissive tone. At a presidential town hall Thursday evening, he mocked people with concerns about vaccine safety or government mandates by joking, "I have the freedom to kill you with my COVID."
While Biden's frustration with Americans who remain, for whatever reason, unvaccinated, may be understandable, ''it is not presidential," says a senior staffer to a centrist Democratic Congressman not authorized by his boss to speak on the record. "Too often he sounds like the President of Twitter, not the President of the United States." Part of the reason that message isn't breaking through to some Americans is that the virus, like so much else in American life, has become intensely politicized.
The disclosure that the NIH did indeed fund gain-of-function research further undermines Dr. Fauci's standing to direct the U.S. response to the pandemic. His attitude had already infuriated a not-insignificant segment of the population. And even before the disclosure that his statements to Congress and to Senator Paul about the NIH's role were inaccurate, Democratic strategists told Newsweek that Biden could do himself and the country some good by finding a less polarizing figure to oversee the closing chapters of the pandemic. "If you can take some of the political poison out [of COVID] in an election year, it's a big win," says Ryan Pougiales, Deputy Director of Politics at Third Way, a centrist Democratic think tank.
Some senior public health officials in the Biden administration are already taking a different approach to Fauci's when talking about the pandemic. In interviews this past summer, CDC Director Rochelle Walensky discussed the current guidance on vaccine booster shots without setting off a backlash from skeptics and opponents. Her measured tone and transparency about scientists' uncertainty offered an alternative to Fauci's black-and-white presentation of the issues.
President Donald Trump, who clearly disliked Dr. Fauci and disagreed with his guidance, could not have fired him without intense criticism and charges that he simply didn't want to hear the truth about the virus, vaccines, masks or lockdowns. President Biden isn't constrained by that concern. The new revelations about U.S. taxpayer support for the Wuhan lab research raise more questions about Fauci's credibility and give Biden more freedom to move forward.