In First Biden Rally Appearance, Obama Hits Trump Where It Hurts Most—TV Ratings
Former President Barack Obama brought up President Donald Trump's dropping TV ratings during a speech supporting Democratic presidential nominee Joe Biden in Pennsylvania on Wednesday.
Trump has been known to use ratings a popularity gauge for himself and his targets in the media. During concurrently aired town hall meetings on different networks in October, more viewers tuned in to watch Biden than Trump. Trump was the host of the reality game show The Apprentice for its first 14 seasons on NBC. Obama said Wednesday that Trump was treating his presidency like a television program.
"[Trump] hasn't shown any interest in doing the work, or helping anybody but himself and his friends, or treating the presidency like a reality show that he can use to get attention," Obama said. "And by the way, even then, his TV ratings are down. So you know that upsets him."
"But the thing is this is not a reality show. This is reality, and the rest of us have had to live with the consequences of him, proving himself incapable of taking the job seriously," Obama added.
According to ratings firm Nielsen, Biden's town hall meeting broadcast on ABC television gained an average of 14.1 million viewers. On the NBC television network, Trump's town hall averaged 10.9 million viewers. Two other NBC networks broadcast the Trump event. On MSNBC, 1.8 million people tuned in to hear Trump answer voter questions. At the same time, the CNBC broadcast of Trump's town hall averaged 720,000 viewers.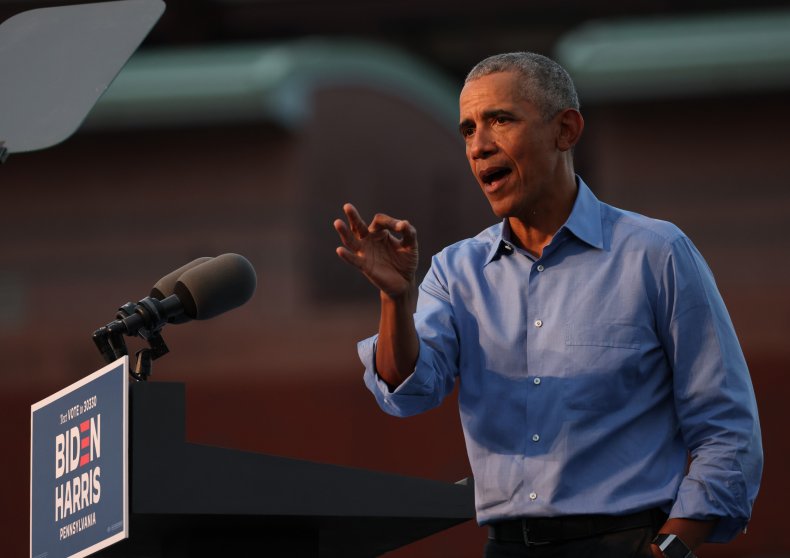 In July, Trump implied news coverage of a Biden presidency would receive "no ratings."
"With no ratings, media will go down along with our great USA!" Trump tweeted.
Trump has also disparaged some cable news networks while expressing a fondness for conservative-friendly Fox News. Trump often phones into Fox News programs for interviews. According to an October tweet by CBS News White House Correspondent Mark Knoller, Trump has been interviewed on Fox News more than 100 times.
"Very poor morning TV ratings for MSDNC's Morning Joe, headed by a complete Psycho named Joe Scarborough and his ditzy airhead wife, Mika, and also @CNN, headed by complete unknowns," Trump tweeted in August. "Congratulations to @foxandfriends on dominating the mornings (thank you President Trump!)."
When the Democratic National Convention (DNC) scored higher television ratings than the Republican National Convention (RNC) in August, Trump took to Twitter to claim that the ratings were incorrectly reported.
"Wow! Despite the Democrats views across TV and online lie (Con!)," Trump wrote, "we had 149.7 million, the Republican National Convention blew the Democrat National Convention AWAY. Not even close! Just like their lies on Russia, Football (PLAY!) and everything else!"
Nielsen reported in August that the DNC averaged 21.6 million viewers over a four-night span while the RNC averaged 19.4 million viewers, a difference of 2.2 million.
Newsweek reached out to Trump's re-election campaign for comment.