First Edition 'Mein Kampf' Signed by Hitler Sells for $43,750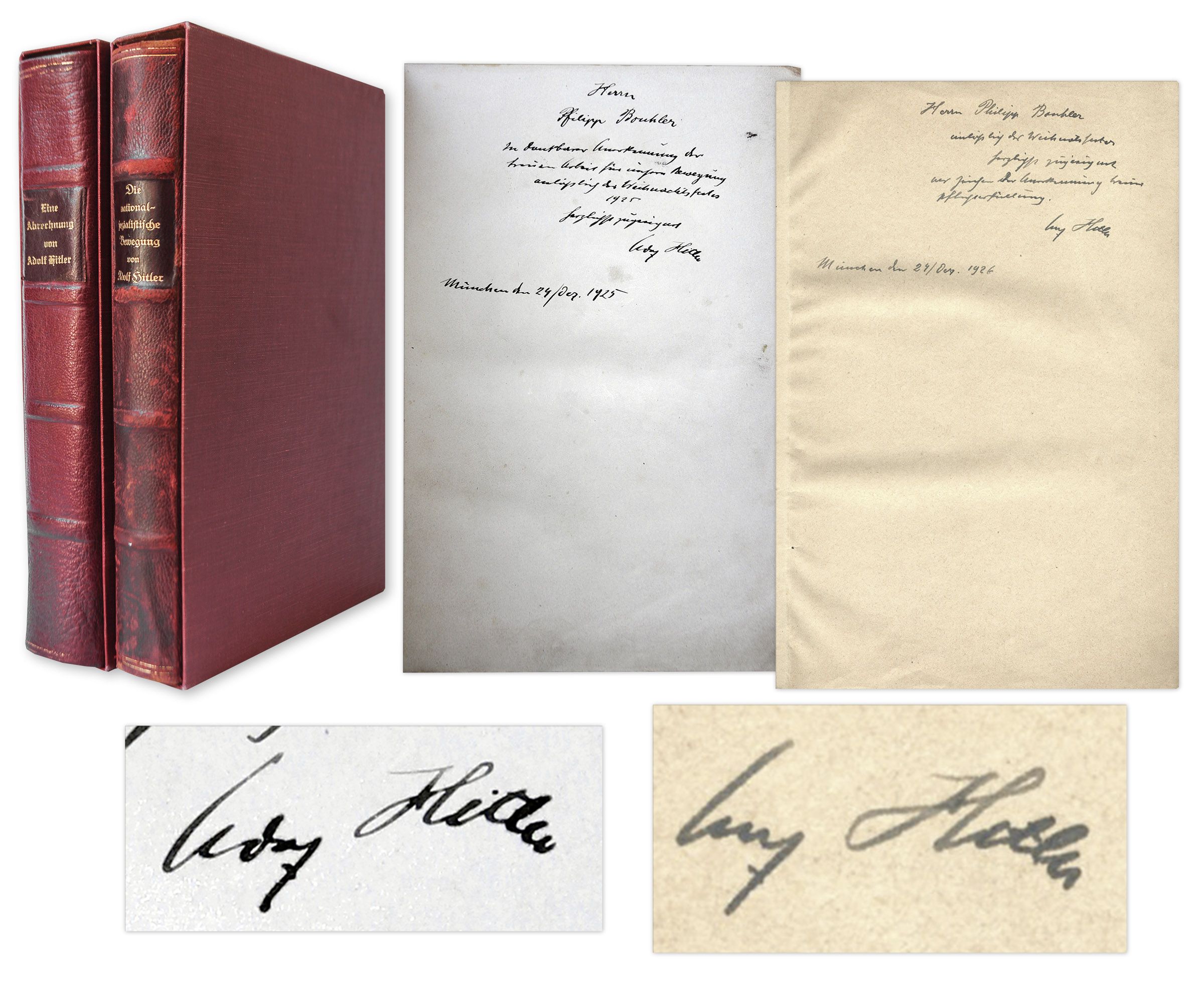 A two-volume set of Adolf Hitler's manifesto Mein Kampf and a handwritten address-change document he filed with the police in Vienna in 1909 attracted zero bids in an online auction that ended Thursday, but the Mein Kampf sold just a few hours later for $43,750.
A third Hitler-related item, a still life of flowers he was thought to have painted in 1912, was withdrawn from the auction earlier this week after Los Angeles-based Nate D. Sanders Auctions became concerned about its authenticity.
The first volume of Mein Kampf was published in 1925, almost a decade before Hitler came to power in Germany, in 1933. Hitler dictated the book to Rudolf Hess, with whom he was serving a prison sentence for high treason after the Munich Beer Hall Putsch of 1923, Hitler and the young Nazi party's failed attempt to overthrow the German government.
The set of first-edition books—which listed a minimum bid of $35,000—were believed to have been inscribed by the future fuhrer to Philipp Bouhler, one of the first members of the Nazi party. Bouhler later was highly ranked in the party, becoming chief of Hitler's chancellery and head of the T-4 Euthanasia program.
The inscription in Volume I reads:
To Herr Philipp Bouhler
in grateful recognition of your loyal work for our movement on the occasion of Christmas 1925
inscribed most sincerely
Adolf Hitler
Munich, December 24, 1925
In Volume II, the inscription reads:
To Herr Philipp Bouhler
on the occasion of Christmas inscribed most sincerely as a sign of recognition of your performance of duties
Adolf Hitler
Munich, December 24, 1926
The lot also included a 1938 brochure about Hitler written by Bouhler.
While the auction house sold a set of Mein Kampf volumes inscribed to SS Officer Josef Bauer for $64,850 in February 2014 to the highest of 11 bidders, there was not a single offer for the set dedicated to Bouhler by the close of bidding Thursday. However, items that don't attract bids often remain for sale at the minimum bid price plus the buyer's premium, auction manager Laura Yntema says. Post-bidding sales happen with every auction, she explains.
In this case, a buyer purchased the set at roughly 10:30 p.m. Pacific, five and a half hours after the end of the bidding period, for $43,750 (the $35,000 minimum bid plus the buyer's premium). The auction house's policy is not to disclose the identity of its sellers and buyers.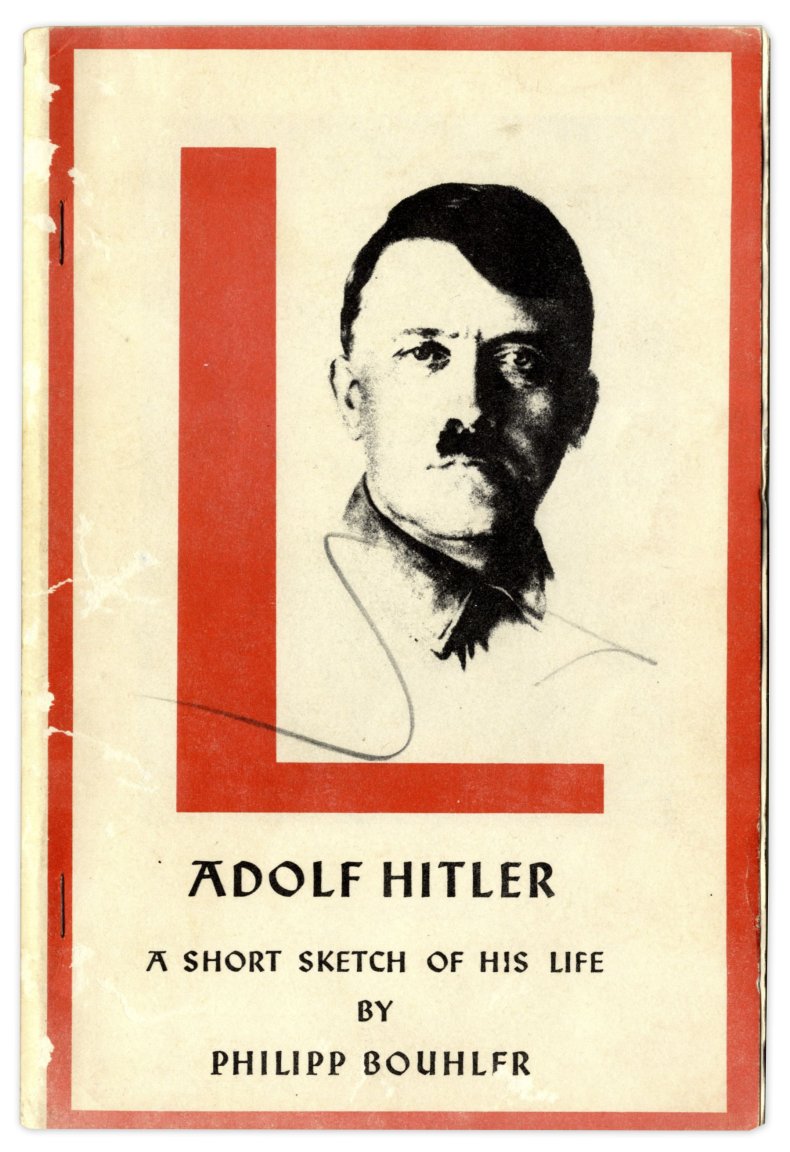 A separate lot that contained the Hitler change of address form had a minimum bid of $20,000. It, too, did not get any offers and as of press time had not been purchased. The two lots came from separate private collectors, spokesman Sam Heller says. The consigner of the books, Yntema says, is a collector of pieces from important 20th century figures.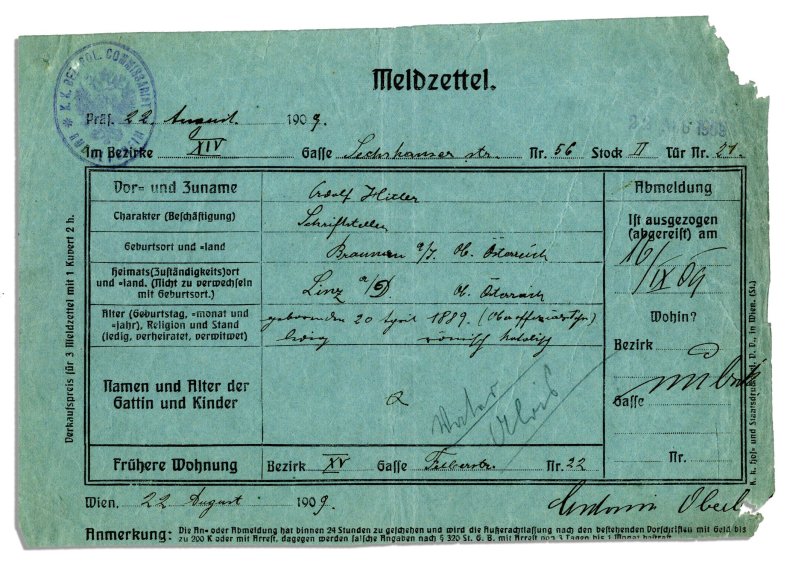 In the online auction catalogue a third lot—a floral still-life painting originally listed as a 1912 Hitler creation—was marked "withdrawn," having been removed earlier this week, Heller said.
"Some authenticity issues arose with it, so just to be on the safe side we withdrew it," Yntema said. "It had fairly good provenance," or sourcing, she said, "which is why we decided to run it, [but] if there's a mistake made we'll certainly pull an item."
According to a press release sent to Newsweek on Monday, the watercolor showed "a blue ceramic pitcher holding flowers resembling zinnias and dahlias. The flowers are bright orange, red and soft pink, all with yellow centers.… The 1912 floral still life is signed 'A Hitler' at the bottom right and has Samuel Morgenstern's stamp on the back." Morgenstern was a Hungarian Jew who lived in Vienna at the time and was "the most loyal buyer of Hitler's paintings," according to Brigitte Hamann's Hitler's Vienna: A Dictator's Apprenticeship.
The auction house pulled the watercolor on Wednesday afternoon. Yntema declined to comment further on how the painting was acquired or what kinds of authenticity concerns had been raised. Regarding the other items, she said, owner Nate Sanders has decades of experience authenticating autographs and signatures.
"Hitler is a despicable figure; however, the painting is an intriguing memento of Hitler's impoverished life in Vienna, which appeals to history collectors," the auction house said in a statement before pulling the lot.
In November, a Hitler watercolor titled Standesamt und Altes Rathaus Muenchen (Civil Registry Office and Old Town Hall of Munich) sold for $161,000 at the Weidler auction house in Nuremberg.
The sale of Hitler's art and artifacts in the past has spurred debate between those deeply disconcerted by the thought and those who see the items as part of history like any other piece of historic memorabilia.
Heller told Newsweek Thursday that the buyers of Hitler and Nazi items such as those up for auction this week "don't condone what Nazis or Hitler did," but rather wanted "a piece of World War II history."