First Female Leader of Pacific Island Sworn Into Office in a Tent After Being Locked Out
Samoa's first female Prime Minister was sworn in Monday local time in an outdoor tent ceremony after the longtime incumbent locked her out of Parliament in an effort to hold onto power.
Fiame Naomi Mata'afa's Faith, of the One True God (FAST) Party, won the country's April 9th democratic election by a narrow but legal margin, and was set to take office Monday morning.
However, the incumbent, Tuilaepa Sailele Malielegaoi, canceled Monday's parliamentary sitting with no explanation, Radio New Zealand reported, locking Mata'afa out from forming the next government.
Mata'afa called the move a "bloodless coup" and moved to hold the swearing-in event outside of Parliament. Whether the ceremony will be considered legal remains unclear.
Samoa's Supreme Court ruled on Sunday that Malielegaoi's move to cancel the parliamentary sitting was "unlawful," but Mata'afa's and other members of FAST still found the Parliament locked on Monday.
In a speech given after the outdoor swearing-in, Malielegaoi laughed off the would-be first female Prime Minister's ceremony, saying, "That was a joke, a joke. Oh my, where have we ever seen a Speaker sworn in, in a tent? Shameful."
"Only the head of state, and no one else, can call parliament meetings and swear people in. None of what they did is legitimate," he added.
Malielegaoihas held the seat for more than two decades, and his party, the Human Rights Protection Party (HRPP), has been in power for 40 years, except for a few short political upsets in the 1980s.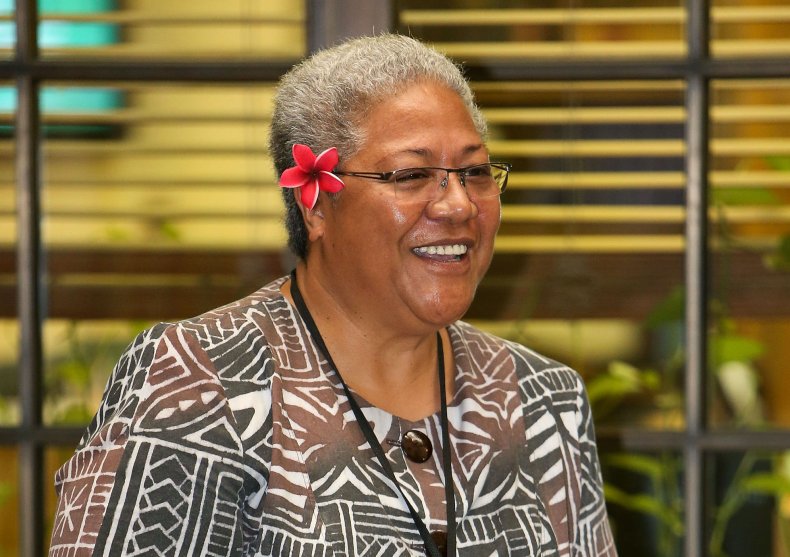 Both parties continued to maneuver for power on Monday, which marked the last day the new government may be formed under the Samoan constitution.
The current situation is very close to a coup, but it's not yet officially a coup as there's no element of force so far, Patricia O'Brien, an expert in Pacific history at Australian National University, told CNN on Monday.
The constitutional standoff occurring Monday is the culmination of more than a month of political power struggles between the two nearly-tied parties. Initially, the April election ended with each party holding 25 seats in Parliament, with the 51st seat going to an independent.
When the independent seat elected to follow FAST, that paved the way for Mata'afa to become the first female Prime Minister of Samoa. She is the daughter of Fiame Mataʻafa Faumuina Mulinuʻu II, the first Prime Minister of Samoa following the nation's independence from New Zealand in 1962.
Newsweek has reached out to both HRPP and FAST for comment. This story will be updated with any response.