What the 'First Kill' Creator and Cast Have Said About Season 2
First Kill only just came out on Netflix on Friday, June 10, but creator V. E. Schwab and lead actors Imani Lewis and Sarah Catherine Hook are ready to sink their teeth into more, they told Newsweek.
The teen vampire drama follows the romance between vampire Juliette Fairmont (Hook) and monster hunter Calliope Burns (Lewis) and how they fall in love even though both are determined to get their first kill.
Netflix has not officially commented on whether there will be a second season, yet, but Schwab, Lewis and Hook spoke to Newsweek about what they hoped would happen if they got to continue the story.
Warning: This article contains spoilers for 'First Kill' Season 1
What 'First Kill' Creator V. E. Schwab Has Said About Season 2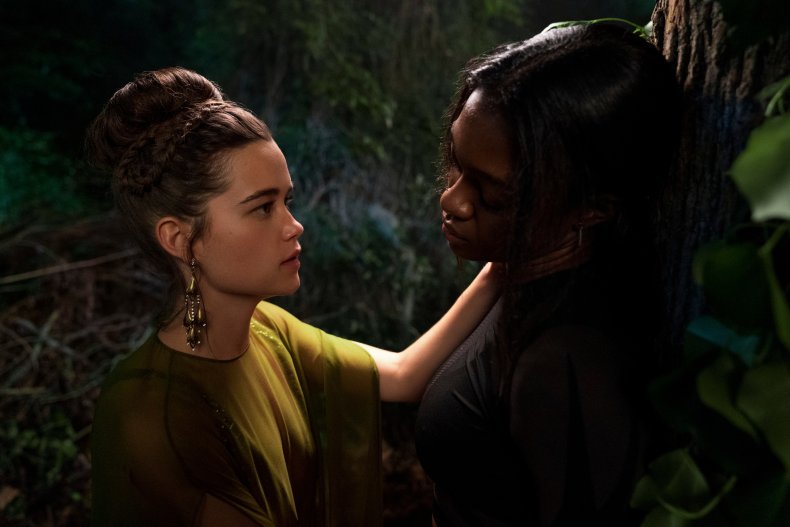 Despite their love for each other, things take a dramatic turn in the show's finale after Calliope's brother Theo (Phillip Mullings, Jr.) is turned into a vampire by none other than Juliette after he was tragically killed.
The move is too much for Calliope to bear and she and Juliette break up, with the former warning the legacy vampire that she will find a way to kill her one way or another.
Schwab told Newsweek about her hopes for a second season, explaining that she felt there was so much to explore not only between Juliette and Calliope, but also with their respective family members.
"I'm hoping for [a second season], fingers crossed. There's so much drama, there's so much we need to resolve people," Schwab said. "Like Elinor's [Juliette's sister, played by Gracie Dzienny] in jail and oh god, what's gonna happen there? I mean, there's just so much to deal with."
"I kind of just want Juliette to go on like a bender, Juliette gets to have her sexy girl summer where she's just eating people, come on, like, it's time," she joked.
"No, I'm obviously really hopeful, just because the last thing I'll say is... I think what's so cool, [and] one of the reasons I want a second season so badly, is because when you write the first season you're not writing with the actors in mind.
"We don't have a cast when we're writing the first season and going into a second season, all of a sudden, we have a cast and we can start to work on the stories with our actors in mind as we're doing it, and I think that's really cool."
What 'First Kill' Stars Imani Lewis and Sarah Catherine Hook Have Said About Season 2
Lewis and Hook are equally keen to continue their characters' journey in a second season, with both sharing their thoughts on the way the story could go.
Hook shared that she hoped for some conflict between the two characters, as well as a new look for Juliette: "I will admit... I don't want them to get back together right away. I want there to be some hot battling between the two of them.
"I'm hoping Juliette will go through an emo dark phase, and her version of a dark phase would be kind of to emulate Elinor and Margot Fairmont (Elizabeth Mitchell), you know, the scary Barbie type.
"And then kind of be emotionally on this journey with Calliope of like, 'well, now we're broken up so we're mad at each other.' That type of vibe.
"I'm hoping... maybe they'll team up and then be like, 'so we get back together now?' But I definitely want there to be some space in a fun way.
"You know, not forever, just a temporary little battle between the two of them I think would be fun and entertaining."
Lewis, in contrast, is keen for the pair to get back together quickly, as she told Newsweek: "Of course, I think like everyone that even if the odds seem slim I want them to reconcile, I love Juliette and Calliope, I love their dynamic.
"And of course I, selfishly, want them to reconcile and make their way back to each other. Calliope, I just think she's really hurt and really confused, and I think Theo was her confidant, in a lot of ways they were each other's confidant.
"So I think to not have that and to not be able to turn to your family in the ways that you usually can, or not be able to turn to your partner in the ways that you didn't feel comfortable turning to your family, it almost has to be in this zone where you don't know what to do with yourself.
"But selfishly, I want them to reconnect and I want them to work it out somehow. I don't know how because the writers of First Kill are brilliant, so I don't know how they'd do it."
First Kill is out on Netflix now.