Jill Biden and Kate Middleton Meet for First Time in Pictures, Video
First lady Jill Biden was seen meeting with Kate Middleton on Friday, as the pair visited a school in Cornwall, England, amid the G7 Summit.
In video shared on Twitter, the wife of President Joe Biden enjoyed a friendly conversation with the Duchess of Cambridge, in their first ever meeting as they strolled past a pool of photographers camped outside Connor Downs Academy.
Stepping out in a pink blazer over a white top, Jill Biden chatted with Kate, who wore a red dress, as they walked toward the building, heading to meet with children aged four and five years old.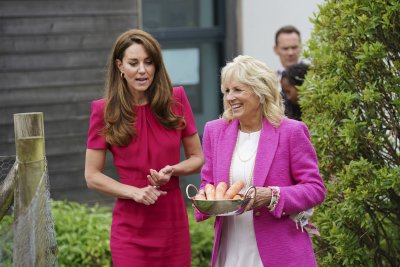 Their conversation was paused at the doorway to the school, with the pair stopping to put on face masks before entering, in line with COVID-19 protocols.
Sharing the video, Hello! royal editor Emily Nash wrote: "The Duchess of Cambridge and @FLOTUS are currently visiting a primary school in Hayle, Cornwall."
According to The Telegraph, the Duchess and first lady made their way to the school to be shown how children care for rescue animals, before sitting down for a roundtable discussion, with four experts from the U.K. and three from the U.S., on early childhood.
"It's very important to the foundation," said Jill Biden, who continues to teach at Northern Virginia Community College. "As a teacher at the upper levels if they don't have a good foundation they fall so far behind. This is amazing to see how far advanced they are."
Janice Eddy, head of school, said of her students ahead of the visit: "They are quite aware of who's coming. And obviously incredibly excited in the way that a four or five year old can be. Perhaps not completely understanding."
On Thursday, Jill Biden caused a stir when, during her husband's meeting with U.K. Prime Minister Boris Johnson, she wore a black jacket that was emblazoned on the back with the word "Love."
Her choice of attire drew comparisons to former first lady Melania Trump, who wore a jacket with the words "I really don't care, do u?" on the back while visiting a migrant children detention center in Texas at the U.S./Mexico border in 2018. Trump's spokesperson later explained that the jacket was directed at journalists and not a comment on the border situation.
When Jill Biden was asked by journalists about the jacket she wore on Thursday, she explained: "We're bringing love from America."
"This is a global conference, and we are trying to bring unity across the globe," she went on. "And I think it's needed right now, that people feel a sense of unity from all the countries and feel a sense of hope after this year of the pandemic."
Following the end of the G7 Summit, which marks President Biden's first foreign trip since his inauguration, the Bidens will have tea with Queen Elizabeth II at Windsor Castle.
Speaking to reporters on Thursday about going to Windsor Castle, the first lady said: "Joe and I are both looking forward to meeting the Queen. That's an exciting part of the visit for us."