First Lady Melania Learned About Peace in Japan As President Trump Debated War With North Korea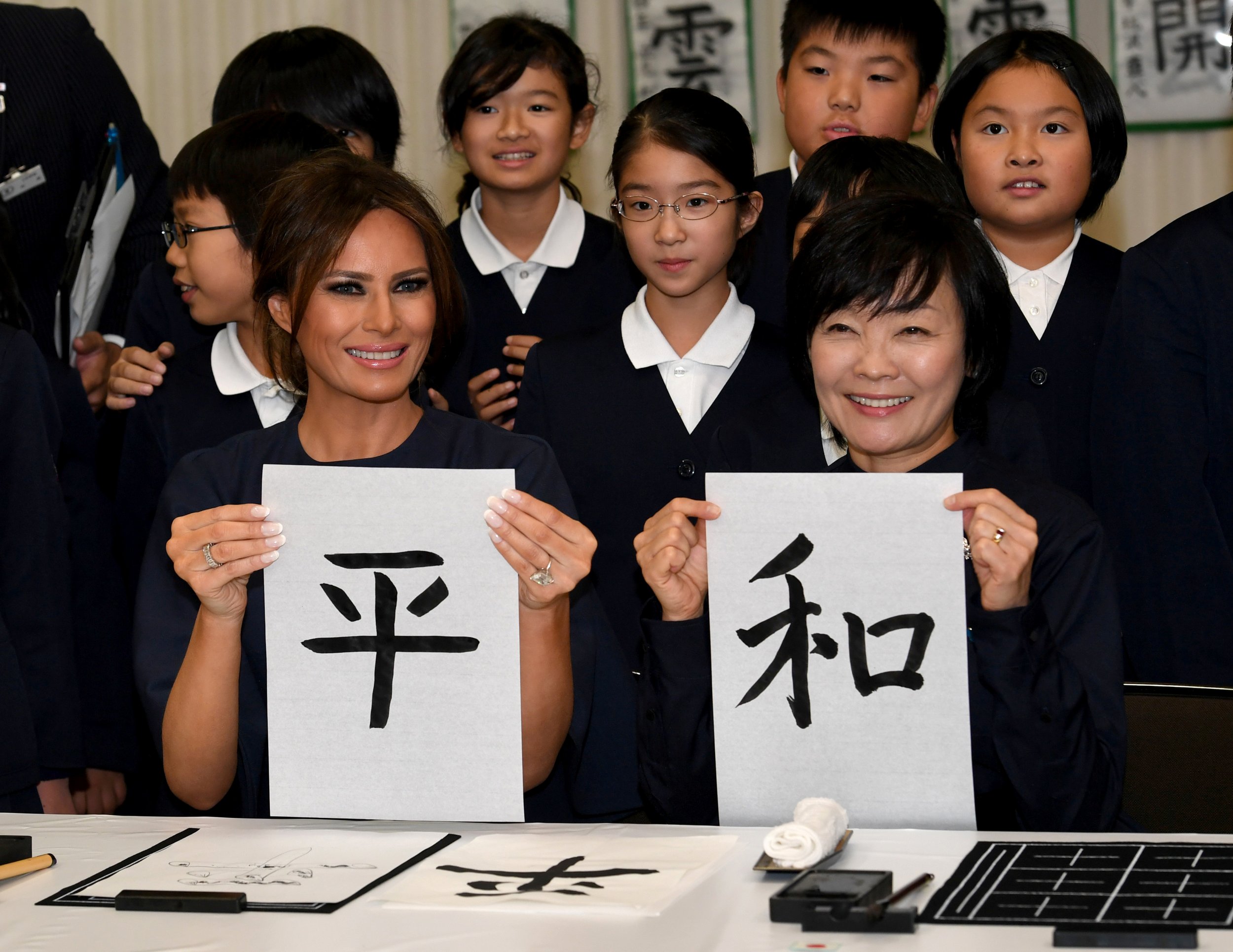 While President Donald Trump discussed war threats from North Korea, first lady Melania Trump learned this week to write peace in Japanese. Japanese first lady Akie Abe took her American counterpart to visit the Kyobashi Tsukiji Elementary School in Tokyo, mindful of Melania Trump's enjoyment of children's company while on foreign trips.
Around 200 uniformed children greeted Melania Trump with a Japanese song before enthusiastically shaking her hand, high-fiving her and posing for pictures, including a final group photo in which the first lady raised her fingers in a peace sign along with the rest of the students.
Melania Trump also practiced her Japanese calligraphy skills, joining her Japanese host in writing the characters for the word heiwa, meaning "peace" in Japanese, before leaving the building to the sounds of "Over the Rainbow" played by the school band.
The visit was the only part of the first lady's busy Monday schedule that did not include her husband, whom she joined for a formal visit to Emperor Akihito and Empress Michiko, an event with Japanese business leaders, a meeting with the families of Japanese citizens abducted by North Korea and, finally, a state dinner at the prime minister's Akasaka Palace. There, Donald Trump reportedly complimented Abe on his choice for his wife.
Upon their arrival to Japan on Saturday, the Trumps visited members of the U.S. military at the Yokota Air Force Base. The couple later split up to pursue separate activities—a game of golf for the president and a visit to the glamorous Ginza shopping district for the first lady. She was awarded the protection of the country's first-ever all-women police unit, deployed as part of a trial ahead of the 2020 Tokyo Olympic Games.
Melania Trump and Akie had tea and a glass of bubbly wine together before visiting the Mikimoto pearl store, whose founder Kokichi Mikimoto is credited as being the first person to learn how to cultivate pearls over a century ago.
The first ladies were told about the different stages of pearl production and posed for pictures with two ama divers, literally translated as "ladies of the sea," who are women who dive for pearl oysters and shellfish without scuba equipment, an ancient Japanese tradition.
"Wonderful visit with Mrs. Abe today! Enjoyed conversation over tea & the cultural presentation on the history of pearls," read a tweet on Melania's official FLOTUS Twitter account.
President Trump is on an 11-day trip to Asia to improve relations and discuss the nuclear threats from North Korea.