Melania Trump Will Get Special Protection From Japan's First-Ever All-Female Police Squad
Japan has beefed up security ahead of President Donald Trump's visit to the country, paying particular attention to the safety of first lady Melania Trump.
An all-female unit of officers will protect Melania and other female dignitaries, marking the first time Japan has put together such a squad. The country is experimenting with all-female teams to face various security challenges ahead of the 2020 Tokyo Olympic Games, believing they may be better placed than others to address gender-based crime. Sexual assault is such a problem in the country that rail companies introduced women-only carriages in the early 2000s to reduce groping cases on public transport, and insurance against groping allegations is in high demand.
Discussing their role in the upcoming visit, the police unit commander Sergeant Kawamura Reiko told Japanese media Wednesday, "The job is to look out for any dangers and suspicious individuals at the destination of female dignitaries.
"Our aim is to be gentle and astute, utilizing the viewpoint and sensibility unique to women to ensure there won't be any dangerous things or suspicious people at the location."
A total 10,000 police officers are expected to be on duty during the president's visit, the first of six stops in a trip that will take Trump to Japan, South Korea, China, Vietnam, the Philippines and Hawaii from November 3 to 14.
One member of the Trump family is already in the country. First daughter and presidential adviser Ivanka Trump landed in Japan on Thursday, welcomed by the U.S. ambassador to Japan, William Hagerty, and his wife, Chrissy.
Trump's second child is scheduled to speak at the World Assembly for Women conference on women's empowerment, a cause she has promoted during previous foreign trips to Germany and Saudi Arabia.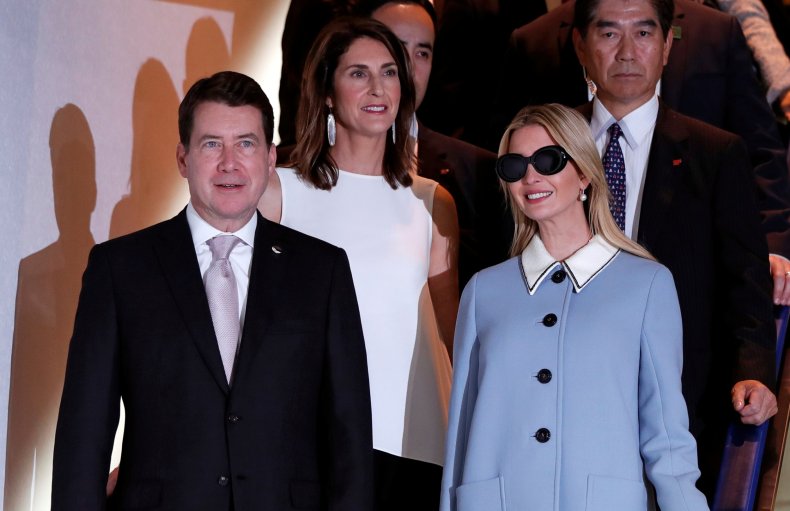 She will then have dinner with Prime Minister Shinzo Abe before returning to the U.S. on Saturday to help push her father's tax reform plan, Axios reported. Ivanka will be missing out on the entertainment provided by Abe, who has booked Japanese singer Pikotaro to attend a dinner party in Tokyo on Monday, President Trump's last night in Japan.
Ivanka's daughter Arabella covered Pikotaro's viral hit "Pen-Pineapple-Apple-Pen" in a video her mother posted on her Instagram account last November that received more than 1 million views.
Japanese officials seem to have noticed the American interest in the song, as the singer recorded a special version in April to praise relations between Japan and the U.S.
President Trump's trip to Japan is expected to focus on discussing trade and the response to North Korea's growing threat and will include a meeting with families of people North Korea has abducted from Japan.
His schedule also includes a golf match with Abe and world No. 4 golfer Hideki Matsuyama at Kasumigaseki Country Club, the course scheduled to host the golfing events for the 2020 Olympics, as well as a meeting with Japanese Emperor Akihito and Empress Michiko.