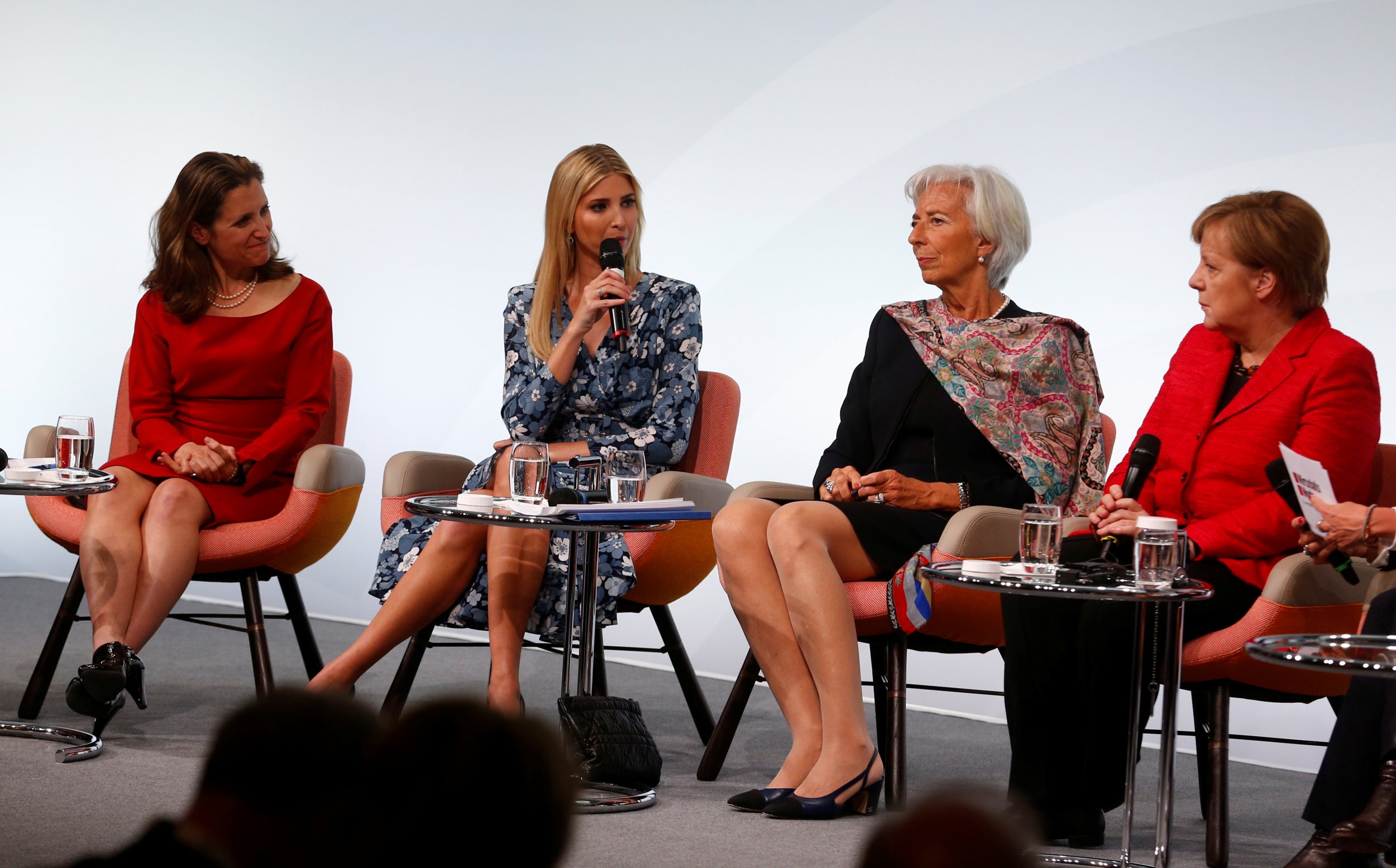 First daughter Ivanka Trump met a tough crowd at the W20 Women's Summit in Germany, her highly-anticipated first foreign trip as an adviser to President Donald Trump.
At a panel discussing women entrepreneurship on April 25, Trump painted a portrait of her father's behavior and priorities toward women's empowerment that drew perplexed reactions from the audience.
Explaining the need for paid family leave, a policy she herself introduced to the Republican National Convention in July ahead of the election, Trump presented her father as a "tremendous champion of supporting families and enabling them to thrive"—a statement that was met with loud hissing from the audience.
The panel moderator, journalist and editor Miriam Meckel, asked Trump to comment on the response from the audience. "You hear the reaction from the audience," Meckel said. "I need to address one more point. Some attitudes toward women your father has displayed might leave one questioning whether he's such an empowerer for women."
It is unclear exactly which attitudes Meckel was referring to: from the infamous tape recordings of Trump boasting about sexually assaulting women; the claims of sexual misconduct from 12 women; his apparent refusal to shake hands with German Chancellor Angela Merkel in front of cameras; or his derogatory comments toward journalist Megyn Kelly and comedian Rosie O' Donnell.
"I've certainly heard the criticism from the media, that's been perpetuated," the first daughter replied, before saying that as both a father and a business leader, her father always encouraged her and the women who worked with and for him, to thrive.
Meckel also asked the first daughter to address other thorny points, such as explaining what her role in the Trump administration entails and who she represents—the president or her business. "Certainly not the latter," Trump replied, saying that she cared about women in the workplace and about empowering women in the economy domestically and abroad.
Trump shared the stage with Merkel, Queen Maxima of the Netherlands, IMF managing director Christine Lagarde, Canadian minister of Foreign Affairs Chrystia Freeland and Bank of America vice-chairman Anne Finucane.
In the course of the discussion, the panelists found themselves discussing whether they consider themselves "feminist"—a question Merkel tried to dodge but that Trump, Lagarde and Freeland did not hesitate to reply affirmatively. Later, Trump conceded that labels may feel exclusionary, and that the most important thing was for women to feel "an obligation to support, pick each other up and be inclusive."
From her vantage point of presidential adviser and daughter, Trump told the panel that her focus and the administration's will be on increasing women's access to STEM subjects and degrees, safe and affordable childcare and paid family leave, along with mentorship for women entrepreneurs.
Some of these were among the points she mentioned in an article co-written with World Bank president Jim Yong Kim, discussing strategies to increase female economic empowerment, published in the Financial Times on April 25. Ahead of his daughter's speech, U.S. President Donald Trump tweeted the article. "Proud of Ivanka Trump for her leadership on these important issues," he wrote.