Ivanka Trump-Inspired Fund for Women Wins Saudi Support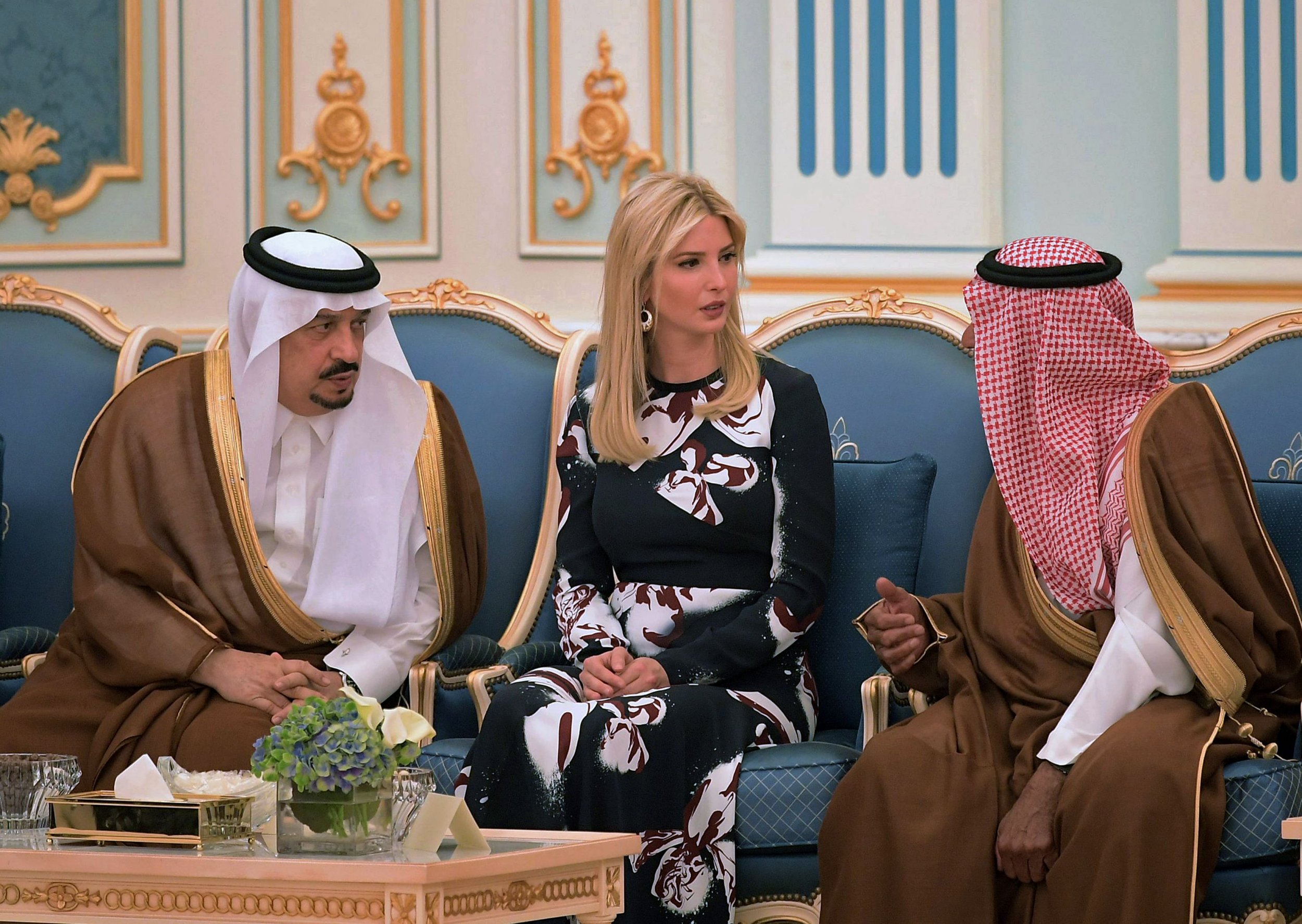 A World Bank global fund to support female entrepreneurship won a combined $100 million donation from Saudi Arabia and the United Arab Emirates.
The announcement came directly from World Bank President Jim Yong Kim, who spoke on Sunday in Saudi Arabia's capital Riyadh during President Donald Trump's visit to the kingdom.
Kim credited First Daughter Ivanka Trump, who was present at the event, for suggesting the fund's creation. "We thought it was a fantastic idea," Kim said, according to NPR. "But we had no idea how quickly this would build. This is really a stunning achievement. I've never seen anything come together so quickly, and I really have to say that Ivanka's leadership has been tremendous."
The World Bank's goal is to form a $1 billion Women Entrepreneurs Fund by July, announcing its creation on time for the G20 Summit in Hamburg, Germany.
Trump has already won support for the fund from global leaders such as Canadian Prime Minister Justin Trudeau and German Chancellor Angela Merkel, as first reported by news website Axios.
Together with Kim, she penned an editorial discussing strategies for female economic empowerment for the Financial Times on April 25, the day the president's daughter and one of his senior advisers made her first foreign trip in an official capacity to the G20 Women's Summit in Berlin.
The topic of the global facility for female entrepreneurship came up again at the summit, forcing White House officials to clarify Trump's role in it. "She will not solicit funds. This is not a White House fund. This is not something that she will have any authority over in any way," said an administration official in the Washington Post.
During the trip to Saudi Arabia, Trump also met with Saudi female entrepreneurs and later posted a message on Facebook thanking Kim for his support. "Thank you World Bank President Jim Yong Kim for your ongoing leadership in support of women's economic empowerment and for joining me today in a meaningful discussion with Saudi Arabian women entrepreneurs and elected officials," she wrote.
Addressing long-standing gender discrimination in the Gulf state, Trump said Saudi Arabia made encouraging progress in recent years, but there was still work to be done.
In 2015, Saudi Arabia ranked 134 out of 145 countries in the World Economic Forum's Gender Gap Index measuring female economic participation and opportunity. A year later, its ranking dropped to 141 out of 144. The World Bank ranked Saudi Arabia as one of the 15 most restrictive economies in 2015 regarding women's ability to work or establish a business.
According to Human Rights Watch, the Saudi government has not sufficiently implemented recent labor reforms aimed at widening female economic participation and ending female discrimination, mostly due to the guardianship system limiting women's emancipation. As one independent researcher told the human rights organization, some officials at the Commerce and Labor ministries refuse business licenses to women who do not have a male guardian or a male manager.
Earlier this month, King Salman took a small step toward increasing women's emancipation in the kingdom, ordering changes to some of the guardianship rules. The measures would allow women greater access to government services without subjecting them to the approval of a male relative, although it remained unclear which restrictions it would lift.
Under the guardianship system, women must have the permission of a male relative to marry, travel abroad, obtain a passport, exit prison, and to carry out a range of other activities, including renting an apartment, filing legal claims.
It remains unclear what share of the $100 million have Saudi Arabia and UAE pledged exactly, and how this compares to donations pledged by other countries. The World Bank has yet to respond to an inquiry from Newsweek .