First Lady of North Korea Ri Sol Ju Takes On Larger Role in First Appearance Without Kim Jong Un
North Korea officially recognized its leader Kim Jong Un's wife with the title of first lady. The state-controlled media used the honorific title in relation to Ri Sol Ju on Sunday as she made a first public appearance without her spouse.
Ri, who used to be identified by the title "comrade," attended a performance of the classical ballet Giselle by the National Ballet of China, who were invited to perform in North Korea following Kim and Ri's visit to Beijing in March.
The Saturday performance took place at the Mansudae Art Theater in Pyongyang as part of the country's April Spring Friendship Art Festival honoring the birth of North Korea's founder, Kim's grandfather Kim Il Sung. North Korea's state-controlled media have only ever used the "first lady" title in relation to Kim Il Sung's wife Kim Song Ae, according to South Korean newspaper Chosun Ilbo.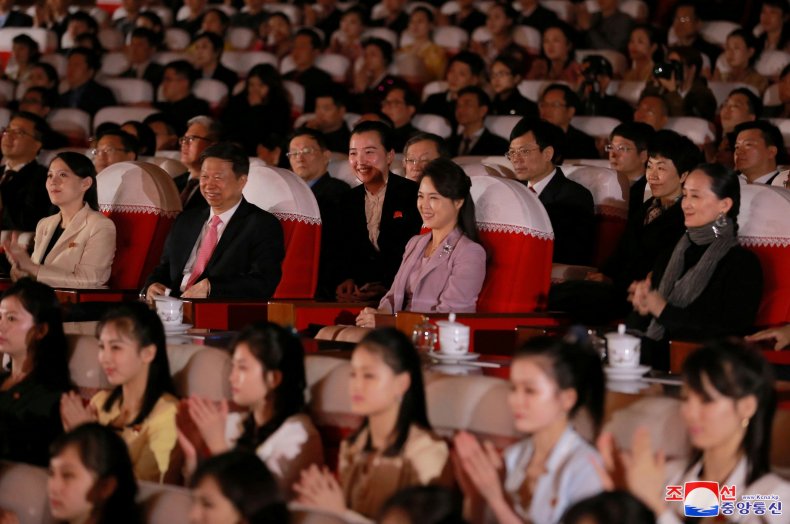 Ri met with the accompanying delegation of Chinese officials, which included Song Tao, head of the International Liaison Department of the Communist Party of China, Li Qun, China's vice-minister of Culture and Tourism of China, and Li Jinjun, China's ambassador to North Korea.
Sitting on Tao's other side to enjoy the performance, was another powerful regime figure, Kim's younger sister Kim Yo Jong, who proved her diplomatic skills during a visit to South Korea in February.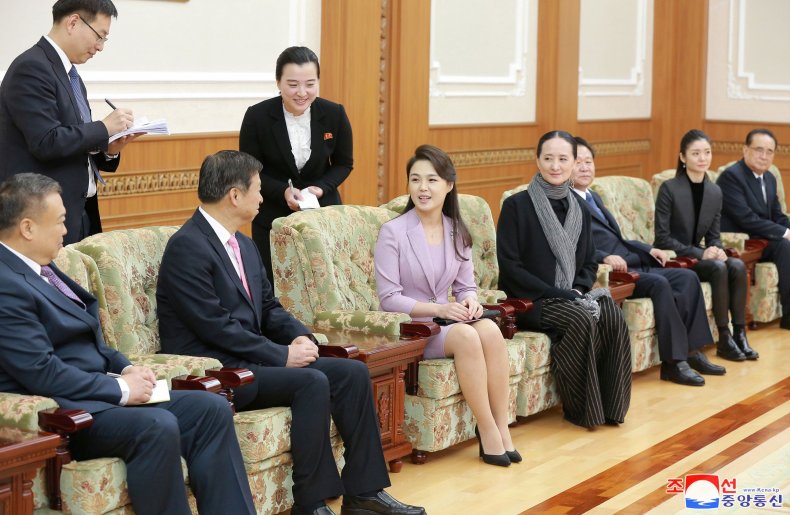 The North Korean leader also met the Chinese delegation, hosting a banquet in their honor in a room adorned with a wall-to-wall painting of Chinese President Xi Jinping shaking hands with Kim. The North Korean reports of the banquet noted the welcome given to the ruling couple at the event.
"When the respected Supreme Leader Kim Jong Un and his wife Ri Sol Ju appeared at the banquet hall together with Song Tao and other Chinese guests, all the participants enthusiastically welcomed them with loud applause," the article published on the "Supreme Leader's Activities" section of the ruling party-controlled newspaper Rodong Sinmun read.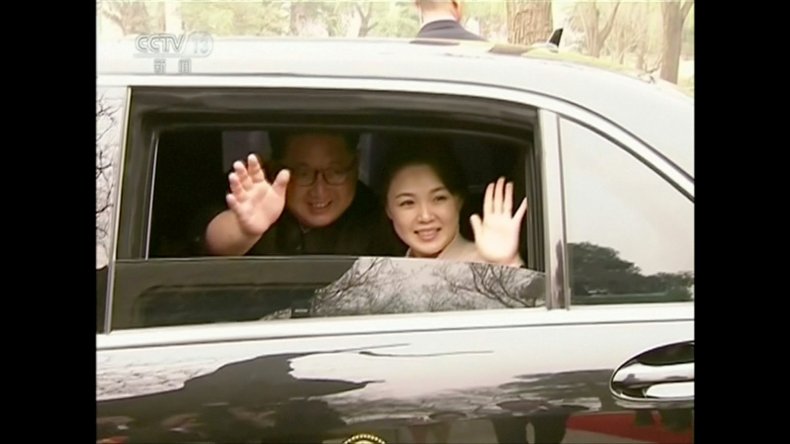 Ri's increased public profile comes as her husband seeks to improve his own image and the country's standing internationally. The couple received a red carpet treatment in China last month on their first foreign trip since Kim took power in December 2011 and Ri was also sitting at the table during the visit of South Korean presidential aide Chung Eui-yong in March, who traveled to the White House shortly afterward to propose a summit between Kim and President Donald Trump.
According to unidentified sources present at the March 5 dinner between Chung and the North Korean ruling couple, quoted in Japanese newspaper Asahi Shimbun, Ri welcomed Chung's suggestion that Kim should quit smoking, saying that she has often said he should, but Kim "doesn't listen."
South Korean media have also speculated that Ri could accompany Kim to the Joint Security Area in the Demilitarized Zone at the summit with South Korean president Moon Jae-in scheduled for April 27.
"Ri is expected to have tea time with (South Korean) first lady Kim Jung-sook and attend a luncheon or state dinner hosted by President Moon Jae-in, alongside Kim Jong-un (on the visit)" Yang Moo-jin, a professor at the University of North Korean Studies, told The Korea Herald earlier this month.