First Picture of Suspected Brussels Suicide Bombers in Zaventem Airport Released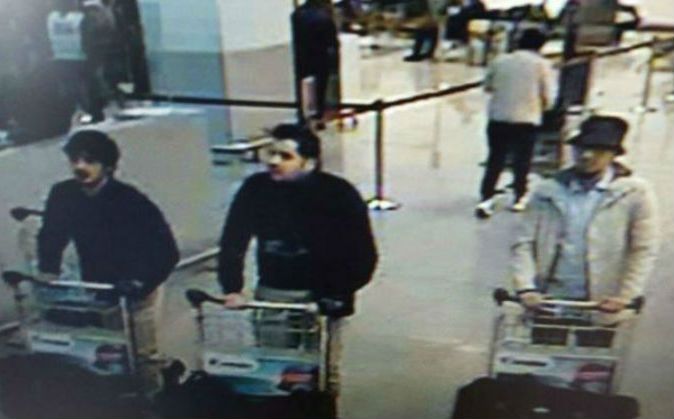 Belgian authorities have released the first image of the suspected Islamic State militant group (ISIS) suicide bombers behind the attack at Brussels' Zaventem airport on Tuesday.
Two explosions at the international airport killed 14 people and injured a further 81. Belgian security forces found a third, unexploded device in the airport.
The picture, released by the Belgian Federal Prosecutor, shows three men, two with dark hair and dark dress and one in a hat and a white coat, walking with luggage trollies.
Two of the men are wearing one glove each and Belgian media outlets speculated that the gloves were used to hide explosive detonators. The third man, in the white coat, is at large and the police have appealed for information as he may have vital intelligence about the attack.
The third device failed to explode at the airport and authorities later destroyed it in a controlled explosion, according to a regional governor.
"Three bombs were brought into the building, of which one failed to explode," Lodewijk De Witte, governor of Flemish Brabant province, told reporters at the airport.
Another bomb blast occurred at the Maalbeek metro station near the European Union headquarters in Brussels, killing at least 20 people. ISIS claimed responsibility for both attacks through their semi-official news agency Amaq.
Belgian authorities raised the country's threat level to maximum and declared three days of national mourning. Belgium cancelled flights into Brussels and closed the city's metro stations as the city entered lockdown on Tuesday. Other EU countries, such as France, Germany and the U.K., tightened security at their international airports.
Belgian Prime Minister Charles Michel called the attacks "blind, violent and cowardly." He added: "This is a day of tragedy, a black day... I would like to call on everyone to show calmness and solidarity."