First Responders Rescue Hunter Who Was Gored by Buck, Left in Ditch
A man who was out hunting was rescued from a drainage ditch after he was gored by a deer and stranded for several hours in Columbia County, Wisconsin.
According to a press release published on the Portage Fire Department's Facebook page, members of the fire department were called to help the Columbia County Sheriff's Office with tracking down a missing male.
The hunter's wife called police just after midnight when her husband did not return from his hunting trip.
"The County Sheriff Deputies located the patient's ATV and began to follow his tracks to attempt to find him," the release stated. "They eventually found him in a drainage ditch with a wound to the inside of the right leg."
The man told responders that a buck gored him. Portage Fire Department Chief Troy Haase told Newsweek the man was tracking the buck and shot him. He thought the deer was dead, but when he found him, the deer charged at him.
According to WorldDeer.org, deer are not inherently aggressive, but they may be when hurt, scared or feeling threatened. Rutting, or mating, season may also cause deer to act more aggressively toward people.
Though uncommon, there are some signs that a deer may be preparing to attack, including a tail tucked against the rump, an erect head and eyes focused on the target waiting for movement.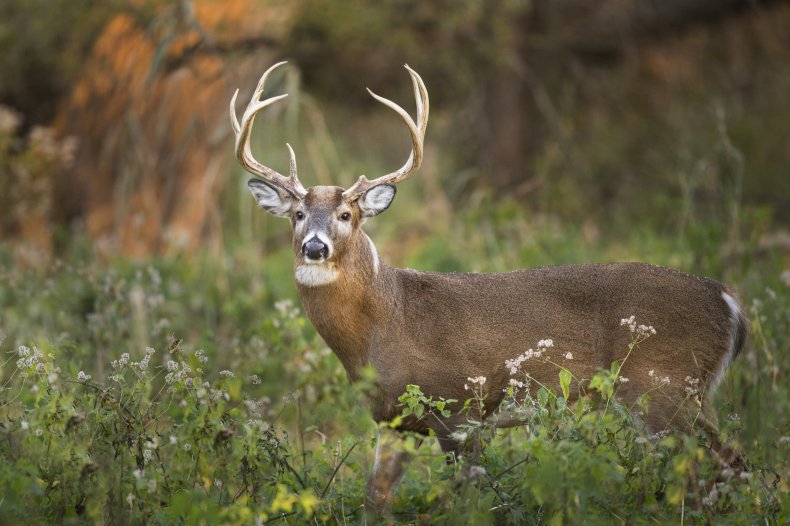 Not long after charging at the man, the buck took a few steps before it fell over and died.
Haase told Newsweek the man was laying in some heavy brush and believed it would have been easier to crawl through the ditch.
In addition to suffering from an injury from the buck, first responders tended to other health concerns.
"He was disoriented and possibly suffering from hypothermia," the release stated. "They provided first aid and attempted to warm him until he could be rescued."
Haase explained the man removed some of his heavier clothing that kept him warm after he shot the deer, not anticipating it to attack him. His cell phone was also dead.
Columbia County Sheriff's Office's Captain Todd Horn told Newsweek the windchill caused temperatures to feel about minus-8 degrees. When officials found him, they discovered his core temperature was extremely low.
"Doctors were saying he was an hour or two away from dying," Horn said.
Haase said getting the man out of the ditch presented some challenges because the snow was six feet deep and the ground was slippery.
Responders contacted Med Flight, an organization that transports patients who require medical attention. A helicopter landed close to the man's location and he was transported to receive the necessary treatment. Officials pointed out it was a difficult landing due to the snowy conditions in the field.
"This rescue was a great example of multiple departments and entities working together to save a person's life," the release stated, thanking the various agencies involved in the rescue.
Haase confirmed the man was recently released from the hospital.
Earlier this week, Newsweek reported that a man was saved after his plane crash-landed on train tracks.
Foothill Division Officers with the Los Angeles Police Department pulled a man from the aircraft and off of the tracks, as seen in a video posted on the department's official Twitter account viewed more than 3 million times.
Updated 01/27/2022, 5:40 p.m. ET: This story has been updated with comments from Columbia County Sheriff's Office's Captain Todd Horn.