---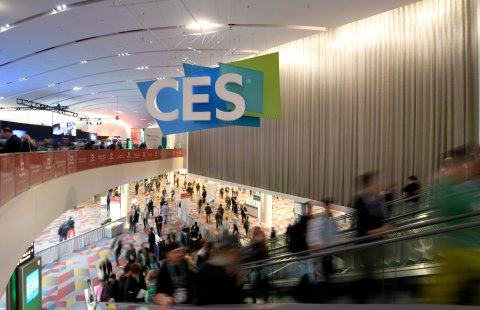 Wu Xiaoling/Xinhua/Getty
CES, which took place in Las Vegas in early January, is the world's biggest noisiest tech convention. It was a dazzling display of futurism: More than 4,400 exhibitors unveiled some 20,000 new products to 170,000 attendees across 2.9 million net square feet of exhibition space.
The show is the first stop every year for anyone wanting to see the latest and greatest gadgets and gizmos they'll be able to buy or sell in the coming 12 months. But looking at the thousands of current, upcoming and prototype products on display—not to mention more than 300 conference panels and keynotes on everything from smart homes and privacy to autonomous cars and wearables—also offers a window into the future of technology, its potential successes and failures and, ultimately, what will make the biggest difference in the lives of consumers.
As always, there was plenty of unrealized promise. Despite all the ads from wireless carriers, 5G hasn't really arrived since, as yet, there isn't a critical mass of usable products or consistent and broad network reach. Robots are thriving in commercial and industrial sectors, but the illusive robo-butler is years away. And artificial intelligence (AI) is still just a buzzy term for narrow machine learning-based functions that do specific things really well—say, identify passengers before they board planes or respond in increasingly more nuanced ways to voice queries—but we're still decades or more away from anything resembling "Her" or HAL 9000. Still, the number, presence and usefulness of those specific machine-learned functions in everything from TVs and toothbrushes to washing machines and vibrators was impressive, and suggests that AI is already making our lives easier and better and, while still evolving, is here to stay.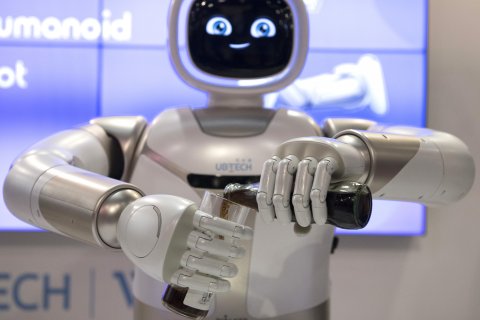 All in all, CES 2020, as maddeningly massive as ever, provided an exciting overview of the state of the art right now, as well as a glimpse at the technology trends that will shape how we work, play and live in the five to 10 years. Here are five of the most important ones.
Hollywood and High Tech Are Now Partners
Sure, CES had its usual parade of ultra-high-definition TVs sporting cutting-edge features like 8K resolution and AI-optimized viewing modes. But with equally stunning price tags generally ranging from $3,500 to as high as $60,000 for big-screen flagship models, these aren't exactly innovations that the general viewing public will be able to afford anytime soon.
A development of potentially greater and more immediate impact for consumers: new products and services, courtesy of a budding partnership between the entertainment and tech industries, that enhance how you see content and adapt to changes in the ways people now consume media.
Take "Filmmaker Mode," a new picture setting that will be available on TVs by LG, Vizio, Samsung and other manufacturers this year. Supported by film studios and directors like Martin Scorsese, James Cameron and Ava DuVernay who are concerned that their movies don't get proper showings as more people skip theaters in favor of watching at home, Filmmaker Mode preserves a cinematic display of images in terms of color, contrast and aspect ratio, instead of showing movies on TVs set to automatically smooth out motion and boost colors, creating what's called a "soap-opera effect."
But it isn't just TVs that are getting the Hollywood treatment. As more and more people watch YouTube, Snapchat and Instagram Stories, and consume content in snippets and on the go via laptops, tablets, and smartphones, creators are looking to improve these viewing experiences with new devices and programming. The central challenge: adapting to a different orientation since video in mobile platforms is generally shot in vertical "portrait mode" video, versus the "landscape mode" of movies and television.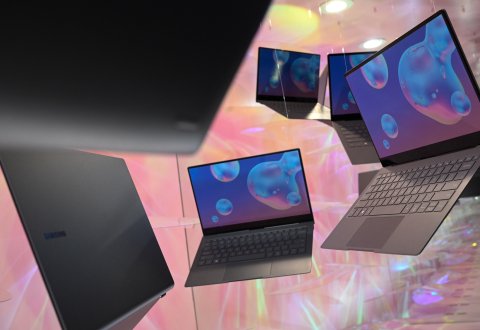 Possible solutions emerged at CES this year. On the hardware front, there was the 43-inch QLED Samsung Sero TV, which automatically rotates between landscape and portrait modes in sync with a paired Android smartphone. On the software and services front, there is Quibi, a new streaming service that will provide original content optimized for mobile phones when it launches in April. Its signature technology feature is "Turnstyle," which automatically switches from full-screen portrait to full-screen landscape, eliminating those annoying black bars on either side or on the top or the bottom of the screen to compensate.
Led by Dreamworks co-founder Jeffrey Katzenberg and former HP and eBay CEO Meg Whitman, the company is working with Steven Spielberg, Guillermo del Toro, Catherine Hardwicke, Kevin Hart, Chrissy Tiegen and Bill Murray, among others, to develop content for these "quibis." Recent mobile-only efforts such as Verizon's Go90, despite debuting Oscar-winning original content, did not last long, and it remains to be seen just how ubiquitous a new video format on which the content creation is being commissioned and distributed by just one company can be. But the alignment of Silicon Valley technology and Hollywood entertainment to develop a completely new format is noteworthy.
"We started out thinking that if we could take everything that the mobile phone has to offer and create an entirely new technology platform that made content look great on it, then there was an opportunity to bring Hollywood caliber storytelling to the mobile phone," says Whitman. "Many companies have been content companies that tried to become tech companies or tech companies that try to become content companies. We're trying to do a tech media company from day one."
Alexa Will Help You With Everything
Five years ago, most people had never heard of Alexa, which in early 2015 wasn't yet available for retail purchase. Now the voice assistant is available in more than 100,000 smart home products from 9,500 different brands (vs. 30,000 smart devices from 3,500 brands for rival Google Assistant). Not surprisingly, Alexa compatibility was ubiquitous at CES 2020, integrated into everything from lightbulbs and security systems to smart grills and cars.
As befits a capability that's increasingly mainstream, the majority of the new devices shown at the giant expo were for relatively mundane, everyday uses. Take Kohler's Moxie AI speaker. The showerhead speaker has been around since 2015, but the addition of Alexa this year transforms the product into a super-usable must-have for anyone who likes to listen to news or takes calls while performing their morning ablutions. No more fumbling with a cell phone with wet hands to change what's playing or adjust the volume.
Even more significant were advancements around Alexa integration into cars. Without a mobile operating system like iOS and Android, Alexa's in-car capabilities so far have been fairly informational and basic, such as setting reminders, playing music and launching navigation apps. While Android Auto and Apple CarPlay, which are fairly standard in cars these days, allow you to bypass a car's factory-installed infotainment system and use your phone for navigation, music and news from the dashboard, neither offering lets you control your car's AC or heat, lighting or sound settings without toggling out of the system—a clunky experience for drivers.
Soon, however, you'll be able to use Alexa to control your car's factory-installed infotainment, temperature, lighting and other controls, too, as demonstrated by the "Alexa Built-In" integrations on display in upcoming cars from Lamborghini, GM and Rivian. What's more, the integration is voice-first, which means you don't have to press a button and wait for the beep before you can ask for something. Just say, "Alexa, set the temperature to 70 degrees," and the car's climate will be adjusted, allowing you to keep your eyes on the road and your hands on the steering wheel. And unlike the car's built-in systems, Alexa in your car will also give you all the other skills and capabilities of Amazon's voice assistant, such as playing music or turning on the light outside your garage door.
Still, despite Alexa's bigger showing at CES, don't count out Google Assistant just yet; after all, it's technically available on more than 1 billion devices, most of them Android phones, according to Google. Like Amazon, Google is also working on a more integrated car system, the new Android Automotive OS, which will be available on the upcoming Volvo XC40 Recharge EV and in GM's 2021 vehicles. Google also announced new usability features for its Assistant, such as voice-activated sticky notes on smart displays, quicker access to privacy controls and easier set-up.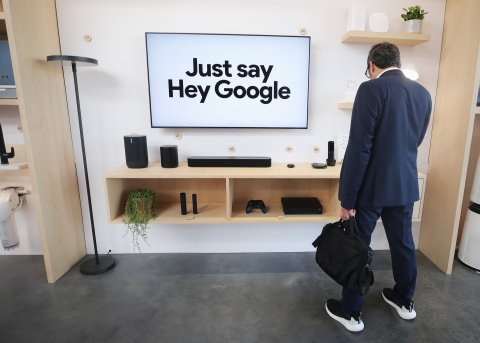 Safety and Sustainability Are the New Car Cool
Some of the biggest hype at CES is usually around cars, especially pie-in-the-sky prototypes and concept vehicles that will never see the light of day. This year was no exception, with cars on display like the Sony Vision S, a slick grey sedan with a massive LCD screen across the dashboard and speakers built into the headrests to showcase the company's audio-video prowess; and the eerily captivating Mercedes Vision AVTR, an organic reptilian-looking luxury car inspired by the film Avatar, with futuristic features like scale-shaped solar panel "bionic flaps" and biometric optimization.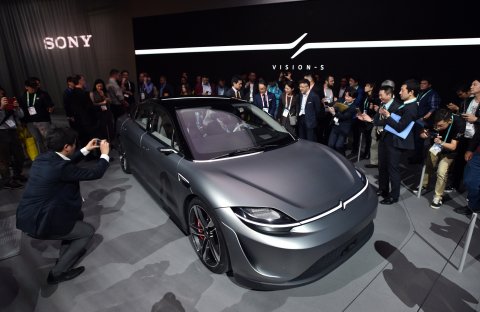 Pomp and prototypes aside, though, the biggest trends in car tech at CES this year were sustainability and safety. Better yet, many of the vehicles on display will be hitting the roads soon.
A slew of electric vehicles led the parade, such as the luxury EV SUV Fisker Ocean, a zero emissions vehicle that sports a "vegan interior" and recycled materials throughout and is being billed as the world's greenest car. The new Nissan Ariya Concept, which made its U.S. debut at CES and will start showing up in U.S. showrooms at the end of 2021, is an electric SUV that's purported to go from zero to 60 in 5.1 seconds and 300 miles on a single charge. And one of the biggest and oldest off-road and SUV brands, Jeep, announced that all of its cars will be electrified by 2022, with its first plug-in hybrid, a 2021 Wrangler, available this year.
Health and safety features also figured prominently at the show. For instance, the BMW ZeroG Lounger sported a passenger seat that reclines into a 40- or 60-degree position to reduce stress on pressure points and a seat belt that automatically adjusts to the new position—ideal for long car trips. The seat is slated for future BMW X7 models "in the next few years," according to BMW. The German automaker is also collaborating with Samsung's Harman division on the world's first 5G telematics system, which will launch in the 2021 BMW iNEXT, making it one of the few real-world 5G products at the show. The faster and more powerful 5G network capability will enable everything from faster traffic and map downloads to better real-time road condition and blind spot warnings, since more information from more sources can come in less time with greater reliability—wherever there are 5G networks, of course, which is not a lot of places in the U.S. yet.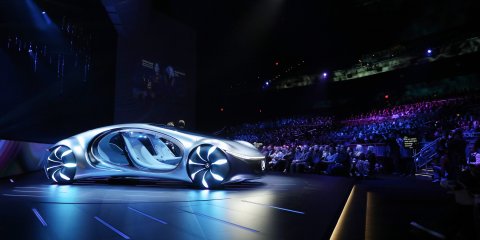 Start-Ups Will Save the World
Eureka Park, a section devoted to startups launched just eight years ago, is now one of the most popular parts of CES, with more than 1,200 companies from over 46 countries. "There's just such a critical mass of media, capital, companies and customers here," says Prince Constantijn van Oranje, special envoy to Techleap.nl, an Amsterdam-based accelerator that brought 50 Dutch startups to Eureka Park.
Many of the Dutch startups are focused on sustainability and smart cities. Nowi, for example, has developed a chip that can harvest energy for smartwatches, sensors and other Internet of Things (IoT) devices from the air, light, radio waves, heat, even movement around it, thus reducing or eliminating the need for battery-dependent power in the future. Aiming to reduce methane emissions and mistreatment of animals, Meatable has a technology that can grow pork from early-stage stem cells, without killing any livestock. This year, the startup will be releasing its first lab-grown pork product. "We believe that in this new decade, food tech will go mainstream," says Meatable cofounder Krijn de Nood. "People will realize that it'll have to be a big part of feeding the 10 billion people we have to feed."
Exposure at CES yields tangible results for many. Hydraloop, which makes a device that recycles water for use in toilets, laundry and other home applications, was a surprise hit. "Since the show, we've had hundreds and hundreds of orders and as of now 111 different companies wanting to be our distributor, and four different people who have said 'may I invest in you,'" says Hydraloop co-founder Sabine Stuivers. "It's amazing."
Health Tech Gets Really Personal
Thanks to a clearer and more streamlined FDA approval process, over-the-counter medical devices—everything from wearable blood pressure monitors to medical-grade hearing aid earbuds—are proliferating in the marketplace, as was clear from the many new products on display at CES. As a group, they were notable for their good looks (more like a lifestyle accessory than a piece of medical equipment), expanded functionality and, increasingly, adaptability to a user's individualized data and needs.
Applications run the gamut, with devices available to help you sleep better, improve oral hygiene, address heart health, deal with a variety of medical conditions and even advise you about how to have a more satisfying sex life. Here is just a sampling of some of the more notable products at the show: There was the Withings ScanWatch, which helps you detect everything from atrial fibrillation to sleep apnea; the Alexa-powered Oral-B Drive smart speaker-cum-toothbrush, which gives users feedback on how well they're brushing and where to focus their efforts; and the Lioness AI-powered vibrator, which makes suggestions on how to have better orgasms based on detailed data collection, include private tracking of the user's own sessions (you can't get much more personal than that). Also on hand: sleep tech from soundwave-feeding headsets to individualized temperature-changing mattresses, along with a slew of Peloton-inspired smart machines for rowing and running.
But it isn't just standard health detection and monitoring devices that are getting the DIY, consumer-friendly makeover. So is the way you interface with healthcare providers. Telemedicine is nothing new, but there's only so much an online doctor can assess from a video call. Enter Medwand, a mouse-like diagnostic device designed for use at home by patients during virtual examinations. It contains 10 different diagnostic tools including an otoscope (ear exams), ophthalmoscope (eye exams), throat illuminator (oral exams), dermascope (skin exams), and the aforementioned classic stethoscope (heart, lungs, and abdomen), any of which can be used to transmit real-time findings to a doctor during a remote consultation.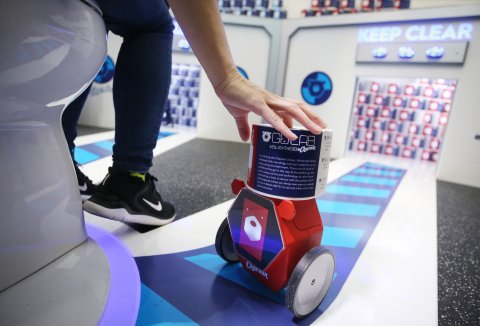 "Health care is becoming more consumer-centric," says Katie Couric, who moderated two panels at CES about the explosion of health data generated by new technologies and the confusing healthcare landscape, respectively, and the increased need to help consumers make sense of it all. One of the panels on digital navigation featured MetLife VP Tom Ferraro, journalist Maria Menounos and Brenda Yang, the COO of Rally Health, an online service that works with employers to provide digital guidance to employees about their health benefits. Says Couric, "I'm very interested in technology that empowers patients to understand their options, and to appreciate not only what they can do if something happens to them but how they can prevent things from happening in the first place."
In other words, all that health data we're capturing is only as good as our ability to understand and act on it. It sounds just like the sort of problem and solution we'll be seeing at many CES shows in the future.
Tom Samiljan has attended CES without a break since the turn of the millennium. He covers technology and culture, having written about both topics for everyone from Rolling Stone and Men's Journal to Travel + Leisure and The Wall Street Journal.
Correction: Brenda Yang is the COO of Rally Health, not the CEO; Tom Ferarro is a MetLife VP, not an assistant VP, as a previous version of this story stated. Also, the market reach of Google Assistant has been updated to reflect the most recent info from Google.