The Five Coolest Gadgets and Tech Seen in 'No Time To Die'
What is a James Bond movie without futuristic—and often unrealistic—gadgets and gizmos? Fortunately, No Time To Die delivers on this franchise trope with some classic technology to help James Bond complete his mission.
Daniel Craig's final movie playing the famous British spy is due out in theaters on Friday October 8 in the U.S. Directed by Cary Joji Fukunaga (Beasts of No Nation) and co-starring Rami Malek (Bohemian Rhapsody), Léa Seydoux (Blue is the Warmest Color) and Lashana Lynch (Captain Marvel), the film has already received positive reviews from critics.
Ben Whishaw (Paddington) returns as Quartermaster, Q, and once again provides Bond with handy tech to get him out of a pinch. However, the villains also arrive with their own menacing electronics to thwart our hero.
Here's a list of the best gadgets and technology seen in No Time To Die. Plot spoilers ahead.
Aston Martin weapons
Making its grand return to the franchise, Bond uses his classic Aston Martin DB5's box of tricks to get out of a sticky situation in Italy.
Speeding through the narrow streets, he presses a button to unload some explosive jacks that demolish another car.
When cornered and facing certain death, the bulletproof windows look like they're going to give way, until Bond chooses the perfect time to reveal the car is packing a mini-gun in its headlights. He does a donut while opening fire on the enemies surrounding him in a circle, then using the smokescreen function to make his escape away from Blofeld's Spectre agents.
Three more Aston Martins appear in the movie: the classic V8 (originally seen in The Living Daylights), the hyper-car Valhalla (seen in Q's lab), and the DBS Superleggera, which is driven by new MI6 spy Nomi.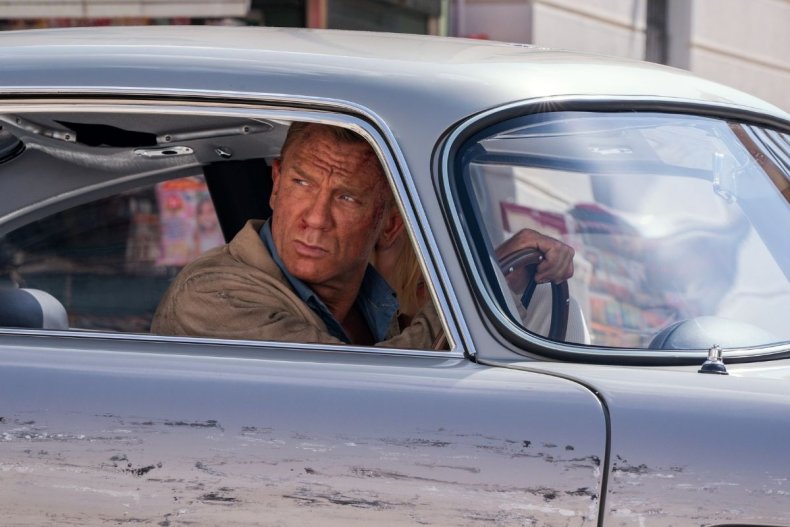 Magnetic parachutes
During a heist towards the start of the movie, a group of masked men break into a London facility to hijack a potentially deadly weapon. They begin the heist with laser cutters, which aren't new to spy movies but are cool and effective. Once they get what they came for, they plan their escape down the elevator shaft.
Dropping a heavy object that looks like a bomb down to the floor below, we see dozens of red lights attach to the side of the shaft. One by one the assailants and their hostage jump down with nothing attached to them.
As it looks like they're about to splat into the concrete, the red lights turn green and each of them lands safely on the ground. Valdo Obruchev (David Dencik) exclaims "magnets" as he endures a less graceful drop to the floor.
Eyeball walkie talkie
At the start of No Time To Die Blofeld (Christoph Waltz) is losing his mind in prison according to MI6, but it turns out he knows exactly what he's doing.
Bond arrives at a mission in Cuba and sees the guest of honor at a party is a glass eyeball being delicately carried around on a pillow. Through their earpieces Bond and his mission colleague Paloma (Ana de Armas) hear Blofeld pulling the strings and executing a plan to kill Bond.
It turns out Blofeld is using his own prosthetic eyeball to see and interact with the outside world from the confines of Belmarsh Prison in London.
A flying submarine
The ultimate stealth vehicle helps James Bond and Nomi break into Safin's island layer.
Nomi is behind the wheel of this vehicle as they drop out of the C-17 Globemaster aircraft. Their vessel drops the attached parachute and spreads its wings to become its own flying machine. As they approach the island and you start to think they're getting too close to the water, it submerges below the ocean, turning into a submarine.
It allows them to approach the island undetected in an effort to thwart Safin's plan and save Madeleine Swann.
Electromagnetic pulse watch
Before Bond and Nomi head out on their final mission, Q equips them with the tech they'll need. They both get tracking devices so Q can monitor them in the base but Bond also receives an electromagnetic pulse watch. In typically scatter-brained fashion, the brilliant Q can't confirm how effective it will be until Bond uses it.
Fortunately, it comes in incredibly handy when Bond gets into a fist fight with his false-eyed foe Primo (Dali Benssalah). Holding the watch up to Primo's head, Bond uses the EMP, which seems to blow up his opponent's eye, instantly killing him.
No Time To Die will be released in the U.S. on October 8, 2021.