Five Dollar Gas a Reality for 9 States, More to Follow
Gas prices are continuing to soar, with multiple states seeing the average price rise above $5 for a gallon of regular gas.
The national average for a gallon of regular gas was $4.848 on Sunday, up 60 cents from a month ago, according to the the American Automobile Association (AAA).
But in nine states and the District of Columbia, the price of a gallon of regular gas has surged past $5. Those states are: California, Hawaii, Nevada, Oregon, Illinois, Washington, Alaska, Arizona and Michigan.
Michigan has seen average gas prices rise by nearly 10 percent in a week, the highest weekly increase according to the data.
Seven other states are nearing the $5 mark, with average prices for a gallon of regular gasoline currently over $4.90. Those states are: Indiana, Massachusetts, Maine, New Jersey, Pennsylvania, Rhode Island and Vermont.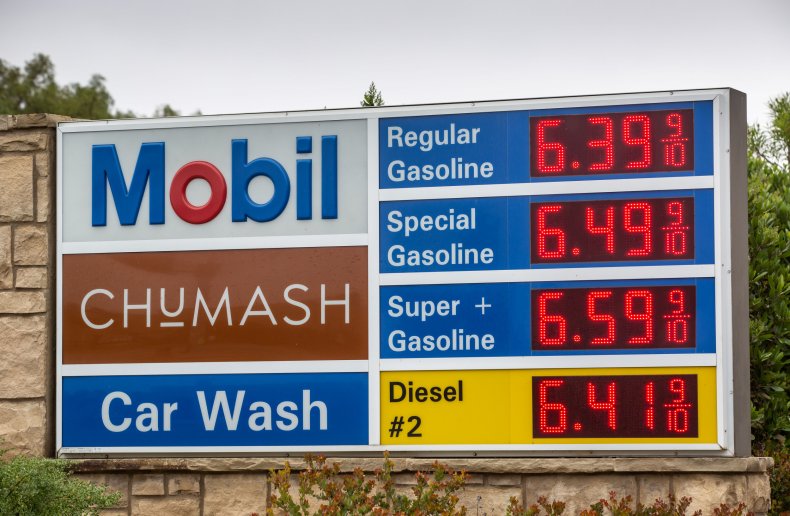 And nowhere in the U.S. is the average price for a gallon of regular gas under $4. Drivers were paying $3.04 a gallon on average a year ago at this time.
California has the highest gas prices in the country, with drivers paying $6.326 for a gallon of regular gasoline on average. Last month, a gas station in Los Angeles was seen charging $7.29 for a gallon of regular gasoline, which Twitter users noted was more than the federal minimum wage.
Georgia has the lowest gas prices, with the average cost of a gallon of regular gas at $4.279.
Drivers in the U.S. have faced skyrocketing gas prices in recent months due to inflation at near 40-year highs and Russia's ongoing invasion of Ukraine.
Analysts say demand for gasoline grew as drivers fueled up to travel over the recent Memorial Day weekend while total domestic gasoline stocks decreased, contributing to pump prices rising further.
"Coupled with volatile crude oil prices, pump prices will likely remain elevated as long as demand grows and supply remains tight," according to the AAA.
Some states including Florida and Georgia have suspended gas taxes to help ease the burden.
Other states are weighing other ways to help Americans with rising gas prices. In California, Democrat Gov. Gavin Newsom has proposed a plan to give car owners in the state $400 debit cards for up to two vehicles to offset high gas prices.
President Joe Biden addressed rising gas prices last month, saying the U.S. had "produced more oil domestically in my first year in office than my predecessor did in his first year."
He added: "To further drive down prices, my administration is allowing the sale of gasoline using homegrown biofuels this summer, which wasn't allowed before.
And to reduce our dependence on foreign oil and reckless autocrats like [Russian President Vladimir] Putin, I'm working with Congress to pass landmark investments to help build a clean energy future as well—from tax credits for businesses to produce renewable energy to tax credits for families to make their homes more energy efficient."