Five Key Takeaways From Volodymyr Zelensky's Speech to Congress
Ukrainian President Volodymyr Zelensky called on the U.S. to take further action against Russia with more sanctions, and evoked the September 11 attacks, during a speech to a joint session of Congress on Wednesday.
Zelensky's comments came as conflict continues to rage in Ukraine after Russian military forces invaded the country more than two weeks ago. Below are some of the key takeaways from Zelensky's speech to Congress.
No-fly zone
Zelensky repeated his call for the U.S. to enforce a no-fly zone over Ukraine.
"Russia has turned the Ukrainian sky into a source of death for thousands of people," he said. "To create a no-fly zone over Ukraine to save people, is this too much to ask?
"You know how much depends on the battlefield, on the ability to use aircraft, powerful strong aviation to protect our people, our freedom, our land, aircraft that can help Ukraine, help Europe. You know they exist and you have them, but they are on Earth not in the Ukrainian sky...I need to protect our sky."
Graphic video
Zelensky also showed a video that appeared to show attacks by Russian forces in Ukraine. The video was titled Close the Sky, and began by showing an aerial view of numerous Ukrainian cities, such as Kyiv and Kharkiv.
As the video continued, it began to show what appeared to be Russian attacks on the cities as well as Ukrainian military forces attempting to help civilians that were injured during the attacks.
Following Zelensky's speech, House Minority Leader Kevin McCarthy said that the graphic video was "one of the most moving moments," of the speech.
Evoked 9/11 and Pearl Harbor
Zelensky called on Americans to remember the attack on Pearl Harbor that led to the U.S. entering World War II, as well as the September 11 terrorist attacks.
"Remember Pearl Harbor, terrible morning of December 7, 1941, when your sky was black from the planes attacking you," Zelensky said. "Just remember it, remember, September the 11th, a terrible day in 2001 when evil tried to turn U.S. cities into battlefields, when innocent people were attacked from air, just like nobody else expected it and you could not stop it. Our country experiences the same, every day, right now at this moment."
Calls for more sanctions
While the U.S. has already imposed numerous sanctions on Russia for its invasion of Ukraine, Zelensky said that more needed to be done to stop the "Russian military machine."
"New packages of sanctions are needed constantly, every week, until the Russian military machine stops," Zelensky said, adding that the U.S. should sanction all Russian Federation politicians that have not "cut ties with those who are responsible for the aggression towards Ukraine."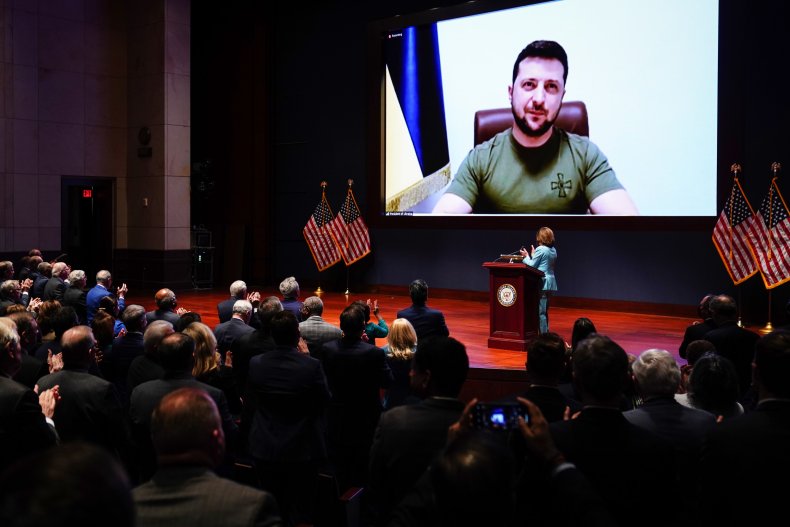 At the conclusion of his speech, Zelensky made a plea to U.S. President Joe Biden.
"I wish you to be the leader of the world. Being the leader of the world means being the leader of peace," Zelensky said.