The Five Most Shocking Things John Mulaney Revealed on 'Late Night With Seth Meyers'
John Mulaney laid everything out on Late Night with Seth Meyers, putting an end to much of the speculation that has recently surrounded his private life.
He'd been trending online recently over speculation that he and Olivia Munn were an item and expecting a baby together. He confirmed these rumors were true on his friend Seth Meyer's show and revealed further details about his drug abuse, intervention and trips to rehab in the last year.
The full interview between Meyers and Mulaney lasted almost 20 minutes so here's a list of the most notable confessions made during the segment.
Confirmation of relationship and pregnancy with Olivia Munn
While Mulaney was detailing everything that had happened to him since last September, he dropped the news that many had speculated about on social media.
He said in spring he started to date "a wonderful woman named Olivia, Olivia Munn" while he was fresh out of rehab. Mulaney said many complimentary things about Munn calling her incredible and spoke glowingly about her supporting him as he tries to get clean before confirming "we're having a baby, together."
Seth Meyers staged an intervention
Before Mulaney went to rehab for the second time in the space of a few months, he was convinced to do so by a group of his friends who staged an intervention for him.
Meyers and Mulaney spoke at length about the experience from both of their perspectives. They didn't reveal all of the participants but did mention that their Saturday Night Live pal Fred Armisen was involved.
While he acknowledged that at the time he was not grateful for the intervention, Mulaney did cite the intervention for saving his life. He checked back into rehab that night.
Rehab and relapse in 2020
While it was widely reported he entered rehab in December last year, Mulaney told the watching audience that he first went into rehab in September 2020 and got out in October before hosting the Halloween edition of Saturday Night Live.
He said after the show (but not directly afterward) he relapsed on drugs before going on to take a job on Late Night with Seth Meyers.
Separation from his ex-wife
Mulaney clarified the timeline of his separation from his wife on Meyer's show. He stated that he moved out of his home from his ex-wife after leaving rehab in October and before he hosted SNL.
It was only reported in May this year that he and Annemarie Tendler had decided to end their marriage, before he filed for divorce on July 23.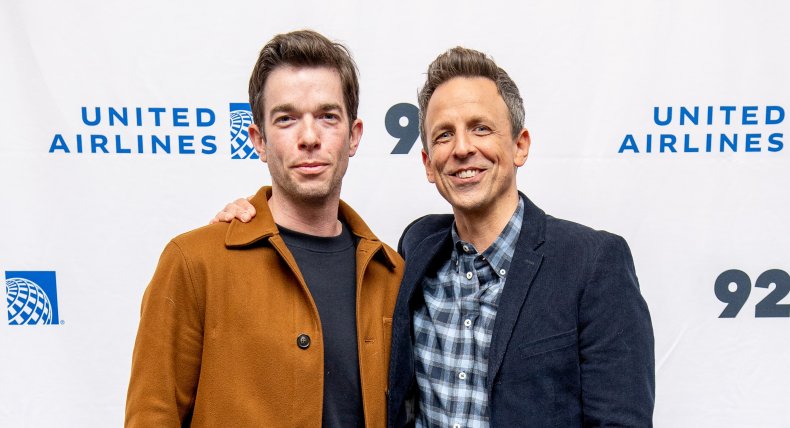 Getting a haircut at Saturday Night Live
Mulaney was open about his drug use during the back end of 2020 and admitted that he was "coked up" when he was going to meet a friend for dinner, which actually turned out to be his intervention.
He described that for some reason on his way, he used his work pass to get into 30 Rockefeller Plaza, went up to the Saturday Night Live "Emmy Award-winning hair department" and asked for a haircut. He said it was like a junkie going into their office and they must have thought it'd be faster to cut his hair than deal with him.
Meyers and Mulaney ended their interview by exchanging their gratitude and telling each other "I love you."
Newsweek reached out to Mulaney's team for comment but were told he's "not doing press at this time."