The Maricopa County Recorder's Office is an office of 165 full-time employees. It oversees public recordings, maintains a database of 2.6 million registered voters (the second largest voting jurisdiction in the United States) and, together with the County Board of Supervisors, administers elections.
I unseated the incumbent Democrat and won the office in the 2020 election on a promise to "Make the Recorder's Office Boring Again." For that reason, I declined every media opportunity until May 14. I had hoped to quietly, competently, lawfully and fairly do my job.
Since May 14, however, I've spoken out loudly and critically against the Maricopa County "election audit" commissioned by state senate president Karen Fann and managed by the Cyber Ninjas. Here are some of the reasons why:
1) Fann's audit accused my office, under my control, of unlawful activity.
On May 12, the audit's official, but anonymously run, Twitter account accused me and my team of purposefully breaking the law. Fann's team made this statement without warning, without evidence and without care for the reputational consequences. This, from my supposed partisan ally.
I texted Fann my surprise at the tweet. Instead of offering an apology and a solution, she told me she had no control over the Twitter account—despite the fact that she commissioned the audit, and the audit acts under her authority. The baseless accusation remained the audit's featured tweet for many days.
This was not the first time I'd been accused of bizarre criminal activity connected to an election that I didn't run. And each time these crazy allegations surfaced, the state senate added fuel to the fire instead of rushing to combat the absurd (with the notable exceptions of Senators Townsend, Shope and Boyer).
I am a human. If you prick me, I bleed. If you consistently defame me and my office, I eventually fight back.
2) The audit is premised on a lie.
Governor Doug Ducey agrees. Former Republican governor Jan Brewer agrees. Republican Arizona attorney general Mark Brnovich agrees, and his office has an election integrity unit that presumably receives all evidence of widespread fraud. Trump's entire Department of Justice, including former attorney general Bill Barr and former acting attorney general Jeffrey Rosen, has said the election wasn't stolen. Likewise with Trump's Department of Homeland Security. Even Sidney Powell herself now says that "no reasonable person" should believe the election was stolen.
Maricopa County has used the same election services vendors and has had many of the same employees for more than 20 years. This team oversaw Maricopa County's vote for Trump in 2016, for Mitt Romney in 2012, for John McCain in 2008 and for George Bush in 2004. And it administered the continued Republican control of the Arizona state legislature in 2020, as well as my victory against the incumbent Democratic chief county election administrator.
In all these elections, there have never been any significant tabulation or fraud problems.
The voting machines undergo a battery of federal, state and county certifications and tests before every election. After the November 2020 election, designees from the Republican and Democratic parties worked in bipartisan groups of three to hand count more than 47,000 votes. Those hand-counted votes matched the machine count 100 percent. The exact same machines and software worked perfectly in seven previous elections.
In February, Maricopa County enlisted two certified, reputable, long-established elections technology companies to do everything needed to test whether the machines were hacked (they weren't) or physically manipulated (they weren't), and whether they connected to the internet (they didn't) or switched votes (they didn't).
Additionally, eight different court cases rejected allegations of widespread inaccuracies or fraud in Maricopa County. Even the Arizona Supreme Court got involved. The federal judge who reviewed the Sidney Powell-inspired case in Maricopa County granted a Rule 12(b)(6) motion to dismiss, meaning the claims didn't even rise to the level of plausibility.
I believe in the court system. I believe in facts and logic. I believe in the simple, straightforward, data-backed explanation that Trump lost many Republican voters in affluent areas.
Accordingly, I know President Joe Biden won Maricopa County.
As for anyone who thinks the current Senate audit isn't about President Trump's claims of election fraud, I can only respond with a laugh. There is zero chance Arizona would be doing this audit right now if President Trump had won the state.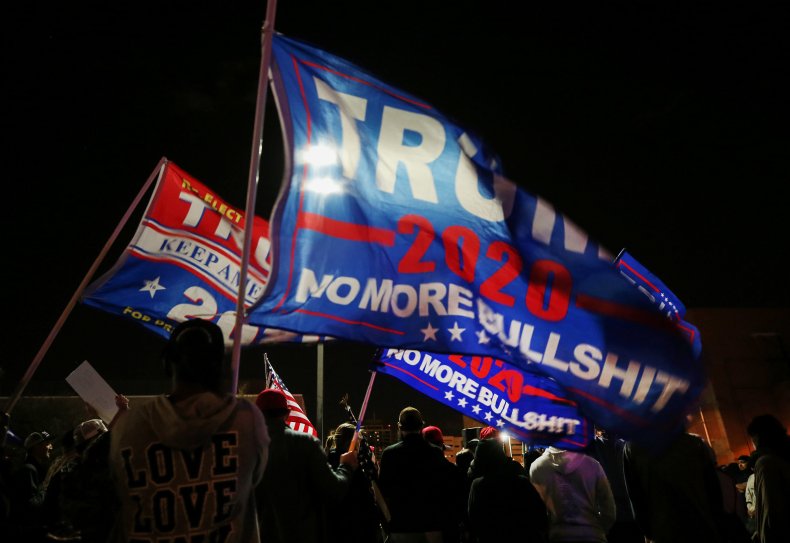 3) Choosing the Cyber Ninjas was incredibly inappropriate.
People who read the above might say "well, if everything was done properly, what's the harm of one more review?"
I refer those people to my article for National Review, in which I wrote that even if you did your taxes properly, you might object to an IRS audit if the IRS outsourced it to someone who had no applicable credentials, had never conducted a tax audit, said that Hugo Chavez controlled your tax-auditing software and had already told the public you'd committed tax fraud.
All of these are true of the Cyber Ninjas. I have no idea why Senator Fann thought it was appropriate to choose them. The Ninjas didn't even formally apply to do the audit, while professional, reputable companies did.
Fann's election audit is the most important such audit in the last 20 years. To convince a significant majority of Arizonans, it will have to be beyond reproach, operating at the highest levels of professionalism, expertise, methodology, transparency and impartiality.
This should have been an occasion to call for blue chip help. In the accounting world, this means Ernst & Young or Deloitte. In the legal world, it's Wachtel or Latham.
Instead, Senator Fann chose Cyber Ninjas—a tiny company from Sarasota, Florida, that doesn't even have an office building. The Ninjas are led by a conspiracy theorist CEO who has publicly stated that the election was stolen. The Ninjas had never before run an election audit and have no expertise in elections. They have recruited almost entirely Republican workers and volunteers, including QAnon adherents, Republican candidates on the 2020 ballot and attendees of the January 6 riots.
The resulting audit is what you might expect: UV lights to track down a QAnon-inspired conspiracy theory, and high-definition cameras to search for bamboo fibers to ascertain if the ballots were flown in from China.
It's a shame. The vast majority of those working the audit are good people simply trying to help. Many of them are my friends from the Republican grassroots world.
But there is no way that anyone who doesn't already think the election was stolen will put stock in what the Ninjas report.
4) We need to accept individual responsibility as Republicans.
Individual responsibility is supposedly a prized Republican virtue.
I hate when dissatisfied test takers blame their teachers, or say the test was poorly written, or biased, or that the tabulators didn't read the bubbles correctly.
I hate when sports teams blame referees.
I hate when people blame their economic woes on the rich, or the immigrants, or the Jews, or "the man."
It's whiny, it's pathetic, it's almost always false, and it inhibits the introspection we need in order to make changes.
Republicans must face it: we lost. I voted for Trump too—I'm part of the losing team.
It's time to stop looking for scapegoats (first it was Dominion, then it was the Supervisors, now it's Chinese ballots).
It's time to accept individual responsibility, correct our course and come back strong in 2022.
5) Republican Party turnout will suffer.
For two months following the November 2020 election, Trump and his allies told Georgia Republicans that their votes don't count because elections are fraudulent and corrupt (despite the fact that Georgia's elections are largely run by Republicans).
Many Georgia Republicans accordingly did the rational thing in the January senate runoff elections: they didn't vote. As a result, a traditionally Republican state with a Republican governor ousted its two Republican senators in favor of two never-before-elected Democrats. The Democrats now control the U.S. Senate for the first time since 2015.
If we encourage Arizona Republicans to believe the lie that our elections are rigged, then it's likely that many of them simply will not vote.
In heavily contested state and county elections, any amount of Republican non-participation would likely doom GOP candidates.
This certainly isn't good for the Republican Party of Arizona, and it's not good for Arizona to have one party drop out of the democratic process.
The above are five of many reasons it was time to speak out against Fann's audit and its deceitful premise. I hope fellow Republicans will agree and call for an end to this charade.
Stephen Richer is the 30th Recorder of Maricopa County.
The views expressed in this article are the writer's own.