Five Republicans Help Reject Near Total Ban on Abortions in South Carolina
Five Republican members of the South Carolina state senate have helped to prevent the passage of a near total abortion ban despite the GOP having a majority to pass it.
Republican state Senator Tom Davis said he would filibuster the legislation on Thursday until the chamber voted to force him to end his use of the parliamentary procedure, which did not appear possible.
The bill would have provided no exceptions for rape or incest and Davis was joined by four other Republicans, including all three Republican women in the state senate, in arguing for those exceptions.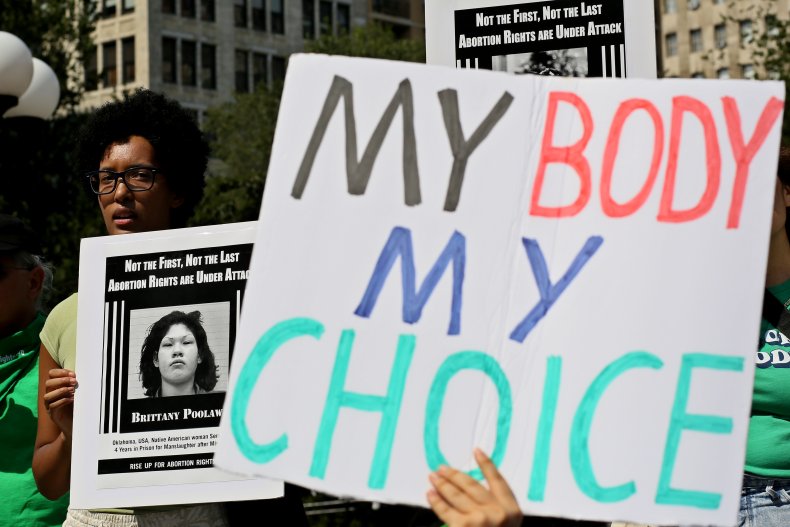 Twenty-six votes were needed to end Davis' filibuster but the Republican majority did not appear to have the necessary votes, which ultimately derailed the bill.
After a recess, Senate Majority Leader Shane Massey acknowledged the bill would likely not pass and the state senate instead passed an amended abortion ban that essentially included the restrictions already in place in the state—a ban after a fetal heartbeat is detected, which is usually around six weeks into a pregnancy.
That law took effect after the U.S. Supreme Court overturned the landmark abortion precedent Roe v. Wade in late June but is currently on hold after it was blocked by the South Carolina Supreme Court in August.
Senator Davis served as chief of staff to former South Carolina Governor Mark Sanford before becoming a state senator in 2009.
The original bill passed by the state house contained exceptions for rape and incest but these were stripped out of the senate version through an amendment written by Republican state Senator Richard Cash and passed in the Medical Affairs Committee.
Davis had been joined in his opposition to the bill by South Carolina's three Republican women in the Senate—Katrina Shealy, Sandy Senn and Penry Gustafson—while state Senator Josh Kimbrell also pushed to have exceptions for rape and incest included in the bill.
Davis had proposed an amendment to include exceptions for rape or incest but that was defeated 23 to 6. Kimbrell later introduced an amendment to limit the rape and incest exception to six weeks and that was also defeated 23 to 18.
Most Democrats voted against Kimbrell's amendment, according to Greenville News.
Kimbrell, a former chairman of the Spartanburg County Republican Party, is involved in the aviation leasing and charter business. He sits on several state senate committees, including the Judiciary.
Senator Shealy criticized the bill on Thursday, saying, according to PBS: "You want to believe that God is wanting you to push a bill through with no exceptions that kill mothers and ruins the lives of children—lets mothers bring home babies to bury them—then I think you're miscommunicating with God. Or maybe you aren't communicating with Him at all."
Shealy is chair of the state senate's Family and Veterans' Services Committee and has worked in the insurance industry for 40 years.
Senator Senn, an attorney who sits on the state senate's Judiciary committee, said the bill would be an invasion of privacy.
"If what is going on in my vagina isn't an unreasonable invasion of privacy for this legislature to get involved in, I don't know what is," Senn said.
Gustafson said on Wednesday: "I cannot support this bill without exceptions."
Her website describes her as a "community leader with a servant's heart" who previously worked as a "top salesperson for a national corporation" as well as a leader in her congregation, Good Shepherd Lutheran.
Newsweek has asked the South Carolina Republican Party for comment.
Since the Supreme Court overturned Roe, abortion has become banned or severely limited in several states. Some states had "trigger bans" that automatically came into effect when Roe was struck down, while some Republican-led legislatures have moved to introduce new bans. Several of them, including in Florida and Georgia, are subject to court challenges.