Five of the Seven Largest Wildfires in California History Are Currently Burning
Five of the seven largest wildfires in California's history are currently burning, as the state continues to see a record number of blazes and acres burned throughout the wildfire season.
A disastrous combination of an unprecedented heat wave, low humidity and powerful lightning storms served as the primary cause of wildfires in August, the beginning of California's fire season. Across the country, 43,598 wildfires have burned through nearly 7 million acres as of September 21—that's over 1 million more acres burned than the 10-year average, according to the National Interagency Fire Center.
California has faced the brunt of these fires, with nearly 8,000 incidents burning through 3.63 million acres this year, according to the California Department of Forestry and Protection. Twenty-six people have been confirmed dead as a result of the wildfires, and more than 7,000 structures have been damaged or destroyed.
Many experts are pointing to climate change as the biggest driving force behind this sharp increase in the number of wildfires. "It's really shocking to see the number of fast-moving, extremely large and destructive fires simultaneously burning," Daniel Swain, a climate scientist at the Institute of Environment and Sustainability at the University of California, Los Angeles, told the New York Times.
Emily Szasz, a graduate art history student, told the Times about her experience living in Santa Cruz, where she has endured "23 straight days of orange, oppressive, smoky skies."
"There is no greater proof, nor should we require it, that climate change is here and is changing our lives," Szasz told the Times about this year's wildfires. "I am only 25 years old and I do not know what future there is for me, let alone my potential children and grandchildren."
The seven largest wildfires in California's history have burned within the last three years alone, and five of those began in 2020. Here is a list of all seven, with figures accurate as of September 21.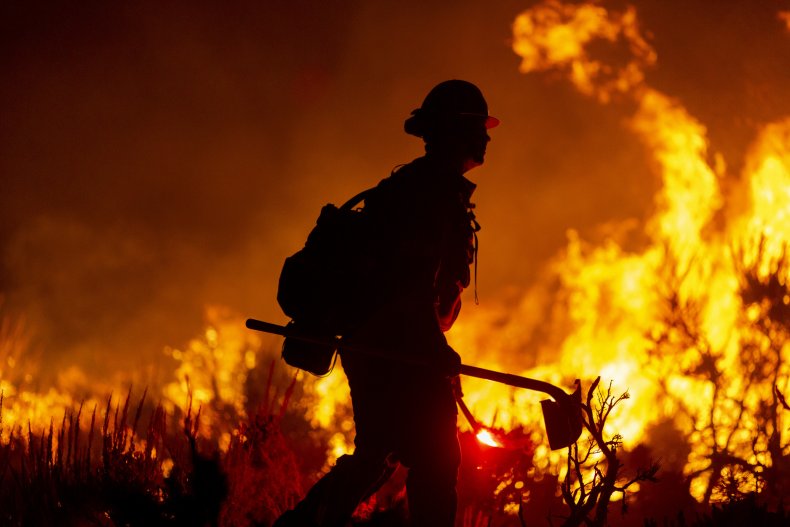 August Complex Fire: August 16, 2020
Location: Mendocino, Humboldt, Del Norte and Trinity counties
Acres: 846,898
Containment: 43 percent
Fatalities: Zero
Mendocino Complex Fire: July 27, 2018
Location: Mendocino, Lake, Colusa and Glenn counties
Acres: 459,123
Date contained: September 18, 2018
Fatalities: One
SCU Lightning Complex: August 18, 2020
Location: Santa Clara, Alameda, Contra Costa, San Joaquin, Merced and Stanislaus counties
Acres: 396,624
Containment: 98 percent
Fatalities: Zero
LNU Lightning Complex: August 17, 2020
Location: Sonoma, Lake, Yolo, Napa, Solano counties
Acres: 363,220
Containment: 98 percent
Fatalities: Five
North Complex Fire: August 18, 2020
Location: Butte and Plumas counties
Acres: 298,191
Containment: 74 percent
Fatalities: 15
Thomas Fire: December 4, 2017
Location: Ventura and Santa Barbara counties
Acres: 281,893
Date contained: January 12, 2018
Fatalities: Two
Creek Fire: September 4, 2020
Location: Fresno and Madera counties
Acres: 280,425
Containment: 30 percent
Fatalities: Zero