At Least Five Wounded, Suspected Gunman Killed After Shooting at Party
One person has been killed and several others have been injured in a shooting at a party in Los Angeles on Sunday night,
In a statement to Newsweek, the Los Angeles Police Department said the shooting took place at 10:40 p.m. in the area of South Hill and West 35th streets.
Police said a 30-year-old male exited a vehicle and approached the party before firing several times at the crowd.
According to police, one of the people at the party then returned fire, hitting the original gunman as he drove away.
The suspect is then reported to have crashed his car a short distance away at Hill and 32nd streets. The Los Angeles Fire Department paramedics responded and transported the suspect to a local hospital, where he was later pronounced dead.
Police said five others, three women and two males all aged between 18 and 29, were also injured during the shooting. All the injured victims took themselves to a local hospital from treatment and are currently being uncooperative with the investigation.
A Los Angeles Police spokesperson said they believe the shooting was gang-related.
No arrests have been made in connection to the homicide/multiple shooting investigation.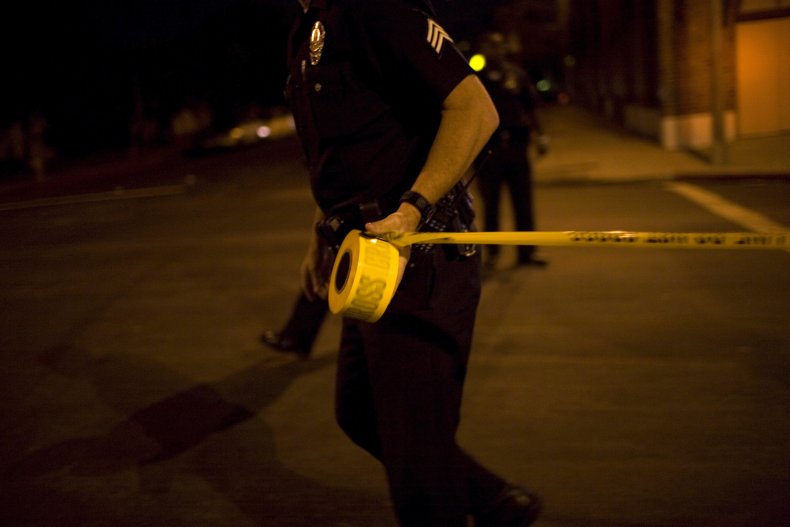 On Saturday, a Taco Bell employee was shot and killed in Los Angeles after he refused to accept a fake bill as payment, according to police.
A spokesperson for the Los Angeles Police Department told Newsweek that the 41-year-old victim, later identified as Alejandro Garcia, was shot multiple times and pronounced dead at the scene.
The incident occurred just before 11 p.m. on Saturday, when the shooter, who was driving a black sedan, attempted to use a counterfeit bill at the drive-thru window of the restaurant. After Garcia declined the payment, the suspect opened fire inside the fast food restaurant multiple times and fled the scene, police said.
No arrests have been made in connection to the shooting and there is no description of the suspect.
According to CBS Los Angeles, Garcia was working alongside his 19-year-old son at the Taco Bell on Avalon and Century Boulevards on the night of the shooting.
In a statement to CBS Los Angeles, the Taco Bell Corporation said: "We are shocked and saddened to hear that this happened. Our deepest condolences go out to the family and friends of the team member in this difficult time.
"We understand the owner and operator of this location is working with the local authorities in their investigation and has reached out directly to the affected family to offer support."