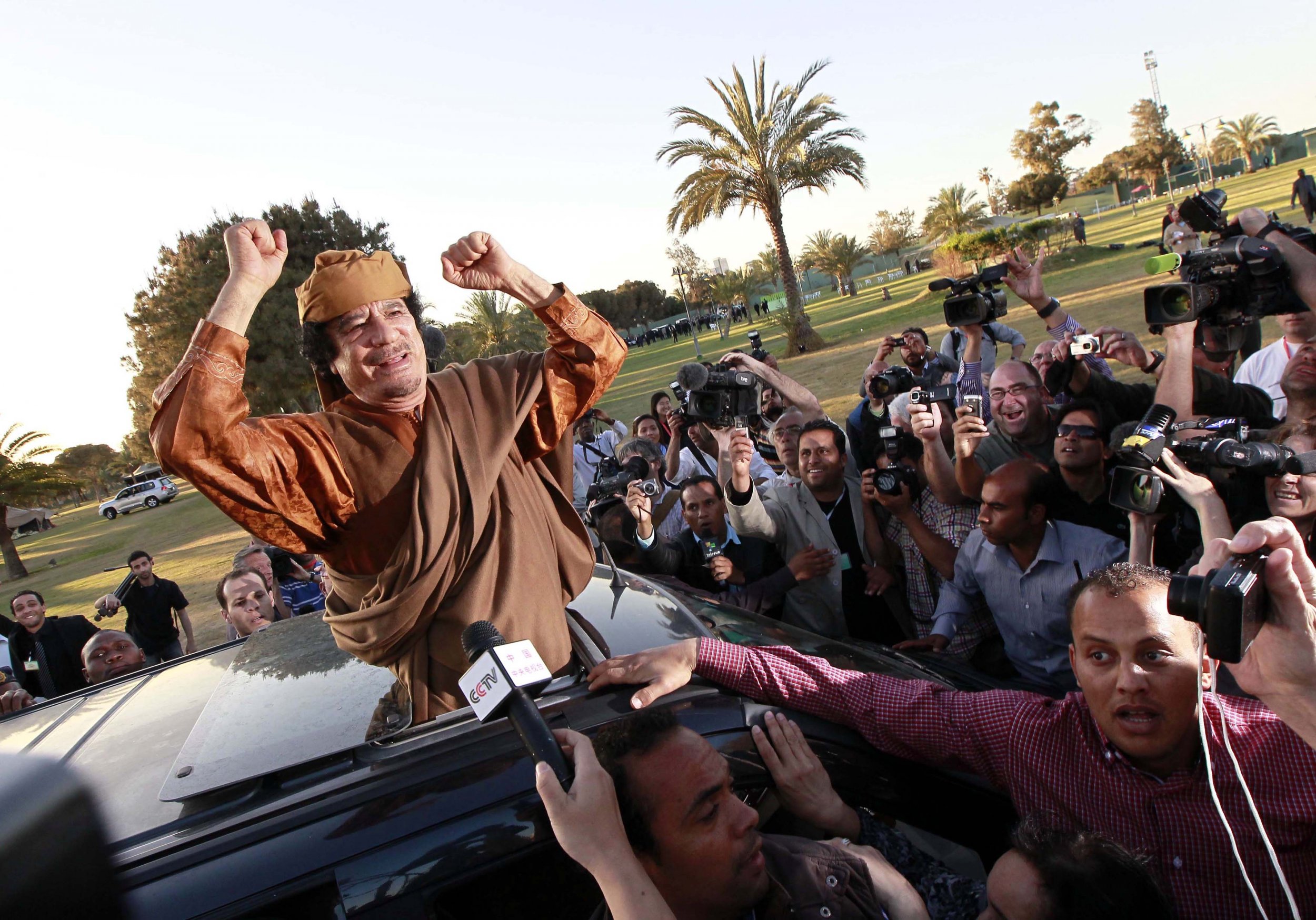 This month marks the fifth anniversary of the end of the more than 40-year Libyan regime of Muammar el-Qaddafi following a Western intervention that included the United Kingdom. A half decade later, the country faces massive economic, political and security challenges that may prompt stronger international intervention in coming weeks.
Only earlier this month, there was an attempted coup d'état that saw a rival administration, including former prime minister Khalifa al-Ghwell, capture key government buildings and seek to usurp the U.N.-backed Government of National Accord (GNA). This forced Fayez al-Sarraj, the GNA's prime minister, and his presidency council, to retreat to a hotel in Tunisia after declaring the Libyan capital, Tripoli, unsafe.
A half year after Sarraj's arrival in the capital, Parliament (which is based in the eastern town of Tobruk) has still refused to cooperate with the GNA. In this context of rival political bodies, multiple militias that sprung up after Qaddafi's ousting have emerged as key potential kingmakers, undermining political and economic stability, and providing a window of insecurity that so-called Islamic State militant group (ISIS) has exploited.
The currently parlous state of the country is reflected in the economy that the World Bank warned this month is "near collapse", partly because of inflation and lack of oil production. Oil reserves in Libya are the largest in Africa, estimated at 48 billion barrels, and among the top ten globally with production of 1.65 million barrels per day (bpd) in 2010 prior to Qaddafi's demise.
However, production today stands at around 551,000 bpd according to National Oil Corporation (NOC) chairman Mustafa Suna'a-Allah, which has improved significantly since Libya re-opened its export ports—Sidra, Ras-Lanuf, and Zueitina—in September when production was between 270,000 bpd and 300,000 bpd. The weakened performance of the oil industry since 2010 reflects Libya's subsequent plunge into political chaos, including ISIS attacks on industry infrastructure.
The NOC has an ambition of reaching 900,000 bpd output by the end of 2016, which would only add to the current global over-supply of oil, and exacerbate OPEC's headaches given the cartel's need to cut overall production. However, the World Bank says there is no prospect of returning to Qaddafi-era levels of output until 2020.
Rejuvenating Libya's oil production is not just critical to restoring the fortunes of the economy, but also to the GNA's survival, and alleviating migration flows from the country. The NOC estimates that Libya has lost more than $100 billion dollars in oil revenues since 2013 alone. And according to the World Bank, this has eroded currency reserves from $107.6 billion in 2013 to $43 billion in 2016.
With the country widely seen as on the political and economic brink, international concern has risen significantly in 2016. For instance, Libya was a key agenda item at a G5 summit in April between U.S. President Barack Obama, then-U.K. Prime Minister David Cameron, German Chancellor Angela Merkel, French President Francois Hollande, and Italian Prime Minister Matteo Renzi.
At the meeting, it was flagged that, five years after Qaddafi's removal from power, there may be a potential "window of opportunity" to try to bring greater order to the country following upheaval since then. In the absence of the failure to plan for the aftermath of Qaddafi's regime, which Obama has called the "worst mistake" of his eight-year presidency, Washington has said that a full range of tools will now be used to roll back ISIS in Libya, from financial, intelligence, military and logistical support.
Most prominently, the Pentagon has ramped up an air campaign in recent weeks bombing what it believes to be ISIS targets in Libya focused on the coastal city of Sirte. That action, which Obama has declared as in the vital U.S. national interest, may yet signify a deepening of U.S. and wider Western commitment to the GNA, militarily, politically and economically.
At a time when the GNA is trying to establish itself in the country, there have been growing international concerns that ISIS may be establishing a stronghold there. U.S. intelligence, for instance, estimated earlier this year that the number of ISIS fighters in Libya had probably doubled to between 4,000-6,000 in the last 12-18 months, with growing evidence that a significant number of terrorists had travelled from Iraq and Syria where, because of offensive operations from 66-strong coalition forces, ISIS fighters are believed to be at the lowest levels for at least two years.
Following recent terrorist attacks in Europe, the continent's leaders are also intent on eliminating the prospect of ISIS developing a base of operations in Libya. U.K. Defense Secretary Michael Fallon, for instance, has said that "everything possible" must be done to stabilize the country, including potentially sending U.K. troops to train forces under the command of the GNA, stressing that ISIS "it is a direct threat to Britain as well as the rest of Western Europe and we have every interest in securing the security of a stable Libya".
Beyond military actions, the G5 have also discussed a broader plan to stabilize the country, including stemming migration flows from the country. Migration from Libya to Italy is a particularly pressing issue, and a key reason for urgency is not just the numbers of migrants, but also the fact that the death rate in 2015 on this sea route, based on data from the International Organization for Migration, was around one in 20, compared to approximately one in 1,000 between Greece and Turkey.
Taken overall, some five years after Qaddafi's fall, international efforts now appear to be intensifying to shore up the GNA and tackling the ISIS menace in the country. Underlying this is not just the ambition of strengthening Libya's governance, but also preventing the terrorist network using the country as a potentially key base of operations to attack Europe, while also mitigating migration flows to the continent.
Andrew Hammond is an Associate at LSE IDEAS (the Centre for International Affairs, Diplomacy and Strategy) at the London School of Economics.