Workers quit all the time, but not all employees receive expletive-laden text messages and threats from their former bosses.
One text conversation between a restaurant manager and a now-former kitchen manager posted on Reddit's "Anti-Work" forum has been upvoted nearly 10,000 times. It was posted by a user named LinkovitchChmofsky, who told Newsweek he formerly worked at the unspecified niche restaurant in the Austin, Texas, area.
In the text exchange, the kitchen manager told his former manager "thanks for the opportunity" and apologized for not providing notice in advance of him leaving. He went on to say he had already moved out and was heading back to Houston, adding, "It's only for my health."
He also provided a new address to send his final check.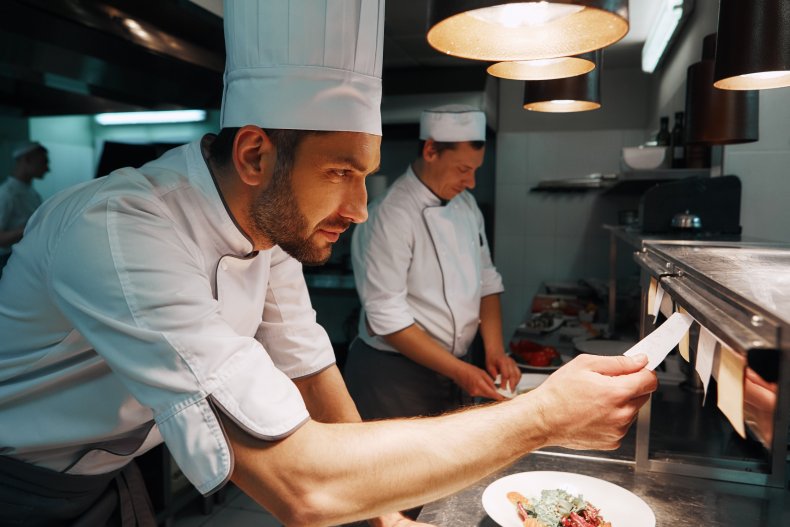 The general manager initially responded with three words: "F**k you, b**ch."
"Where's the key to my house?" he continued. "I'll call the cops and report if it's not there."
In addition to allegedly accusing the employee of not returning keys he had to get into the business, the general manager also threatened to call probation on the former employee, suggesting he has a past criminal history.
The Reddit poster, who asked to remain anonymous, told Newsweek that the former kitchen manager shared a screenshot of the text exchange with him. When asked why he posted it on Reddit, the poster said he was simply appalled at the general manager's response.
"It's just incredibly aggressive and unprofessional," he said. "That, coupled with his threat to call the probation officer, was just too much. ... I've been doing this for almost 20 years and have never worked with a (general manager) who behaved this way. It was awe-inspiring in all the worst ways."
'I dreaded going in every day'
The poster said that after approximately 17 years in the restaurant industry, he is leaving and heading into corporate sales. He spent less than one year at the restaurant establishment in Austin and blames that business for causing him to look for greener pastures.
He cited multiple reasons for leaving, including poor leadership and constantly changing guidelines and expectations.
"I was hired as a shift lead and had my actual role/pay scale change maybe three times over the course of employment with no verbal or written reasoning," he said. "The kitchen manager was incredibly overworked, and was expected to cook, manage the kitchen, expo, dishwasher, and deal with (front-of-house) problems/customer concerns."
The poster added that the general manager allegedly employed his wife as a server and that she "used her position to bully/run roughshod on the rest of the front-of-house staff–most of whom were too young/naive to realize how bad a situation they were in."
Money wasn't predominantly the major issue, either. The poster said he made between $3,500 and $4,500 a month working part-time hours–or, as he described, "long shifts and high stress but good money." Every shift varied of course based on days and hours and clientele.
"The job itself wasn't hard," he said. "Actually one of the easiest gigs I've ever had in terms of money-to-work exchange. I just dreaded going in every day and having to deal with the general manager and his wife."
Restaurant turnover continues to occur
Data provided by the U.S. Bureau of Labor Statistics showed that about three of every 50 people employed in the restaurant and lodging industries quit during March, and that was as overall hiring increased and unfilled positions dropped to the lowest level in four months.
Meanwhile, about 810,000 hospitality employees quit in March–an increase of about 14,000 employees compared to February and 250,000 from a year earlier.
In cities like San Antonio, job recruiters outnumber job seekers in the restaurant and hotel industries. And at food chains like Chipotle, the worker turnover rate of 194 percent in 2021 was up from about 141 percent in the prior year.
When asked why he is pursuing corporate sales, the Reddit poster said the job in Austin "left an awful taste in my mouth," adding that he is "getting older and wanted to try my hand in a new industry."
"Sales jobs love servers and bartenders for the communication and people skills we accrue," he said. "I've had no issue landing interviews with fairly large corporations since I put my resume out there."