FL Governor Spokesman's Tweet About COVID Deaths Sparks Backlash, Twitter Account Deactivated
Fred Piccolo, a spokesman for Florida Governor Ron DeSantis, reportedly received backlash and deactivated his Twitter account after he wrote that photos of deceased COVID victims should be juxtaposed with 99 images of people who survived the disease.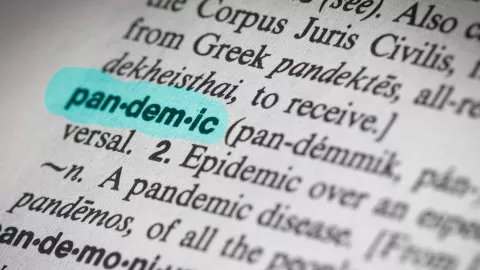 Piccolo was responding to a Reuters photo gallery on COVID-19 that was meant to highlight the trials of fighting the pandemic in hospitals and funeral homes across the U.S.
Commenting on the tweet, Piccolo wrote: "I'm wondering since 99% [of] Covid patients survive shouldn't you have 99 photos of survivors for every one fatality? Otherwise you're just trying to create a narrative that is not reality."
Screenshots captured by Miami Herald reporter Ben Conarck and WLRN reporter Danny Rivero, showed that Piccolo was responding in the middle of the night to a twitter thread by Corinne Perkins, the North America editor for Reuters Pictures.
Perkins wrote: "This thread is dedicated to those saying we aren't seeing images of the reality of COVID-19 in hospitals across the U.S. This is not an exhaustive list but I wanted to highlight the stories @reuterspictures photographers bring to light."
The tweets included photos of victims, grieving families, and overwhelmed hospitals and funeral homes over the course of the pandemic.
Piccolo's statement quickly received criticism from Twitter users who viewed them as insensitive to more than the 330,000 in the U.S. who have died from the disease, along with those who continue to suffer with side effects after contracting the virus.
Daniel Uhlfelder, an attorney who filed a lawsuit against DeSantis in March and dressed as the Grim Reaper to spread awareness of the disease on Florida beaches, called Piccolo's comments "disgusting."
"He's responsible for the communication message of the governor," Uhlfelder said. "And he's mocking or downplaying the deaths. It's just inexcusable. I don't know how you justify that. ... This is not a game. These are people that are suffering and dying," the South Florida Sun Sentinel reported.
Shortly after he wrote the tweets, the Florida spokesman deactivated his account. But in an interview Wednesday, Piccolo told the Sun Sentinel that he was already planning to leave the social media site anyways.
"I've made people far angrier with other things in the past, this is just an observation that I think was worthy of consternation," Piccolo said of his last tweet. "But I said this was going to be my Christmas gift to myself to get off of the medium, so I said let's do it."
Piccolo's comments follow months of intense scrutiny directed at the Florida governor and his administration for seemingly failing to provide accurate COVID-19 data.
Piccolo himself has consistently downplayed the coronavirus by questioning the efficacy of mask-wearing and mask mandates at least 16 times and claiming that COVID-19 is less deadly than the flu at least three times, a Sun Sentinel report found.
Earlier this month, Florida police raided the home of Rebekah Jones, a former state data scientist who accused the government of fudging coronavirus data to make it look like less people had died or contracted the disease throughout the state.
"My concern is that in Florida we haven't been getting all of the facts and all the information about COVID, and it's clear the governor doesn't want to institute any kind of COVID policy of any kind," Ron Filipkowski, a Florida lawyer and former appointee to the 12th Circuit Judicial Nominating Commission by Governor Ron DeSantis, previously told Newsweek.
"The truth has been kept from us during the pandemic."
Newsweek reached out to DeSantis for additional comment, but did not hear back in time for publication.
Popular in the Community
{{#values}}
ad choises
{{#isDisplay}} {{/isDisplay}}{{#isAniviewVideo}} {{/isAniviewVideo}}{{#isSRVideo}} {{/isSRVideo}}