Fla. Counties See COVID Cases Spike 1,000 Percent, State Highlights Monoclonal Antibodies
Several Florida counties are seeing a significant surge in coronavirus cases amid the nation's Omicron wave.
As infections soar, the state's Department of Health has highlighted monoclonal antibody treatment sites across the state. Last week, Governor Ron DeSantis announced the allocation of 3,100 doses of the new AstraZeneca Evusheld antibody treatment to prevent people from getting infected.
"This is a long-lasting, long-acting monoclonal therapy," DeSantis said at a news conference.
The three largest counties in the Sunshine State are experiencing more than 1,000 percent increases in coronavirus cases, according to data from the New York Times tracker.
In Miami-Dade County, cases have spiked 1,873 percent over the past two weeks. County officials handed out more than 150,000 free, at-home testing kits during the holiday week "to meet the surge in demand for COVID-19 testing and keep our community safe," Mayor Daniella Levine Cava said in a Monday statement.
"This week we'll continue stepping up to serve residents by expanding hours and adding testing sites across the County," Levine Cava said.
In Palm Beach County, home to Boca Raton and Delray Beach, cases have jumped 1,221 percent over the past 14 days. County Mayor Robert Weinroth told a local CBS affiliate that officials are working with contractors to open two more testing sites to help with the surge in demand.
Broward County in Southeast Florida has seen a 1,525 percent rise in cases over the past two weeks.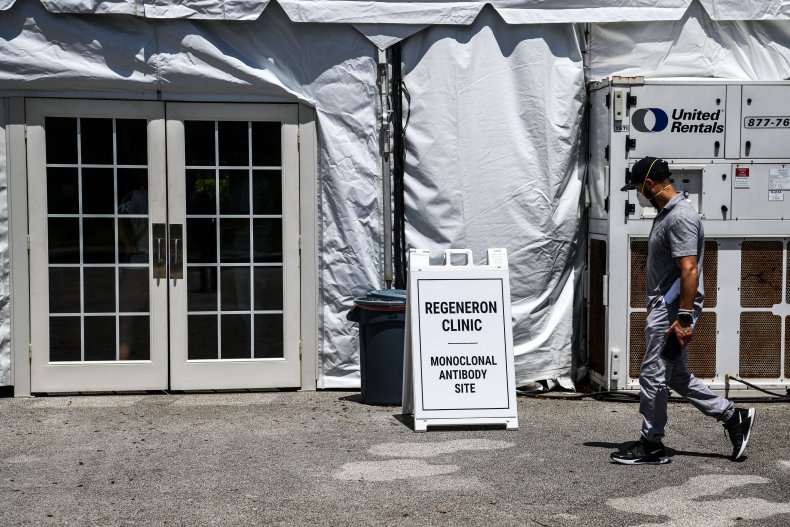 The Miami Herald reported last week that monoclonal antibody treatment sites in both Miami-Dade and Broward counties were forced to close temporarily earlier this month because of a lack of supplies. But other areas, such as Palm Beach County, said they had an ample supply of monoclonal antibodies.
Such treatment, the Florida Department of Health said, can prevent hospitalization and death from the virus. The treatment is free regardless of vaccination status for those 12 and older who are at high risk for severe illness.
Dr. Vincent Hsu, executive director of infection prevention at AdventHealth, told Click Orlando last week that health care providers may see "shortages of [monoclonal antibodies]" as the surge continues.
DeSantis said last week that the new, preventive Evusheld doses will be distributed to hospitals and health centers that are already using monoclonal antibody treatments. Residents can look up treatment sites on the state health department's website.
Newsweek reached out to the Florida Department of Health for additional comment on monoclonal antibody treatment and supplies but didn't receive a response before publication.