Texas Flash Flooding Sweeps Cars Away as Roads Turned into Rivers
Dramatic rescues took place overnight as flash flooding swept through parts of North Texas when storms battered the area.
Residents had to be helped to safety after their vehicles were washed away in sudden swells of fast-moving water that raged through the city of McKinney.
Two people reportedly had to leave their submerged car by boat after the parking lot they had been in turned into a small lake.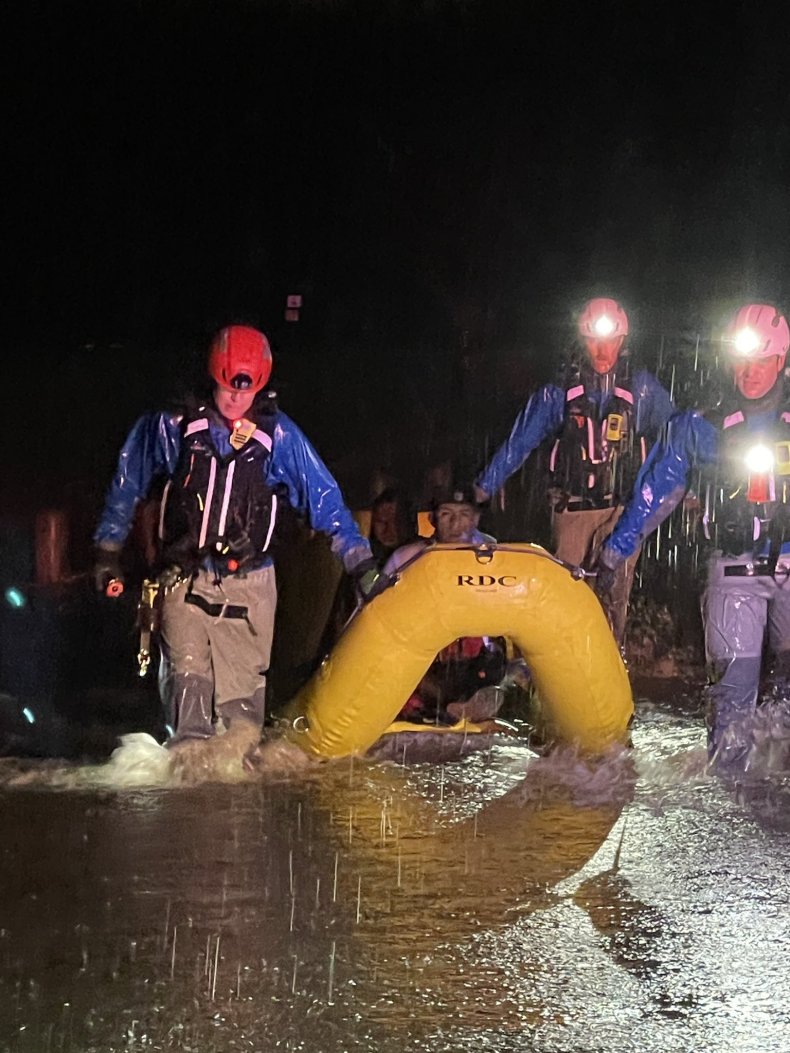 Across the region, 20,000 homes were left without power as thunderstorms, hail and up to five inches of rainfall pounded parts of the state.
There have been no reports of fatalities or injuries.
McKinney Fire Department crews undertook several rescues, posting photos of some of the incidents online and tweeting: "Watch out for flash flooding! McKinney Fire Department's Special Operations Teams carried out three water rescues tonight. 4 people total were brought to safety after their cars were swept away. Everyone is fine."
Newsweek has contacted McKinney Fire Department for further information.
Local news sites reported on other rescues, with NBC reporter Meredith Yeomans sharing pictures of a couple in an inflatable dinghy, with the caption: "2 people rescued by boat from flash flood at McKinney Towne Lake. Swift current through parking lot where the car they were in appears to be underwater."
The Metroplex region of the cities of Dallas and Fort Worth was hit hard by several inches of rain and hail during the thunderstorms, which cut power to nearly 20,000 customers, according to the local NBC news site.
Earlier in the evening, a tornado warning had been issued for surrounding areas, with the counties of Ellis, Henderson, Hopkins, Hunt, Kaufman, Navarro, Rains, Rockwall and Van Zandt all issued a tornado watch until 2 a.m., NBC added.
The National Weather Service issued a flash flood warning that also remained in place until 2 a.m. The warning read: "HAZARD…Flash flooding caused by thunderstorms. SOURCE…Trained spotters reported. IMPACT…Flooding of small creeks and streams, urban areas, highways, streets, and underpasses as well as other poor drainage and low lying areas.
"Some locations that will experience flash flooding include… Dallas, Plano, McKinney, Carrollton, Frisco, Richardson, Lewisville, Allen, Flower Mound, Grapevine, Wylie, Coppell, The Colony, Southlake, Sachse, Corinth, Highland Village, Lake Dallas, Lake Lewisville and Little Elm."
The warning also noted: "Between 2 and 5 inches of rain have fallen across parts of Denton and Collin counties. Flash flooding has been reported with many creeks and streams overflowing their banks."
However, after midnight a post suggested the worst was over, reading: "At 12:18 AM CDT, Doppler radar indicated rain and thunderstorms were coming to an end across the area after producing heavy rain and flash flooding."
Nevertheless a "severe weather threat" continues to be in place across much of the U.S. caused by two different weather systems.
The National Weather Service advises: "A multi-day severe weather threat continues the next three days for a large chunk of the U.S. from two separate weather systems. For Tuesday, severe storms with a swath of damaging winds and strong tornadoes are likely across the central Gulf Coast states and in parts of the Southeast. Then on Wednesday, the Southeastern quadrant of the U.S. will once again see another round of severe storms."