'The Flash' Season 9 Cast: Every Arrowverse Actor Returning to Show
Barry Allen is on the last leg of his race on The CW, with the superhero's journey almost at an end in season 9 of The Flash.
Grant Gustin's speedster will have to save the world one last time, but he won't be able to do it alone. A whole host of familiar faces are set to return to the last Arrowverse show.
The Flash will wrap up its final season over 13 episodes. Several returning characters will help Barry to protect Iris West-Allen (Candice Patton) and save the timeline while facing an another speedster.
Here is everything that fans need to know.
'The Flash' Season 9 Cast: Every Arrowverse Actor Returning to Show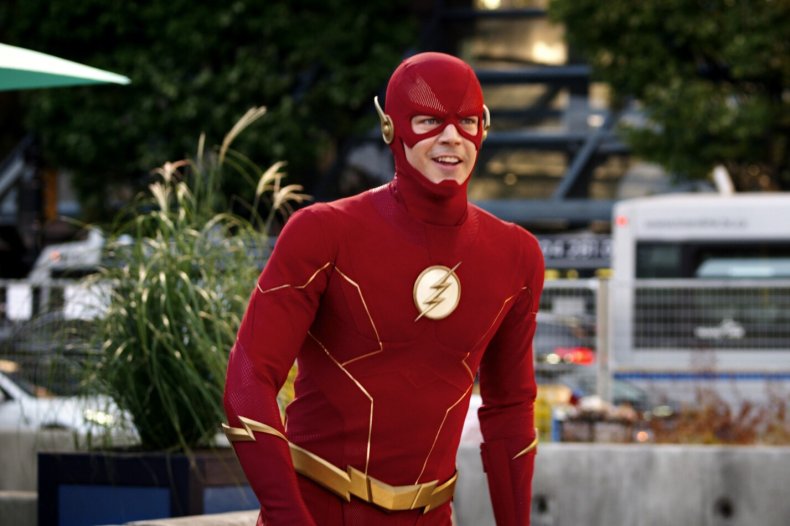 The Flash season 9 marks the end of the Arrowverse. It boasts a total of 37 seasons across several hit shows, including Arrow, Supergirl, and Legends of Tomorrow.
With the franchise coming to an end, showrunner Eric Wallace has decided the character should go out in a big way with a little help from a few old friends.
Stephen Amell Returns as Oliver Queen, aka Green Arrow
The hero that started it all, Green Arrow, will be back for one last time in The Flash, and Stephen Amell will once again portray the character.
Amell's Oliver Queen led his own series, Arrow, from 2012 to 2020, with the show having eight seasons in total.
The character's return does come as a surprise to fans. Queen died to save the world in Crisis on Infinite Earths, but his return will likely be explained in The Flash's final episodes.
Amell took to Instagram to share his thoughts on returning, and joked: "I'm coming back for the ninth and final season of The Flash. Why? Doesn't matter. How? Doesn't matter.
"Greg Berlanti called me up, and he said, 'The Flash is ending. Would you like to...' and I said, 'Yes! You don't even have to finish your sentence' [...] Don't ask me any more f****** questions about it. Just tune in when it airs later this year."
David Ramsey Returns as John Diggle, aka Spartan
David Ramsey was another actor to appear in Arrow, and his character John Diggle will return to the fray in The Flash's final season.
The character was Queen's bodyguard, friend and confidant, and he was an important part of the hero's team throughout Arrow's eight-season run.
Javicia Leslie Returns as Ryan Wilder, aka Batwoman
Batwoman's Javicia Leslie will also be back as Ryan Wilder in The Flash season 9, and the masked vigilante will prove a worthy addition to the team.
Leslie took over the titular role from Ruby Rose in the second season of Batwoman after the latter left the role of Kate Kane.
Batwoman was one of the more recent Arrowverse shows. It premiered in 2019 before being cancelled after its third season in 2021.
Nicole Maines Returns as Nia Nal, aka Dreamer
Supergirl's Nicole Maines will also be back for The Flash's final season as Nia Nal, also known as Dreamer.
The character was the first transgender superhero on TV, and she appeared in Supergirl from season 4 until season 6.
Keiynan Lonsdale Returns as Wally West, aka Kid Flash
Keiynan Lonsdale's Wally West is Barry Allen's brother-in-law, and after becoming a speedster himself, the character went on to appear in Legends of Tomorrow.
The character, whose superhero moniker is Kid Flash, hasn't appeared on the mainstay show since season 6, so his return will likely be a welcome one to fans.
Here is the Rest of the Cast for 'The Flash' Season 9:
Grant Gustin as Barry Allen, aka The Flash
Candice Patton as Iris West-Allen
Danielle Panabaker as Caitlin Snow
Danielle Nicolet as Cecile Horton
Kayla Compton as Allegra Garcia
Brandon McKnight as Chester P. Runk
Jon Cor as Mark Blaine, aka Chillblaine
Jesse L. Martin as Joe West
Richard Harmon as Owen Mercer, aka Captain Boomerang
Andy Mientus as Hartley Rathaway, aka Pied Piper
Sendhil Ramamurthy as Ramsey Rosso, aka Bloodwork
Damion Poitier as Keith Kanyon, aka Goldface
Max Adler as Jaco Birch, aka Hotness
John Wesley Shipp as Henry Allen
Michelle Harrison as Nora Allen
Patrick Sabongui as David Singh