Fleeing Russians Leave 5,000 Ukrainians Without Gas After Looting Facility
Nearly 5,000 occupants of a Ukrainian city that was recently freed from Russian control were left without gas after Russians destroyed a regional provider's building and stole nearly all of the specialized vehicles from the facility, according to a local leader.
In a Thursday Telegram post, Oleg Sinegubov, the head of the Kharkiv Regional State Administration, gave an update on efforts to restore critical infrastructure in newly occupied parts of the eastern Kharkiv region. He wrote that specialists with the gas company Kharkivgas were surveying destroyed networks, determining what materials and equipment were needed and working on restoring gas distribution system facilities.
Sinegubov promised that in the city of Balakliya, where the Kharkivgas building was destroyed, everything would be restored. He also wrote that more than 200 Kharkivgas specialists and up to 30 pieces of equipment overall are involved in repairing gas networks in the Kharkiv region's Izium district, where Balakliya is located.
Balakliya is one of several cities in Kharkiv that Ukraine has said it retook from Russian control in recent days, along with Izium and Kupiansk. Ukrainians have been conducting a successful counteroffensive in the region that has allowed them to push within 50 kilometers (about 31 miles) of the Ukraine-Russia border, according to General Valeriy Zaluzhnyi, commander of Ukraine's military. An emotional video showing several Ukrainian women in Balakliya greeting the soldiers who retook the city received 1 million views on Twitter.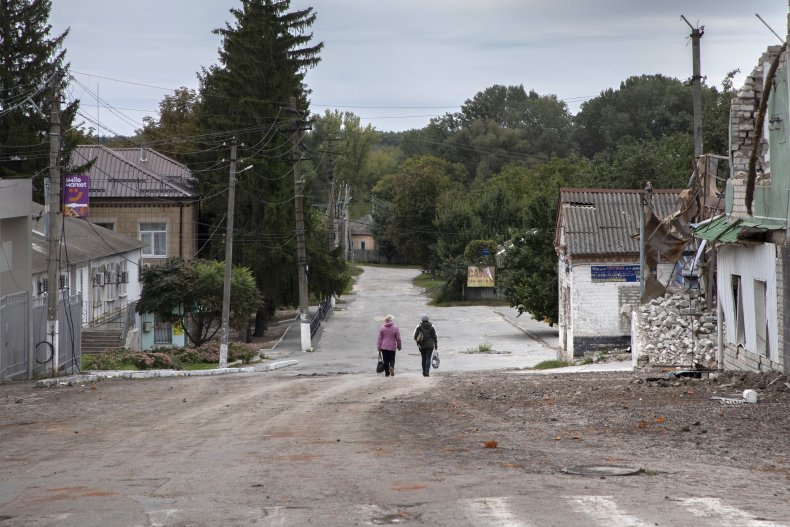 Restoration efforts in Kharkiv are also taking place outside of the Izium district, according to Sinegubov. "About 100 gas workers and 20 pieces of equipment will work" in the Chuguev district, he said. If needed, Kharkivgas is prepared to involve more specialists, including some from other regions, he added.
"Step by step, we are doing everything possible to restore gas supply to the liberated territories," Sinegubov wrote in the post.
Ukrainian President Volodymyr Zelensky has condemned reports of deliberate Russian attacks on civilian energy structures to strip communities of power.
"Even through the impenetrable darkness, Ukraine and the civilized world clearly see these terrorist acts," he wrote on Telegram. "Deliberate and cynical missile strikes on civilian critical infrastructure. No military facilities. Kharkiv and Donetsk regions were cut off. In Zaporizhzhia, Dnipropetrovsk, and Sumy there are partial problems with power."
Zelensky also said Sunday that being without food, gas or water was preferable to Russian occupation, Newsweek previously reported.
"Cold, hunger, darkness and thirst are not as terrible and deadly for us as your 'friendship and brotherhood,'" he said.
Newsweek reached out to Russia's Defense Ministry for comment.