Emotional Video Shows Ukrainians Thanking Their Troops Who Retook Town
A video of Ukrainian soldiers being tearfully greeted by residents in a town that Ukraine's army said it recaptured from Russian forces has gone viral.
Footage reportedly shot in the city of Balakliya, which is around 43 miles southeast of the eastern city of Kharkiv, shows a group of women welcoming the soldiers.
The clip posted to Twitter by Ukrainian journalist Nataliya Gumenyuk shows the group emerging from a building to hug soldiers as they arrive.
"Ladies greet [Ukrainian] soldiers in liberated Balakliya after 6 months of Russian occupation...I can watch endlessly," Gumenyuk tweeted. As of Friday afternoon, the video had been viewed more than 750,000 times.
"Well done, well done," said one woman, while another said, "We have been praying for six months for you to come back to us. We couldn't endure it anymore."
The women thank the men and say that there are children and grandchildren with them. "Thank you for coming for us," one said.
The women offer the soldiers pancakes but are warned that they had better continue to hide indoors because "shelling is still possible." A soldier says "we are here, everything is good now."
Another video shows two women hugging and taking photos with soldiers reportedly gathered in Balakliia's town square. "Bittersweet to watch the videos of residents' reactions to the Ukrainian soldiers liberating cities from Putin's fascist regime," tweeted Ukrainian racecar driver Igor Sushko.
The liberation of Balakliya comes amid Ukraine's offensive southeast of Kharkiv, which is moving towards the eastern region of Donetsk. While staying tight-lipped about the details of the operation, Ukrainian President Volodymyr Zelensky said over the last week, Ukraine had recaptured more than 1,000 square kilometers (390 square miles) of territory, and "liberated dozens of settlements."
Ukrainian presidential adviser Mykhailo Podolyak tweeted that Ukraine's efforts showed that they were capable of "de-occupying its territories."
However, heavy Russian shelling continues in Kharkiv where at least 10 people, including three children, were injured, according to the city's mayor Igor Terekhov, who warned on Telegram for residents to stay in shelters.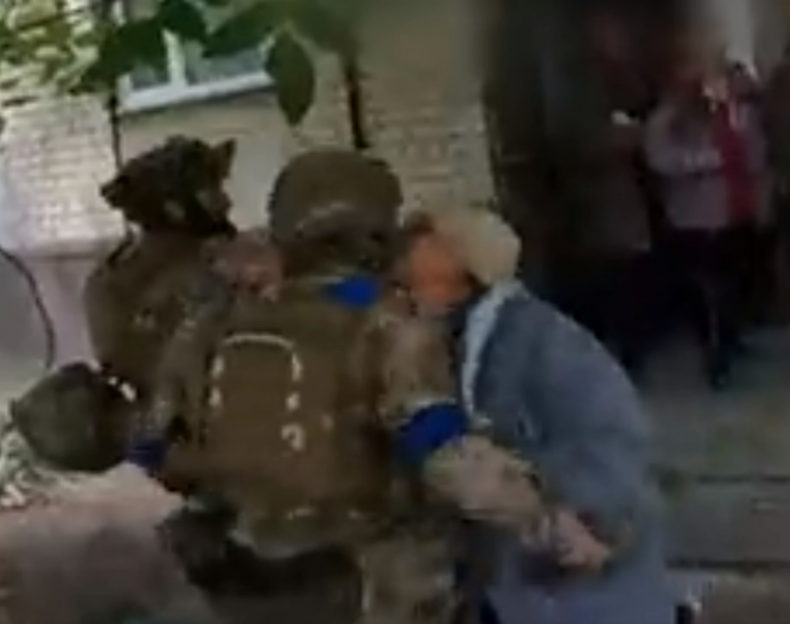 Meanwhile, Russian officials have disputed Kyiv's claims of advances and its recapture of Balakliya. Local Moscow-appointed official Vitaly Ganchev told Russian state TV that Russian forces had successfully fought them off.
Newsweek has reached out to the Russian defense ministry for comment.
Ukrainian forces are reportedly advancing on the city of Kupiansk, which U.S. think tank the Institute for the Study of War [ISW] said could be recaptured within 72 hours. Kyiv Independent reporter Illia Ponomarenko tweeted an image of soldiers holding a Ukrainian flag next to a road sign with the city's name in Russian.
This city would be a key prize for Kyiv's forces because it is a logistical hub for Russian forces in the Kharkiv region.