Flight Attendants Warn of 'More Violence' Amid Confusion Over Mask Mandate
The Association of Flight Attendants-CWA (AFA) is warning that inconsistent implementation of mask mandates following a court ruling could lead to confusion and "more violence" for crew members.
"We urge focus on clear communication so that flight attendants and other frontline workers are not subject to more violence created by uncertainty and confusion," the union, which represents nearly 50,000 flight attendants across 17 airlines, said in a statement.
The statement comes after a Florida court ruling sent the airline industry into a frenzy when a federal judge struck down the mask mandate for airplanes and other methods of public transportation.
"The last thing we need for workers on the frontlines or passengers traveling today is confusion and chaos," the union said. "Traveling can be stressful enough and safety comes first with respect for everyone utilizing collective modes of transportation."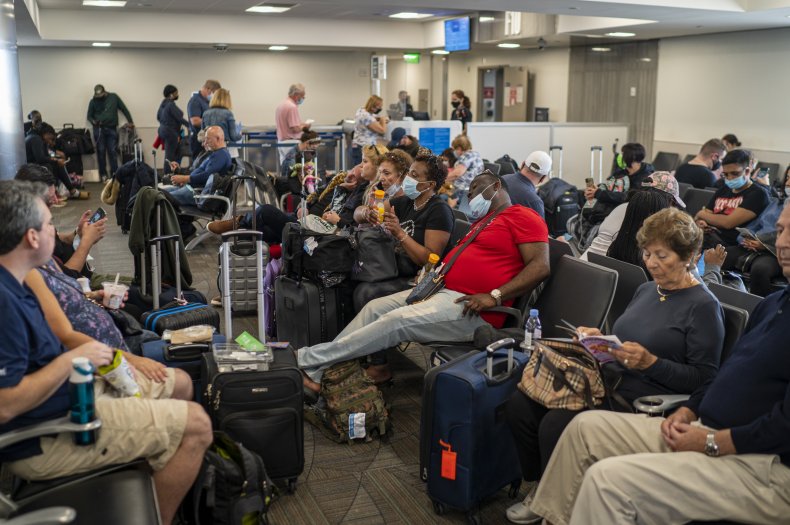 On Monday, Trump-appointed U.S. District Judge Kathryn Kimball Mizelle ruled that the order from the Centers for Disease Control and Prevention (CDC) exceed the CDC's authority as a federal agency, overturning the mandate which was extended to May 3.
As fierce critics of COVID-related mandates celebrated the ruling, those working in transportation were left scrambling with little guidance from the CDC as to how quickly airlines and train systems should halt enforcing passengers to wear masks.
While flight attendants across the nation have urged the Biden administration to lift the mandate in recent months, citing an uptick in unruly passengers due to mask-related incidents, the union warned travelers not to expect masking policies to change overnight.
"In aviation operations, it is impossible to simply flip a switch from one minute to the next. It takes a minimum of 24-48 hours to implement new procedures and communicate this throughout the entire network," the statement read. "Policies and procedures must be updated and thoroughly communicated to hundreds of thousands of employees, along with millions of travelers."
"We urge everyone to practice patience, remain calm, and to continue to follow crewmember instructions. And we remind passengers that it is legally required to follow crewmember instructions, and that disruptive behavior has serious consequences as it puts everyone at risk," the AFA said. "Our work space is your travel space. Let's get where we're going, together."
The ruling has left the enforcement of masks up to individual airlines and transit systems.
Several groups — including New York's Metropolitan Transportation Authority, the Chicago Department of Aviation and the Denver International Airport — have announced they will continue to abide by the previous CDC order as they review the federal judge's ruling.
Newsweek reached out to the CDC for comment.