Flight Diverted After Passenger Allegedly Threatens To 'Kill Everyone'
A flight to Florida was forced to make an emergency landing in Raleigh, North Carolina, on Wednesday evening because of a passenger reportedly threatening people on the plane.
Frontier Flight 1335 from New York's LaGuardia Airport to Orlando, Florida, from New York City diverted to Raleigh-Durham International Airport at around 8:15 p.m. because of a "disruptive passenger," an airport spokesperson told Newsweek.
The incident comes after the Federal Aviation Administration adopted a stricter legal enforcement policy against unruly airline passengers in the wake of a rise in incidents where passengers have disrupted flights with threatening or violent behavior. The agency has received 394 unruly passenger reports so far in 2022.
Video posted on Twitter by someone who was on the Frontier flight showed several passengers restraining the man.
The incident escalated after the man started "flipping out" and accused the woman in the seat behind him of sticking him with a needle to steal his DNA, the person wrote in the tweet.
The man also allegedly threatened other passengers on the flight, including a baby. He said "he'd smack every mf on this plane" and "said he'd kill everyone on this plane," the tweet added.
"My ACL [anterior cruciate ligament] is torn, you can't do this!" the man is heard yelling at one point in the video as other passengers try to restrain him.
A woman is heard instructing the passengers not to restrain the man's feet. "Hey y'all, he needs to sit in his seat, so don't tie his feet like that," she is heard saying.
Savannah Figueroa, who was on the flight, told WRAL that the man was "really loud and obnoxious from the beginning" and that later he accused the passengers behind him of trying to collect his DNA.
"He's like, I don't care if it's a lady and her kid, I'll smack them both. I don't care who it is. I'll put my hands on anybody on this plane," she told the station.
But the situation got violent when the man tried to break a window. "That's when they jumped on him and tried to restrain him," Figueroa said.
The video showed flight attendants blocking the doors to the plane's cockpit, which Figueroa said indicated they "were nervous that he was going to try to rush the pilot and take the whole plane down."
She said the aircraft remained in the air for about an hour after the man began acting disruptively before making the emergency landing in Raleigh.
Airport law enforcement, fire-rescue and Wake County EMS responded after the flight landed, the airport spokesperson said.
An FBI spokesperson told Newsweek that no federal charges have been filed in the case, but an investigation is ongoing.
The flight resumed its journey to Orlando at around 9:40 p.m.
Frontier Airlines been contacted for additional comment.
Wednesday's incident came after an American Airlines flight on Monday was diverted to New Mexico after a passenger disturbance.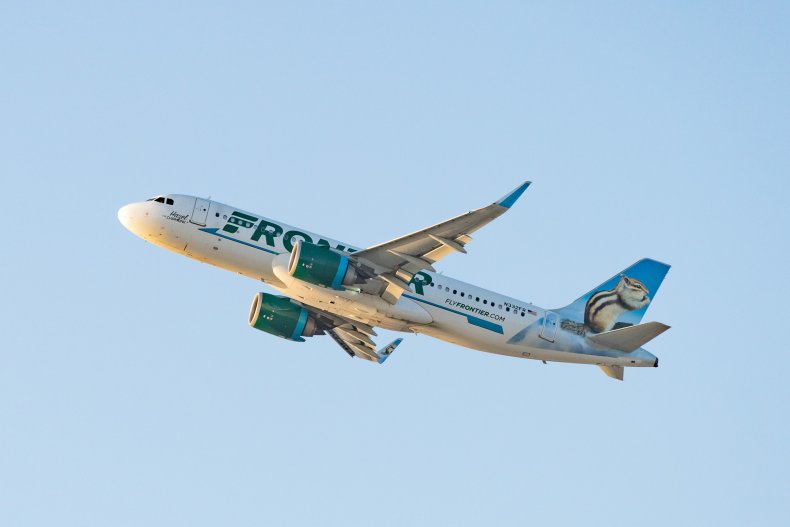 Update 2/10/22, 5:43 a.m.: This article has been updated with information from an airport spokesperson.
Update 2/10/22, 6:15 a.m.: This article has been updated with additional information.
Update 2/10/22, 11 a.m.: This article has been updated with a comment from an FBI spokesperson.