Flight Diverted After Passenger Threatens Staff for Being Asked to Wear Mask
An Alaska Airlines flight from Seattle to Anchorage was diverted after passengers violated mask protocols on board, according to officials.
As previously reported by Newsweek, The Saturday Alaska Airlines flight was diverted to Juneau after a group of five passengers refused to follow flight attendant instructions regarding mask usage onboard.
An online report by the Alaska Department of Public Safety State Troopers released on Wednesday said they met the disruptive passengers after the plane landed in Juneau.
They added no arrests had been made and that there was no physical altercation between passengers or airline staff.
But, federal law enforcement officials were told about the incident.
The statement read: "Juneau police officers and Alaska state troopers met the flight at the Juneau International Airport and detained five individuals that were causing the disturbance.
"After conducting an investigation into the incident, it was determined that there was no physical altercation and that the five individuals were not following flight attendant instructions related to mask use and were using foul language during the flight."
It continued: "After consultation with the Alaska District Attorney's Office, no charges were forwarded for this incident. Federal law enforcement officials were notified of the incident."
Alaska Airlines added in a statement sent to Anchorage Daily News: "At least one passenger who was part of the remaining group began to threaten our crew members and nearby guests."
Footage taken inside the aircraft and later shared with KTUU showed at least five men being escorted off the plane by authorities.
But, the flight was met with trouble before it had taken off from Seattle with several passengers being removed.
Alaska Airlines said in a statement to KTUU, last week: "Before the flight departed Seattle, a group of guests was removed from the aircraft because of their disruptive behavior.
"Others in the party were allowed to continue onto Anchorage."
In August, an Alaska Airlines flight was evacuated after a cell phone in the plane's cargo hold caused a fire.
The Port of Seattle Fire Department responded to reports of a fire on the plane at around 8:30 p.m. on August 23, after the aircraft landed at Washington state's Seattle-Tacoma International Airport.
In total, 128 passengers and six crew members were evacuated from the plane while the plane was towed to the gate without any impact on the aircraft's operations.
Alaska Airlines also featured in the news recently when it said all its employees who had been vaccinated against COVID-19 would receive a $200 bonus.
The airline said some 75 percent of its employees had been vaccinated and had aimed to get closer to the 100-percent mark.
It will also require new hires to have been vaccinated against COVID-19.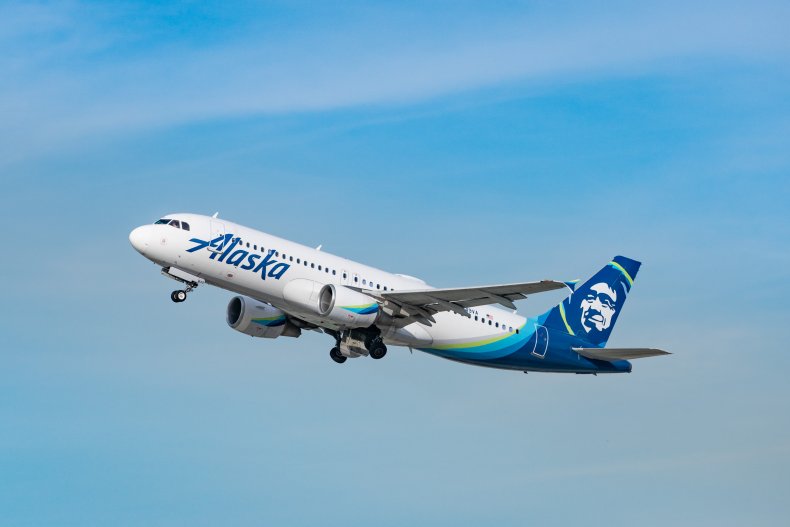 UPDATE 9/09/21 10:13 a.m. ET: This article was updated to include additional information and modify the headline.