Flooding Strands Cars in Newark, New Jersey, All Flights Delayed at International Airport
Heavy rains on Saturday disrupted operations across the board at Newark Liberty International Airport. By the afternoon, the airport had closed its economy parking lot due to flooding and delayed all flights by 90 minutes.
The airport's AirTrain service was suspended around the same time and remained so for roughly an hour, but this was seemingly unrelated to the weather and other shuttle options remained in operation. However, it was later announced that weather issues would force the suspension of the AirTrain from 9 p.m. on Saturday to 7 a.m. on Sunday.
Heavy rains and flash flooding had been forecast for parts of the tri-state area, starting on Saturday and lasting through Sunday. According to PIX11, a severe thunderstorm watch remains in effect until 11 p.m. with a flash flood watch remaining until 6 a.m. on Sunday. Tornado warnings were also in effect for areas in Staten Island and Middlesex County, New Jersey, but have since been called off.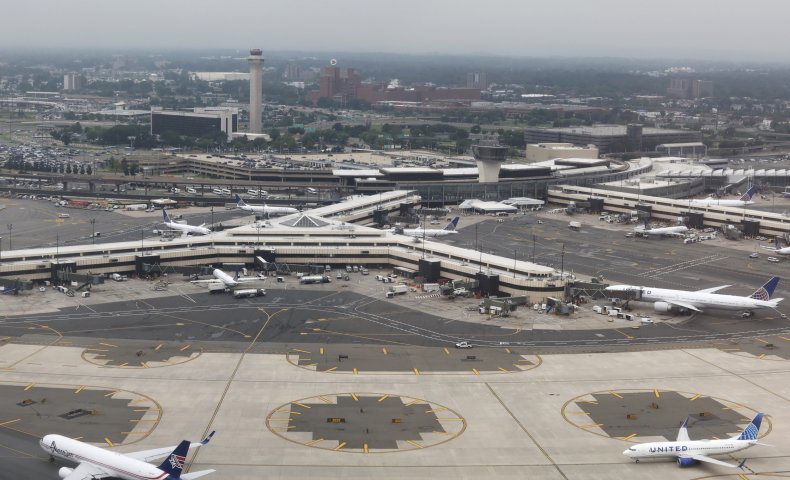 Residents and travelers took to Twitter to show the situation from the ground. One user, going by Purbita, shared a video of flash flooding in the streets of the Ironbound neighborhood of Newark.
Another user, going by Grand C, claimed that their flight into Newark had to make an emergency landing in Philadelphia on account of the storms.
The tri-state area is not the only part of the Northeast U.S. bracing for heavy rains and flash flooding. Millions of Americans face potential flash flooding throughout the weekend, with certain areas being up to five times wetter than the July average. New York City and Boston stand to potentially break their respective all-time wettest July records.
This rash of wet weather is being attributed to a frontal system making its way northeast from the central U.S. The system has been responsible for heavy rains in Indiana, Illinois, and Kansas, as well as flash flooding in Detroit.
Extreme flash flooding has also been ravaging parts of Europe in recent days. On Thursday, regions of Germany, Belgium, and the Netherlands were hit with two months worth of rain in a single day. The death toll from flooding in Germany, which has seen its worst flooding in a century, hit 170 on Saturday, according to Reuters.
"[It is] a day that is characterized by fear, by despair, by suffering," German Chancellor Angela Merkel said during a press conference Thursday at the White House. "Hundreds of thousands of people, all of a sudden, were faced with catastrophe. Their houses were literally death traps."