Trump Campaign to Democrats on Flores Agreement Change: This is What You Wanted
In what can only be described as the new normal, the Trump administration, under the guise of 33 year-old Stephen Miller's immigration plan, has taken another step to undo protections for detained migrant children that have been in place for nearly two decades. The actions immediately caused quite an uproar in Democratic circles, but went relatively uncritiqued by the right.
The administration issued a rule change that would end limits on migrant minors' time in detention and limit safeguards against cruel and unsanitary conditions. The changes could also end the ability for outside, third-party inspectors to monitor the situation inside migrant holding camps.
Andrew Clark, rapid response director for the President Trump's 2020 reelection campaign, sent out an email that had quotes from a number of presidential candidates saying migrant families must be kept together. This rule, he argued, would do just that.
"Today's news should be welcomed by the 2020 Democrats, who last year made clear that keeping families together should be a top government priority when it comes to illegal immigration," he wrote.
But presidential candidates, unsurprisingly, are speaking out against the change. California Senator Kamala Harris asked on Twitter Wednesday, "how does detaining families longer make our border secure or stop transnational gangs — things the DHS should actually be spending their time doing?" She supplied her own answer: "It doesn't."
Senator Elizabeth Warren echoed Harris' discontent. "The Flores agreement mandates that migrant children cannot be held in detention for more than 20 days," she wrote on Twitter, "Today, the Trump administration announced its plans to roll back Flores—putting thousands of children in danger. We must fight this."
The new rule, which will go into effect in 60 days if approved by a federal judge, would establish standards for the conditions in migrant holding units but would remove a 20-day limit on detaining families in jails. Families will now be sent to "family residential centers" where they will remain until their immigration case is heard.
Cases are often resolved within 90 days but can sometimes drag on for years. There are about 850,000 immigration cases awaiting hearings in the U.S. and less than 450 judges across the country to hear them. According to Syracuse University's Transactional Records Access Clearinghouse it takes an average of 713 days for a judge to hear a case.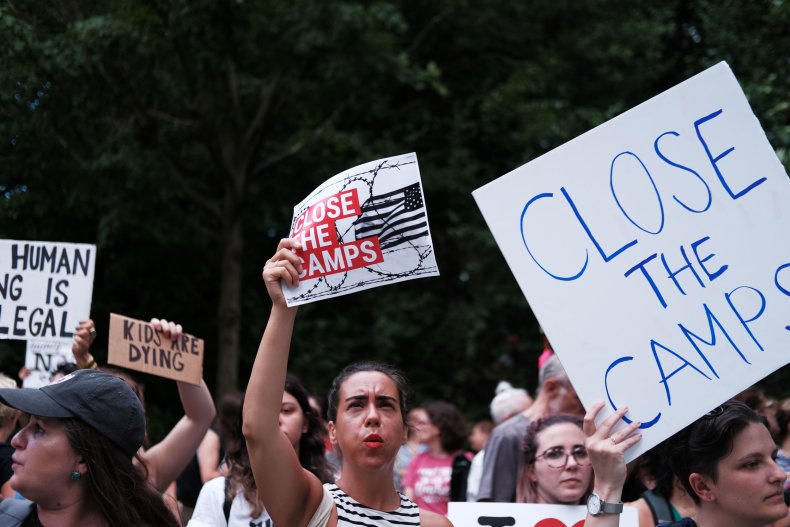 "The detention of children can lead to trauma, suicidal feelings, and exposure to dangerously inadequate medical care," said Clara Long, acting deputy Washington director at Human Rights Watch. "No amount of time in detention is safe for children and prolonged detention is particularly harmful."
The announcement follows shortly after inspectors found soiled, emotionally distraught children who were unable to brush their teeth or shower, and the administration tried to justify not providing kids with soap and toothbrushes.
"There is no way we can trust that the same administration that let six children die under its watch, and argued that kids don't need basic necessities like soap and toothbrushes, is capable of regulating itself," said Jess Morales Rocketto, chair of Families Belong Together, in a statement. "This rule will separate more families and traumatize countless others in the process. The government needs to reunite families immediately, not expand the number of parents and children they jail with limited food, beds, toilets, or access to medical attention."
During a press conference Wednesday morning, acting Department of Homeland Security Secretary Kevin McAleenan justified the administration's decision. He said that there was "no intent" for families to be held for a "very long time" and that ICE intended to treat migrants with "dignity, respect and special concern in concert with American values."
The Flores agreement was established by federal law about two decades ago as a way to set guidelines and standards for the treatment of migrant youth entering the United States.
Last month, Elora Mukherjee, the director of Columbia Law School's Immigrants' Rights Clinic, was allowed to interview 70 migrant children being held because of the stipulations of the Flores agreement. She testified to Congress that the centers were overcrowded and unsanitary.
The hundred-plus page rule would, "allow for termination of the Flores Settlement Agreement" in totality, according to the Department of Homeland Security.
"Never before have we learned of 700 children being detained in a facility built for 104 or 106 adults," she said. She told stories of children who could not say their names but only repeat "I'm scared," and babies running around without diapers. She said some children smelled so bad that she could not get close to them.
"Never before have we met with children detained in [Customs and Border Patrol] custody for a week, much less weeks and nearly a month. Never before have we had to directly intervene to get critically ill babies admitted to the hospital," she testified.